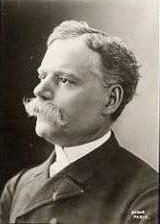 About the Artist
Jules Chéret was a French painter and lithographer who became a master of Belle Époque poster art. He has been called the father of the modern poster.
Born in Paris to a poor but creative family of artisans, Chéret had a very limited education. At age thirteen, he began a three-year apprenticeship with a lithographer and then his interest in painting led him to take an art course at the École Nationale de Dessin. Like most other fledgling artists, Chéret studied the techniques of various artists, past and present, by visiting Paris museums.
From 1859 to 1866, he was trained in lithography in London, England, where he was strongly influenced by the British approach to poster design and printing. On returning to France, Chéret created vivid poster ads for the cabarets, music halls, and theaters such as the Eldorado, the Olympia, the Folies Bergère, Théâtre de l'Opéra, the Alcazar d'Été and the Moulin Rouge. He created posters and illustrations for the satirical weekly Le Courrier français.
He was awarded the Légion d'honneur by the French Government in 1890 for his outstanding contributions to the graphic arts.