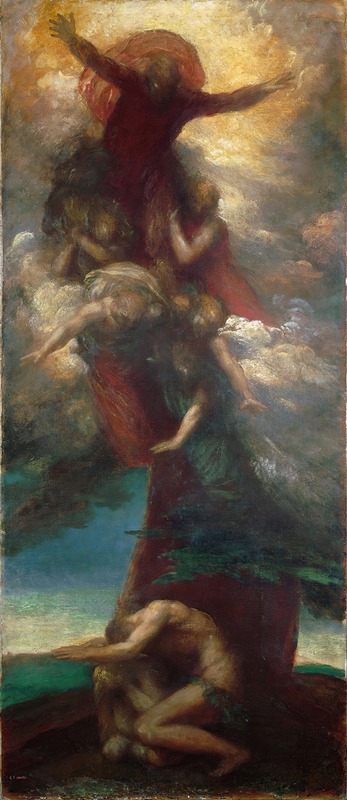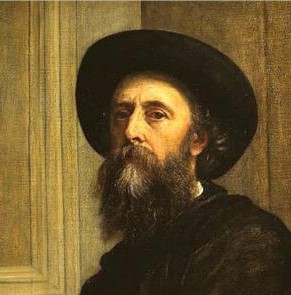 George Frederic Watts was a British painter and sculptor associated with the Symbolist movement. He said "I paint ideas, not things." Watts became famous in his lifetime for his allegorical works, such as Hope and Love and Life. These paintings were intended to form part of an epic symbolic cycle called the "House of Life", in which the emotions and aspirations of life would all be represented in a universal symbolic language.
Watts was born in Marylebone in central London on the birthday of George Frederic Handel (after whom he was named), to the second wife of a poor piano-maker. Delicate in health and with his mother dying while he was still young, he was home-schooled by his father in a conservative interpretation of Christianity as well as via the classics such as the Iliad. The former put him off conventional religion for life, while the latter was a continual influence on his art. He showed artistic promise very early, learning sculpture from the age of 10 with William Behnes, starting to study devotedly the Elgin Marbles (later writing "It was from them alone that I learned") and then enrolling as a student at the Royal Academy at the age of 18. He first exhibited at the Academy in 1837. He also began his portraiture career, receiving patronage from his close contemporary Alexander Constantine Ionides, who later came to be a close friend.
He came to the public eye with a drawing entitled Caractacus, which was entered for a competition to design murals for the new Houses of Parliament at Westminster in 1843. Watts won a first prize in the competition, which was intended to promote narrative paintings on patriotic subjects, appropriate to the nation's legislature. In the end Watts made little contribution to the Westminster decorations, but from it he conceived his vision of a building covered with murals representing the spiritual and social evolution of humanity.
The prize from the Westminster competition did, however, fund a long visit to Italy from 1843 onwards, where Watts stayed and became friends with the British ambassador Henry Fox, 4th Baron Holland and his wife Augusta at their homes in Casa Feroni and the Villa Careggi. Also while in Italy Watts began producing landscapes and was inspired by Michelangelo's Sistine Chapel and Giotto's Scrovegni Chapel. In 1847, while still in Italy, Watts entered a new competition for the Houses of Parliament with his image of Alfred the Great, Alfred Inciting the Saxons to Prevent the Landing of the Danes by Encountering them at Sea, on a patriotic subject but using Phidean inspiration. Leaving Florence in April 1847 for what was intended to be a brief return to London, he ended up staying.
In the 1860s, Watts's work shows the influence of Rossetti, often emphasising sensuous pleasure and rich colour. Among these paintings is a portrait of his young wife, the actress Ellen Terry, who was 30 years his junior – having been introduced by mutual friend Tom Taylor, they married on 20 February 1864, just seven days short of her 17th birthday. When she eloped with another man after less than a year of marriage, Watts was obliged to divorce her. Watts's association with Rossetti and the Aesthetic movement altered during the 1870s, as his work increasingly combined Classical traditions with a deliberately agitated and troubled surface, to suggest the dynamic energies of life and evolution, as well as the tentative and transitory qualities of life. These works formed part of a revised version of the House of Life, influenced by the ideas of Max Müller, the founder of comparative religion. Watts hoped to trace the evolving "mythologies of the races [of the world]" in a grand synthesis of spiritual ideas with modern science, especially Darwinian evolution.
Refusing the baronetcy twice offered him by Queen Victoria, he was elected as an Academician to the Royal Academy in 1867 and accepted to be one of the original members of the new Order of Merit (OM) in 1902 – in his own words, on behalf of all English artists. The order was announced in the 1902 Coronation Honours list published on 26 June 1902, and he received the insignia from King Edward VII at Buckingham Palace on 8 August 1902.
In his late paintings, Watts's creative aspirations mutate into mystical images such as The Sower of the Systems, in which Watts seems to anticipate abstract art. This painting depicts God as a barely visible shape in an energised pattern of stars and nebulae. Some of Watts's other late works also seem to anticipate the paintings of Picasso's Blue Period. He was also admired as a portrait painter. His portraits were of the most important men and women of the day, intended to form a "House of Fame".