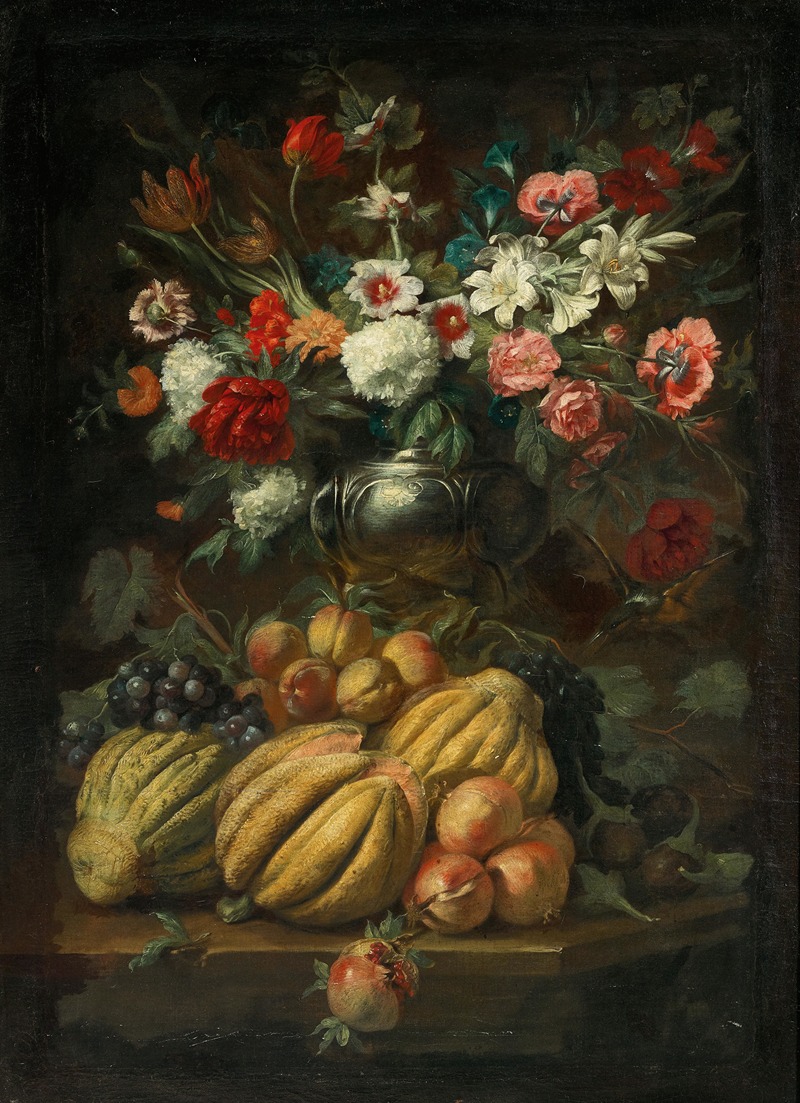 Abraham Brueghel was a Flemish painter from the famous Brueghel family of artists. He emigrated at a young age to Italy where he played an important role in the development of the style of decorative Baroque still lifes.
Abraham was born in Antwerp, the son of Jan Brueghel the Younger, the grandson of Jan Brueghel the Elder and the great-grandson of Pieter Brueghel the Elder. Much of his artistic training came from his father Jan Brueghel the Younger, prolific painter and regular collaborator with Rubens. Abraham showed great promise as an artist from an early age, and started to make a name for himself in his teenage years. His father sold one of Abraham's floral still lifes when he was only 15 years old.
In 1649, at the age of 18, Abraham went to Italy to complete a commission for Prince Antonio Ruffo in Sicily. It was the first of many commissions in which Abraham demonstrated his artistic abilities in drawing floral still lifes. Already in 1649 an inventory of his patron Prince Antonio Ruffo records nine flower paintings by the 18-year-old artist.
Ten years later, in 1659, Brueghel moved to Rome, Italy where he married an Italian woman less than a year later. In 1670 he was invited into the Accademia di San Luca, a Roman academy, which had as its objective the elevation of the work of artists.
Abraham joined the Bentvueghels, an association of mainly Dutch and Flemish artists working in Rome. It was customary for the Bentvueghels to adopt an appealing nickname, the so-called 'bent name'. He was given the bent name Rijngraaf, meaning 'duke of the Rhine', which was an old aristocratic title in Germany. When Abraham Genoels joined the Bentvueghels in 1670, Abraham Brueghel signed the bentbrief as "Abraham Breugel".
Some time between 1672 and 1675, Abraham left Rome and moved to Naples, Italy. He played an important role in the development of still life painting in Naples, which had before his arrival in the city resisted the Flemish-Roman style of decorative still lifes.
Breughel remained in Naples until his death. He is believed to have died c. 1690 in Naples and in any event no later than 1697.