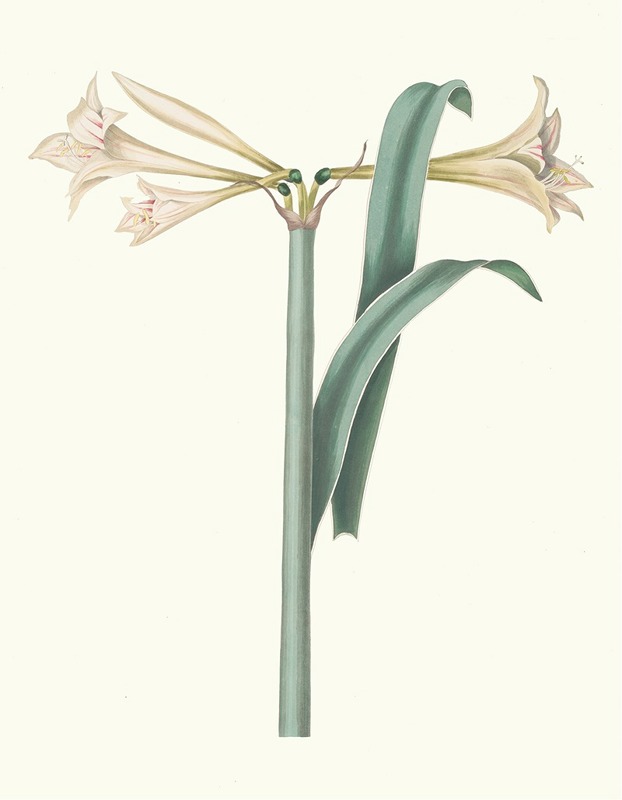 About the Artist
Priscilla Susan Bury, born Falkner, was an English botanist and illustrator.
Priscilla Susan Bury was born in Rainhill, Liverpool. Her parents were Edward Dean and Bridgett (nee Tarleton) Falkner.
She married Edward Bury (1794-1858), a noted railway engineer, on 4 March 1830. The couple had at least three sons, born between 1831 and 1835. Between 1852 and 1860 the family lived at Hillsborough Hall near Sheffield and later moved to Croft Lodge, Ambleside in the Lake District.
In 1860 she published an account of her husband, Recollections of Edward Bury, Fellow of the Royal Society, Member of the institute of Civil Engineers, Member of the Smeatonian Society, Fellow of the Royal Astronomical Society, Fellow of the Royal Historic Society by his widow.
By 1866 she had moved to Fairfield, Thornton Heath, Croydon where she died of bronchitis and cerebral congestion on 8 March 1872.
Although she was not trained as a botanist or commissioned as a professional artist, she was the author of several artistic and scientific plant illustrations
She began to draw plants from the glasshouse at her family home 'Fairfield', and by 1829 had enough studies of lilies and allied plants for publication. The 1829 Drawings of lilies, as lithographs by Hullmandel, features her illustrations accompanied by short notes. This was modelled on a book, and its publicity materials, by William Roscoe.
From 1831-1834, her drawings were published in A Selection of Hexandrian Plants. The engraving was entrusted to the Londoner Robert Havell, engraver of the John James Audubon (1785-1851) plates. The book was carried out in aquatint and the 350 plant drawings painted in part by hand. The subscribers to this large folio numbered only 79, mostly from the Lancashire region, Audubon being one of them. The book was described as "one of the most effective colour-plate folios of its period" by Wilfrid Jasper Walter Blunt in his The Art of Botanical Illustration.
More Illustrations in Book: A selection of hexandrian plants, belonging to the natural orders Amaryllidæ and Liliacæ (View all 42)
More Illustrations in Book: A selection of hexandrian plants, belonging to the natural orders Amaryllidæ and Liliacæ (View all 42)