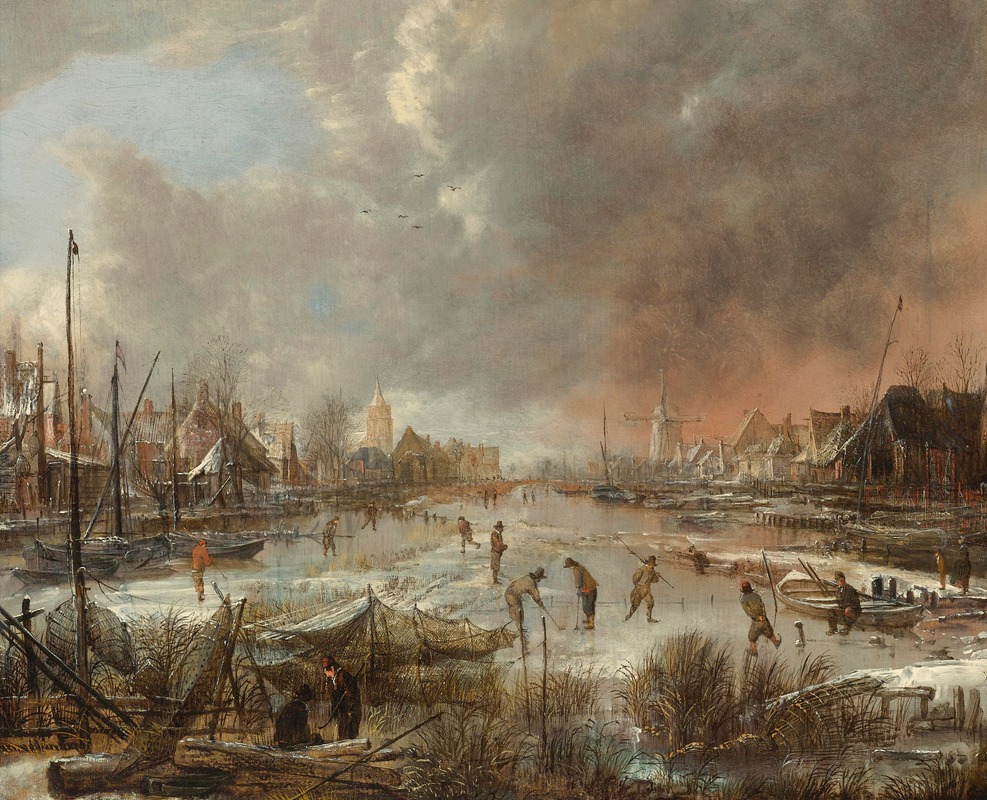 About the Artist
Aert van der Neer, or Aernout or Artus, was a landscape painter of the Dutch Golden Age, specializing in small night scenes lit only by moonlight and fires, and snowy winter landscapes, both often looking down a canal or river. He was a contemporary of Albert Cuyp and Meindert Hobbema, and like the latter he lived and died in comparative obscurity.
Van Der Neer was born in Gorinchem. He became an amateur painter possibly upon contact with the Amsterdam painters Rafael and Jochem Govertsz Camphuysen, whose sister Lysbeth he married in 1629. They had six children: Grietje (1629), Eglon(~1635), Cornelia (1642), Elisabeth (1645), Pieter (1648), and Alida (1650). Five of the children were baptized in the Nieuwe Kerk in Amsterdam, not far from where he lived. His son Eglon later became a portrait painter himself.
Van Der Neer was barely able to support his family by selling his landscapes, which were not highly valued. In 1659 it seemed necessary to supplement his income by keeping a wine tavern in the Kalverstraat, but two years later he went broke. He died in Amsterdam in abject poverty, and his art was so little esteemed that the pictures left by him were valued at about five shillings apiece.
Load previous products
Load next products