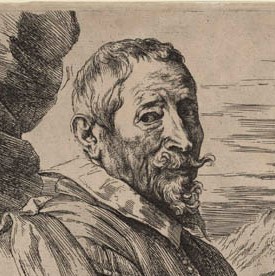 Joos de Momper the Younger or Joost de Momper the Younger was a Flemish landscape painter active in Antwerp between the late 16th century and the early 17th century. Brueghel's influence is clearly evident in many of de Momper's paintings. His work is situated at the transition from late 16th-century Mannerism to the greater realism in landscape painting that developed in the early 17th century. He achieved considerable success during his lifetime.
Joos de Momper was born in an artistic family of Antwerp and was named after his grandfather who was a landscape painter. His father was Bartholomeus de Momper the Elder and his mother Suzanna Halfroose. He learned to paint from his father who was a painter, art dealer, printer and publisher.
In 1581 he became a master in the Antwerp Guild of St. Luke at only 17 years old. It was assumed that in the 1580s he travelled to Italy to study. Evidence for this trip was provided when landscape frescoes in the church of San Vitale in Rome, formerly attributed to Paul Bril, were given to Joos de Momper the Younger.
On 4 September 1590 he married Elisabeth Gobijn. The couple had 10 children of whom Philippe de Momper became a painter. The painter Gaspard de Momper was either his son or a nephew. His pupils were Louis de Caullery and his son Philippe de Momper. His followers included his nephew Frans de Momper and Hercules Seghers.
De Momper enjoyed high-level patronage as is shown by the fact that Archduchess Isabella Clara Eugenia, the governess of the Southern Netherlands, sent in 1616 a letter to the Antwerp magistrate asking him to excuse de Momper from the payment of taxes and fees. The artist could use the tax exemption as in his later years he was not able to paint as diligently as before and he was spending to much money at the inn.
De Momper died in Antwerp on 5 February 1635. He left large debts and his possessions were sold off by his creditors.
He was mentioned by Karel van Mander in his Schilder-boeck and his likeness was engraved by Anthony van Dyck.