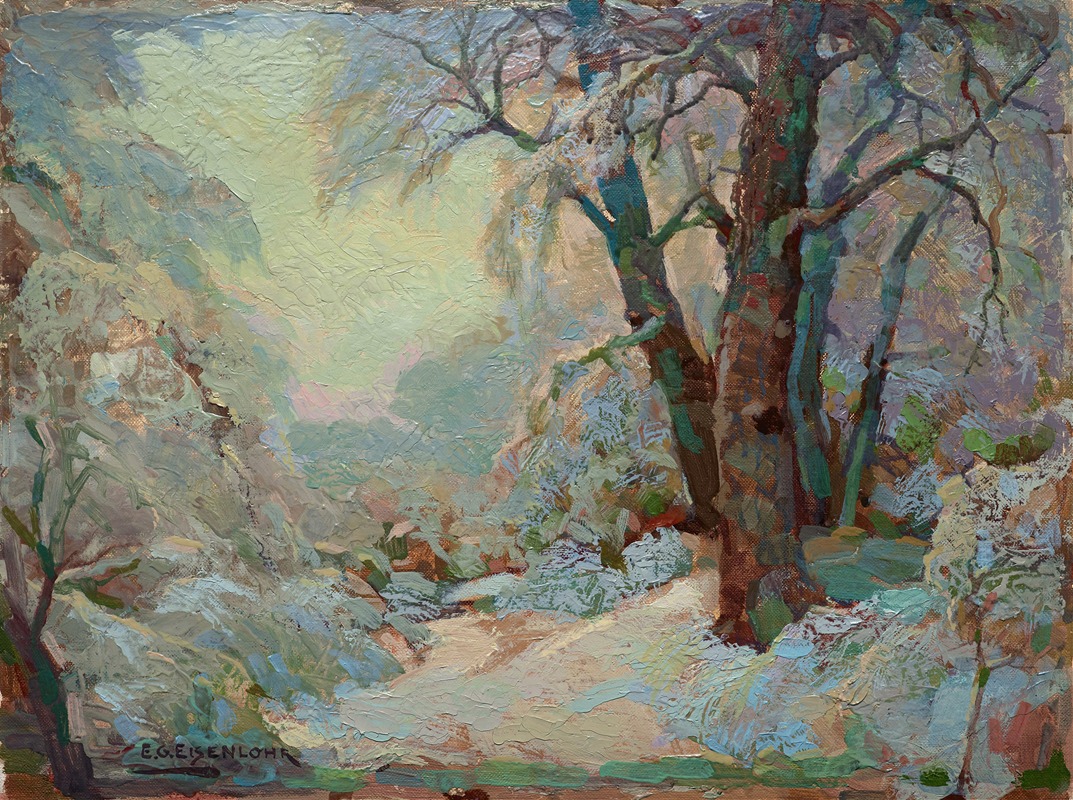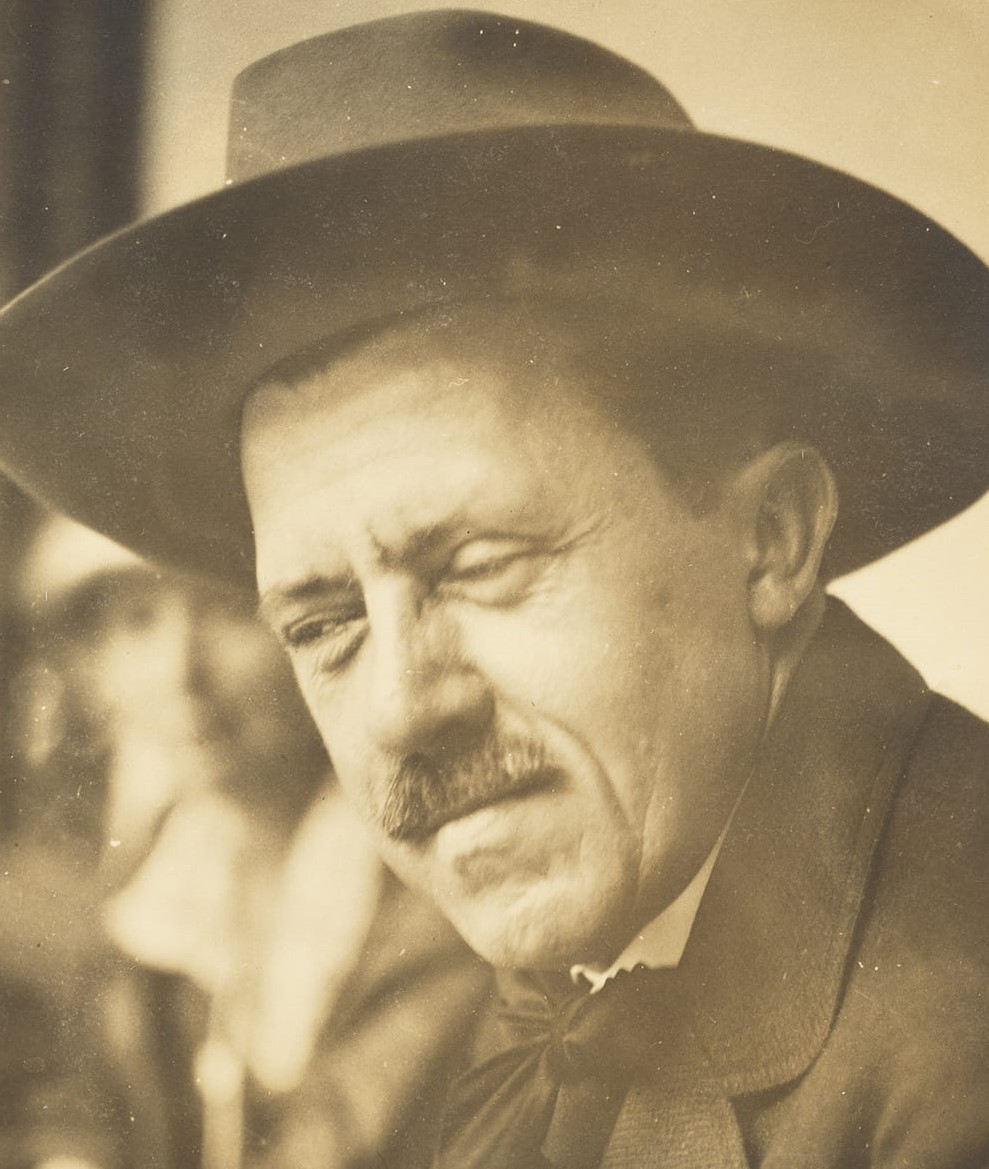 Edward Gustav Eisenlohr was born in Cincinnati, Ohio on November 9, 1872 to German immigrant parents, Rudolph and Emma [Hellner] Eisenlohr. Eisenlohr's grandfather, Gustav W. Eisenlohr, had fled Germany in 1850 due to his participation in the Revolutions of 1848 and settled in the newly established Texas community called New Braunfels, where he became pastor of the First Protestant church. In 1851, the Eisenlohr family moved to Cincinnati, Ohio; soon after the Civil War, the young Rudolph Eisenlohr was sent to Karlsruhe, Germany to study pharmacology.
There he met his future wife, Emma, who studied as an artist. They were married in September, 1870. The young groom returned to Cincinnati with his wife where he established an apothecary business; their son, Edward Gustav, was born on November 9, 1872. After the Panic of 1873, Rudolph sold his business and moved the family to Dallas, where he decided to reestablish his apothecary business, taking advantage of the population growth brought on by the arrival of two railroads that intersected in the city. In 1874 Rudolph purchased the lot at the corner of Main and Field streets in downtown Dallas and, two years later, he constructed a two-story building that housed the Eisenlohr Drug Store on the first floor and the family living quarters on the second.
In the 1880s, Eisenlohr traveled with his family to New Braunfels, Cincinnati, and Karlsruhe, Germany and later began writing children's books about his travel adventures. At the age of 14, he entered a drawing of the map of Texas in the art competition section of the newly established State Fair of Texas and won ten dollars. Wanting their son to have a proper education, the Eisenlohr family traveled to Europe so Edward could study in Switzerland. On their way, the family visited art galleries and museums and attended concerts. On October 1, 1887, Edward enrolled at The Concordia in Zurich where he took freehand drawing classes that included the study of landscape subjects. At the end of the academic year in 1889, Edward returned to his family home, located in now what is referred to as the Oak Cliff area of Dallas, and started work as a teller at the American Exchange National Bank. Again influenced by his mother, Edward set aside an art fund so he could continue with his art studies.
Eisenlohr continued his art studies in Dallas with two prominent Texas artists – Robert J. Onderdonk and Frank Reaugh. In 1892, Eisenlohr began a four-year study with Onderdonk, who had relocated from San Antonio to Dallas for a brief period before returning to San Antonio. Reaugh moved into the Oak Cliff area in 1890 where he set up his painting studio called "El Sibil." Reaugh was known for taking students on sketching trips to West Texas and, in 1911, Eisenlohr joined Reaugh's Trans-Llano Sketching Expedition. It was while studying with Reaugh that Eisenlohr began drawing with pastels. In 1903, both Eisenlohr and Reaugh were instrumental in the establishment of the Dallas Art Association – Reaugh assembled the exhibitions and Eisenlohr served as the art critic. Onderdonk and Reaugh introduced Eisenlohr to potential art patrons who were interested in his work and supported his professional career. In 1903, Eisenlohr, Reaugh, and Onderdonk were represented in the First Annual Exhibition of the Dallas Art Association at the Carnegie Library in downtown Dallas. Eisenlohr also exhibited his work at the State Fair of Texas and the private art gallery owned by Mrs. W. L. Crawford, located on Ross Avenue in Dallas.
Eisenlohr's art career began to flourish in the early 1900s. In 1907, Eisenlohr took a leave-of-absence from the bank to tour art galleries in the northeast. While on tour, he was notified that one of his landscape paintings [untitled] was accepted in the Fourteenth Annual Exhibition of American Art at the Cincinnati Museum of Art. Eisenlohr resigned from his job at the bank in order to become a full-time artist. Before leaving for additional study in Europe, Eisenlohr studied with Birge Harrison at the Art Students' League Summer School in Woodstock, New York. Once in Europe, he made study sketches of street scenes and local architecture in Belgium and Holland and visited museums in Paris to view work by Picasso, Cézanne, and Matisse. He returned to Karlsruhe, Germany where he enrolled at the State Academy of Fine Arts for the 1907 – 1908 academic year. There he studied with German Impressionist artists including Gustave Schoenleber, Hans Thoma, and Wilhelm Truebner. In April 1909, Eisenlohr displayed his European drawings at the First Annual Exhibition of the Work of Dallas Painters sponsored by the Dallas Art Association at the Fair Park Art Gallery. Over the next several years his work was shown in the following art institutions and organizations: American Water Color Society, Art Institute of Chicago, Corcoran Gallery, Museum of Modern Art [New York], National Academy of Design, New York Water Color Club, Pennsylvania Academy of Fine Arts, Society of Western Artists, and the Washington Water Color Society. In 1915, he was elected to membership into the Salmagundi Club, a prestigious artists' society based in New York City.