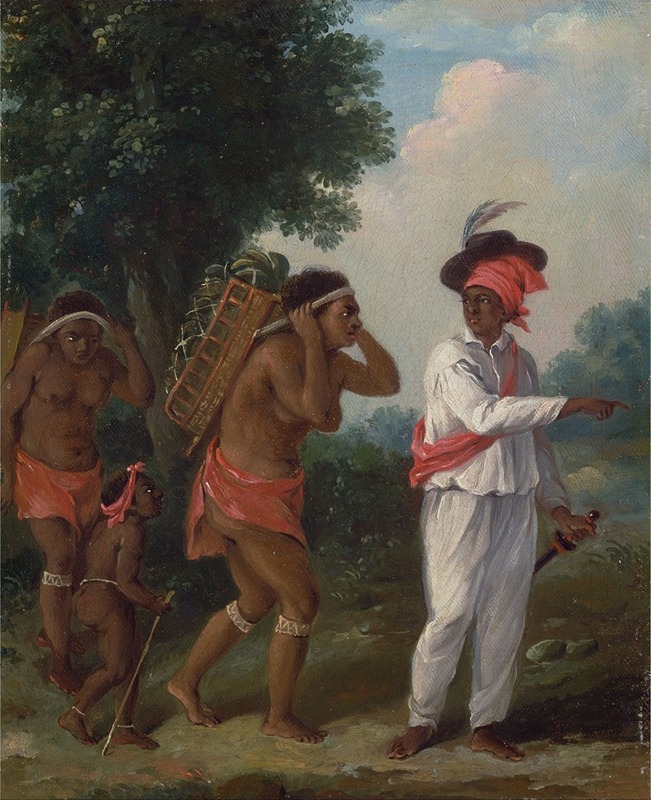 About the Artist
Agostino Brunias was a London-based Italian painter from Rome. Strongly associated with West Indian art, he left England at the height of his career to chronicle Dominica and the neighboring islands of the Lesser Antilles.
Brunias was born in Rome c. 1730; the exact date is uncertain. His first name has been spelled in various ways including Abraham, Alexander, August, or Austin, while his surname has been recorded as Brunais and Brunyas.
Brunias was a student at the Accademia di San Luca, Rome. In 1752, he exhibited an oil painting,, and in 1754 he won Third Prize in the Second Class for painting.
After Brunias met the Scottish architect Robert Adam, who was on a Grand Tour of Europe, he studied the "magnificent ruins of Italy" between 1756 and 1758. He became employed as a draughtsman by Adam, joining him in England in 1758, and painted for many of Adam's elegant buildings in England. Adam, praising his works, called Brunias a "bred painter". His murals and paintings covered the interior walls of many stately homes. Surviving examples of Brunias' early work include five paintings in the classical style (1759-1760), which were commissioned to decorate the breakfast room at Kedleston Hall, now housed at the Victoria and Albert Museum. By 1762, Brunias was residing in Broad Street, Carnaby Market, London and in 1763 and 1764, he exhibited at the Free Society of Artists in London.
At the end of 1764, Brunias left London for the British West Indies under the employ of Sir William Young, 1st Baronet. Young was at that time President of the Commission for the Sale of Ceded Lands in Dominica, Saint Vincent, Grenada and Tobago, following the Treaty of Paris. In 1768 Young was appointed Lieutenant Governor of Dominica, and then in 1770 was appointed Governor of Dominica, then one of Britain's newest colonies in the Lesser Antilles.
Brunias accompanied Young on his travels through the West Indies, providing him with subject matter including indigenous Carib life and evolving 18th-century creole cultures. His first sketches of the West Indies were done in Bridgetown in 1765, one of which was turned into a popular engraving titled "Barbados Mulatto Girl." Following Sir William Young, Brunias settled in settled in Dominica's capital, Roseau. From the West Indies, Brunias submitted two drawings to the Society of Artists' exhibition of 1770 in London.
Brunias returned to England around 1773 or 1775. In 1777 and 1779, three of his West Indian paintings were shown at the Royal Academy. He followed this accomplishment by publishing engravings of his West Indian paintings, some of which were "by his own hand. During this time he created wall paintings of "Caribbean aborigines" for the Ante Library at Stowe House.
During Brunias' absence from the West Indies, Dominica and St. Vincent were occupied by the French; Britain did not regain the colonies until the Treaty of Versailles was signed in 1783. Brunias was finally able to return to Dominica in 1784, and remained there until his death on the island of Dominica in 1796.
During the Haitian Revolution in the 1790s, Toussaint Louverture, liberator of Haiti and one of Brunias' supporters, wore eighteen buttons on his waistcoat which were each decorated with a different hand-painted miniature reproduction of Brunias' West Indian scenes.
Engravings of his designs continued to be published posthumously.