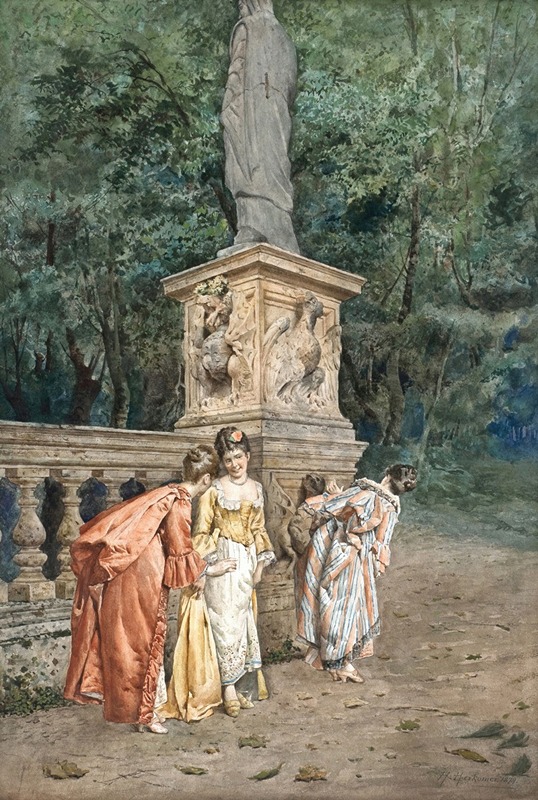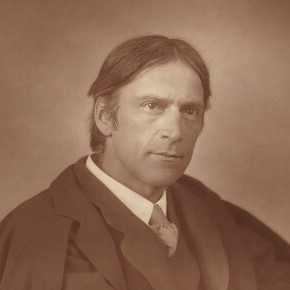 Sir Hubert von Herkomer CVO RA was a Bavarian-born British painter, pioneering film-director, and composer. Though a very successful portrait artist, especially of men, he is mainly remembered for his earlier works that took a realistic approach to the conditions of life of the poor. Hard Times (1885; Manchester Art Gallery) showing the distraught family of a travelling day-labourer at the side of a road, is one of his best-known works.
Herkomer was born on 26 May 1849 at Waal, in the Kingdom of Bavaria, the son of Lorenz Herkomer, a wood-carver of great ability, and his wife Josephine Niggl. His family was poor, and his mother tried to supplement his father's earnings by giving music lessons. Once his mother gave him a half sovereign for some shopping: "It was the last piece of gold in the place. I lost it. My parents were in despair".
Lorenz Herkomer left Bavaria in 1851 with his wife and child for the United States, settling in Cleveland, Ohio. They soon returned to Europe and in 1857 settled in Southampton at 10, Windsor Terrace, where the family spent seventeen years before moving to a house called Dyreham in Bushey in 1874. Hubert's education was slight: "He went to school for a month or two, and, falling ill never returned".
While in Southampton, Herkomer went to the school of art there and began his formal art training. An uncle in the United States of America commissioned his father to carve the four evangelists in wood. Receiving some money, his father determined to take Hubert to Munich, so that he could study art there while his father worked on the carving.
In 1866, Herkomer entered upon a more serious course of study at the South Kensington Schools and in 1869 exhibited for the first time at the Royal Academy of Arts in London. He sold his first picture for two guineas, but by the time he was twenty-four he had sold a picture for five hundred pounds.
In the same year in 1869, he also began working as an illustrator for the newly founded newspaper The Graphic, a deliberate rival of the Illustrated London News. It was by his oil painting The Last Muster (1875), after a wood-engraving of 1871, that he established his position as an artist of high distinction at the Academy. He was elected an associate of the Academy in 1879 and an academician in 1890, an associate of the Royal Watercolour Society in 1893 and a full member in 1894. In 1885 he was appointed Slade Professor of Fine Art at the University of Oxford, a position he held until 1894. He was the first president of the Oxford Art Society, established in 1891.
In 1899, Herkomer was ennobled as "Ritter von Herkomer" by Otto of Bavaria, who appointed him Knight of the Merit Order of the Bavarian Crown. The same year, he was awarded the Pour le Mérite for Arts by Emperor Wilhelm II of Germany.
On her deathbed, Queen Victoria was initially photographed in study and eventually painted by Herkomer as an alternative to the more traditional mask produced in wax, which her son, the new king Edward VII, decried. The painting, showing the Queen lying half-length among lilies and other flowers, swathed in white tulle, her right hand holding a cross, is part of the Royal Collection held at Osborne House on the Isle of Wight, where it hangs in the Pavilion Principal Stairs Vestibule. In 1907, Herkomer was knighted by King Edward VII.
Herkomer exhibited a very large number of memorable portraits, figure subjects, and landscapes, both in oil and watercolour; he achieved marked success as a worker in enamel, as an etcher, a mezzotint engraver, and an illustrative draughtsman and he exercised wide influence upon art education by means of the Herkomer School (Incorporated) at Bushey, which he founded in 1883 and directed without payment until 1904, when he retired. It was voluntarily wound up in 1926 having been run up to that time by Lucy Kemp-Welch, and is now defunct.
Despite being a prominent member of Royal Academy of Arts, Royal Watercolour Society, and Royal Society of Painter-Etchers, as well as being on familiar terms with the royal family, Herkomer was never totally accepted by the British establishment, as he was ultimately a victim of the deteriorating relationship of Great Britain and Germany, which he shuttled in between, spending most of his summers in Bavaria.
Herkomer was also a pioneering filmmaker. He established a studio at Lululaund and directed some seven historical costume dramas designed to be shown accompanied by his own music, but none of them seems to have survived.
He had strong connections with Wales. His second wife hailed from Ruthin and he spent lengthy periods in Snowdonia painting with his friend, Charles Mansel Lewis from Stradey Castle, Llanelli. In 1899, he designed the Grand Sword of the Gorsedd of Bards, and he also designed some of its other regalia.
Herkomer died at Budleigh Salterton on 31 March 1914 and was buried in St James's church, Bushey.