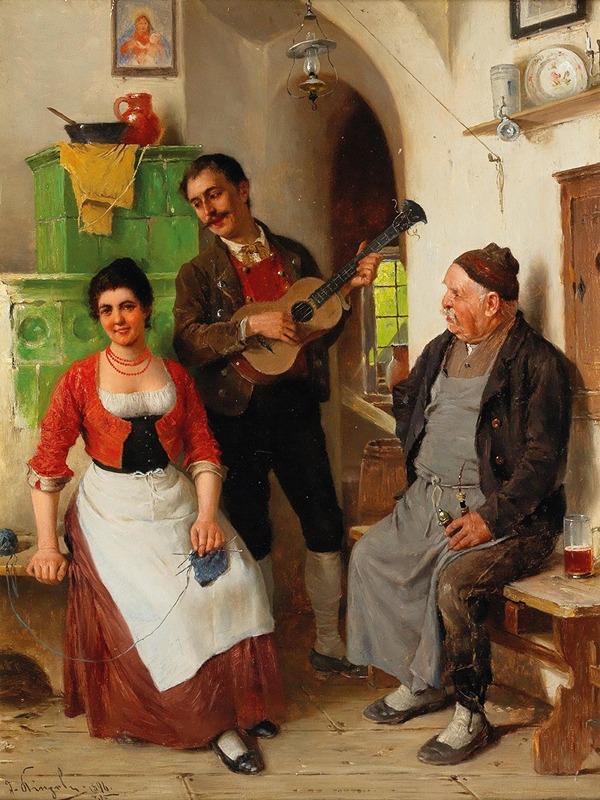 About the Artist
Josef Kinzel, father of the painter Elise Kinzel, was born on in Lobenstein in Silesia and died in the Wachau (Austria).
The genre, landscape and portrait painter studied at first under Eduard Engerth, Carl von Blaas, Carl Wurzinger, August Eisenmenger and Christian Griepenkerl at the Vienna Academy of Fine Arts.
Later he continued his studies at the Munich Academy. His teachers were Alois Gabl and Otto Seitz and Josef Kinzel specialised in genre painting.
On his return to Vienna in in the 1880s he joined the Vienna Kuenstlerhaus. Due to a paralysis in his right hand he painted with his left hand from age 42 on.
At that time, he often stayed in places like Joching, Weißenkirchen and Spitz in the Wachau where he painted landscapes and peasants.
He created humorous scenes backgrounded by picturesque rooms so typical of the Wachau. Josef Kinzel participated in numerous exhibitions in Vienna and Munich.
Three of his paintings were even purchased by the Austrian emperor Franz Joseph.