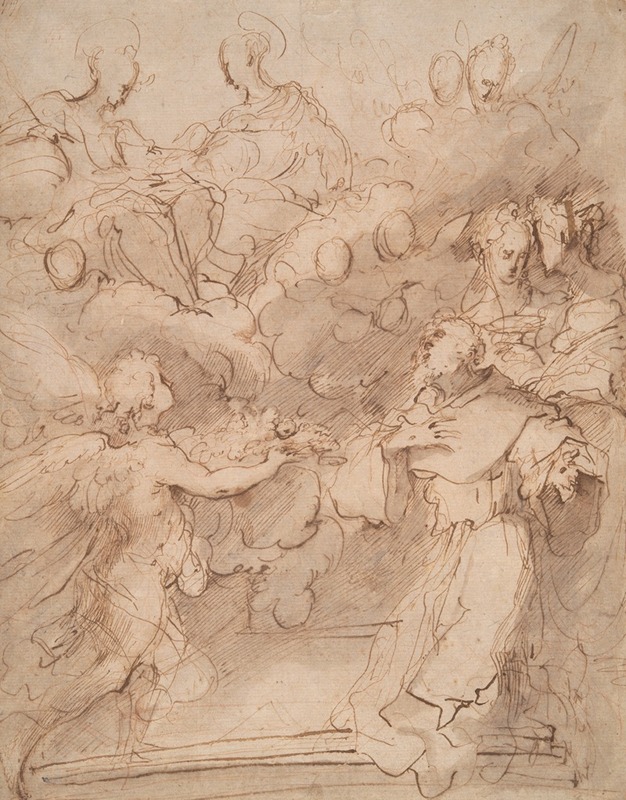 About the Artist
Valerio Castello born in Genoa, was an Italian painter of the Baroque period and one of the pre-eminent Ligurian painters of his time. His art drew inspiration from a wide range of sources. He painted on canvas and fresco.
He was the youngest son of Bernardo Castello, who died when Valerio was six years old. Valerio and his brothers were attached to the noble family of Torquato. While it had been the original intention for him to study a literate profession, he showed an affinity to drawing. This was noted by his patrons, who arranged his apprenticeship with Domenico Fiasella. Later he studied with Giovanni Andrea de' Ferrari. To seek new inspiration, he travelled to Milan and then to Parma, probably between 1640 and 1645. In Milan he admired the work of Camillo Proccacini. From there, he traveled to Parma.
He excelled in painting battle-scenes. He was also quite prolific within Genoa during his short life. He painted the Rape of the Sabines, now in the Palazzo Brignole, Genoa, and decorated the cupola of the Basilica della Santissima Annunziata del Vastato in the same city. For the house of Francesco Maria Balbi, he collaborated with the quadraturista from Bologna, Andrea Sghizzi to fresco the palace.
In his works he is regarded by his admirers as combining the fire of Tintoretto with the general style of Paolo Veronese. Castello influenced the work of young Domenico Piola. He also admired the work of Anthony van Dyck, who had spent a long time in Genoa and whose paintings could be seen all over the city. Among his pupils were Bartolomeo Biscaino, Giovanni Paolo Cervetto, and Stefano Magnasco (the father of Alessandro).
More Artwork by Valerio Castello
More Artwork by Valerio Castello