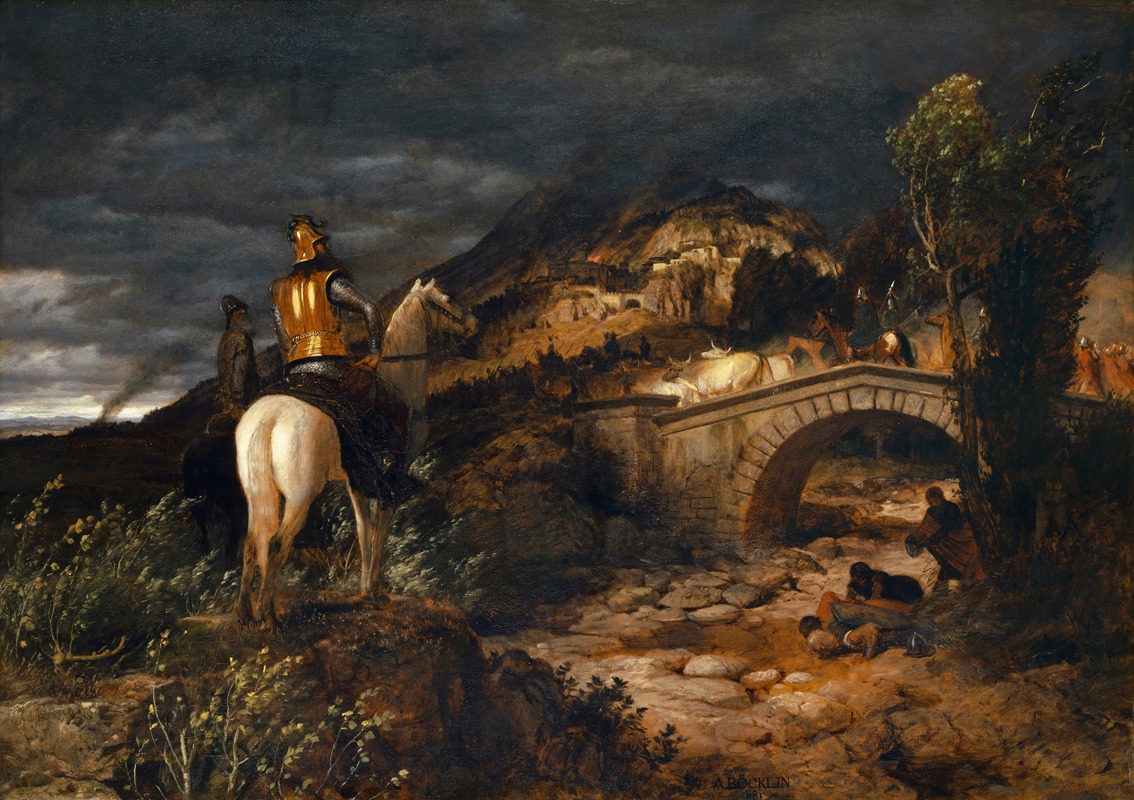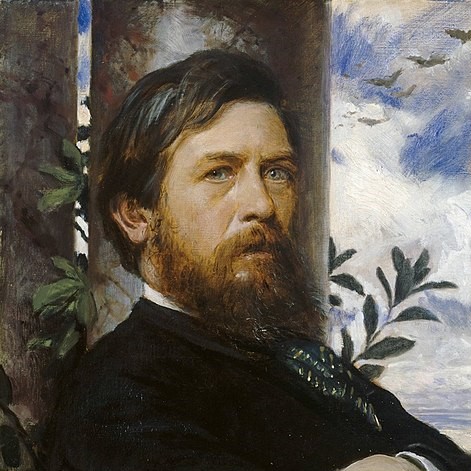 Arnold Böcklin was a Swiss symbolist painter.
He was born in Basel. His father, Christian Frederick Böcklin (b. 1802), was descended from an old family of Schaffhausen, and engaged in the silk trade. His mother, Ursula Lippe, was a native of the same city. Arnold studied at the Düsseldorf academy under Schirmer, and became a friend of Anselm Feuerbach. He is associated with the Düsseldorf school of painting. Schirmer, who recognized in him a student of exceptional promise, sent him to Antwerp and Brussels, where he copied the works of Flemish and Dutch masters. Böcklin then went to Paris, worked at the Louvre, and painted several landscapes.
After serving his time in the army, Böcklin set out for Rome in March 1850. The many sights of Rome were a fresh stimulus to his mind. These new influences brought allegorical and mythological figures into his compositions. In 1856 he returned to Munich, and remained there for four years.
Influenced by Romanticism, Böcklin's symbolist use of imagery derived from mythology and legend often overlapped with the aesthetic of the Pre-Raphaelites. Many of his paintings are imaginative interpretations of the classical world, or portray mythological subjects in settings involving classical architecture, often allegorically exploring death and mortality in the context of a strange, fantasy world.
Böcklin is best known for his five versions (painted 1880 to 1886) of the Isle of the Dead, which partly evokes the English Cemetery, Florence, which was close to his studio and where his baby daughter Maria had been buried. An early version of the painting was commissioned by a Madame Berna, a widow who wanted a painting with a dreamlike atmosphere.
Clement Greenberg wrote in 1947 that Böcklin's work "is one of the most consummate expressions of all that is now disliked about the latter half of the nineteenth century."