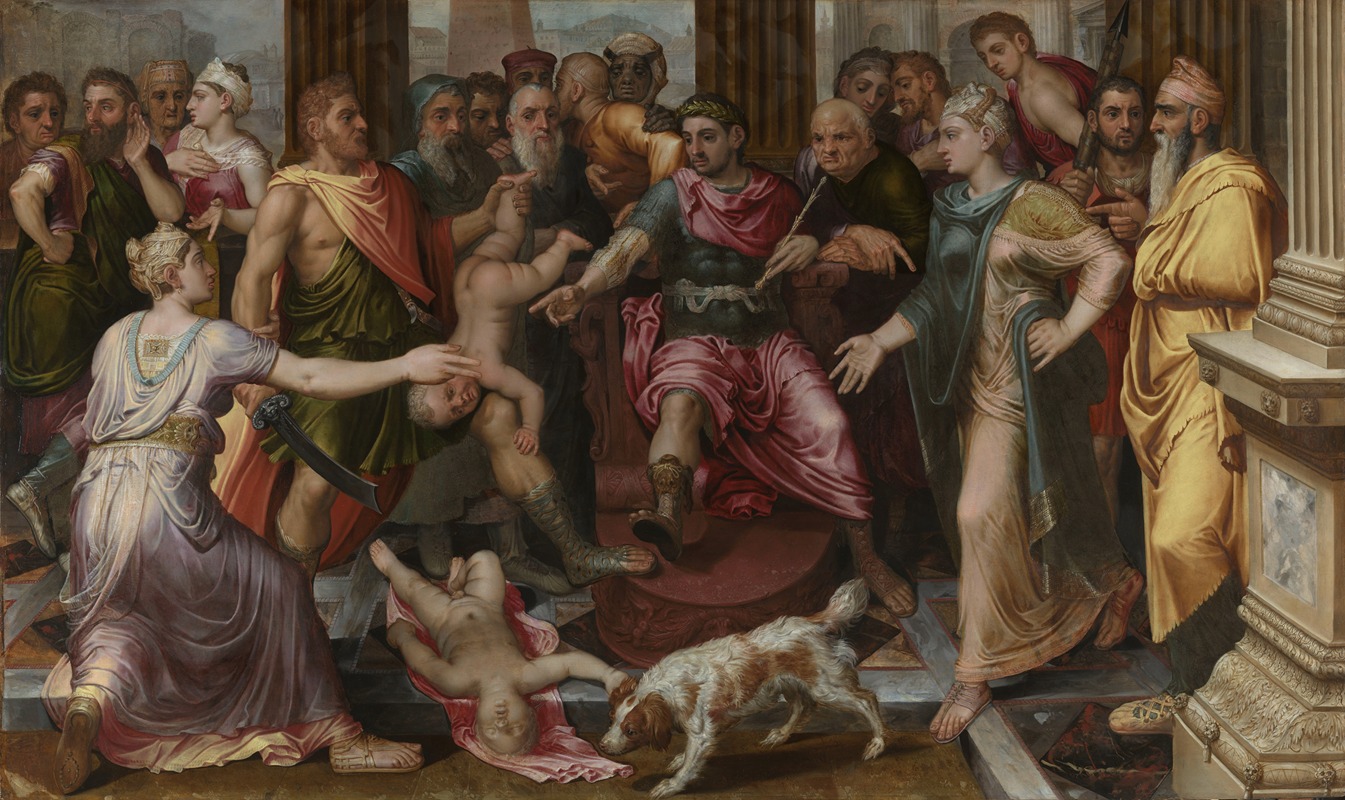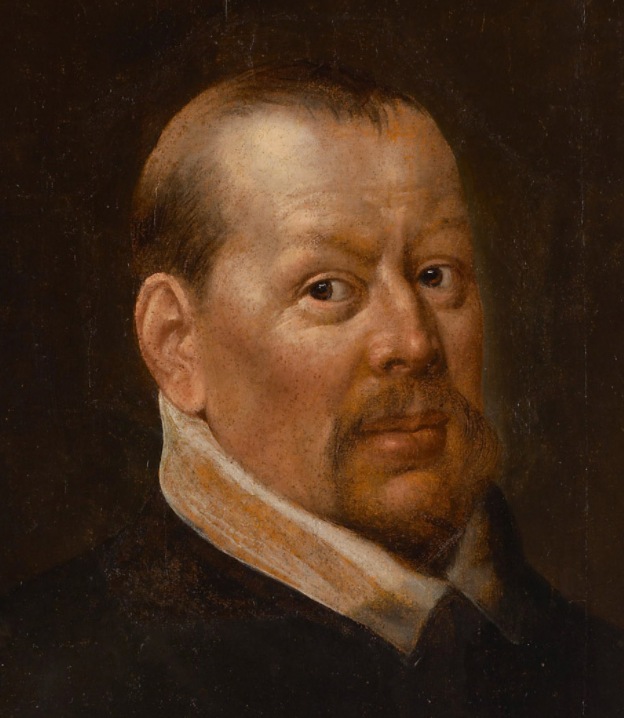 Frans Floris, Frans Floris the Elder or Frans Floris de Vriendt was a Flemish painter, draughtsman, print artist and tapestry designer. He is mainly known for his history paintings, allegorical scenes and portraits. He played an important role in the movement in Northern Renaissance painting referred to as Romanism. The Romanists had typically travelled to Italy to study the works of leading Italian High Renaissance artists such as Michelangelo, Raphael and their followers. Their art assimilated these Italian influences into the Northern painting tradition.
Frans Floris was born in Antwerp. He was the scion of a prominent artist family which originally went with the name 'de Vriendt'. The earliest known ancestors of the Floris de Vriendt family, then still called only 'de Vriendt', were residents of Brussels where they practiced the craft of stonemason and stonecutter which was passed on from father to son. One of Frans' ancestors became in 1406 a master of the Brussels stonemasons guild. A family member, Jan Florisz. de Vriendt, left his native Brussels and settled in Antwerp in the mid-15th century. His patronymic name 'Floris' became the common family name in subsequent generations. The original form 'de Vriendt' can, however, still be found in official documents until the late 16th century.
Frans' brothers were prominent artists. The most famous one is Cornelis who was an architect and sculptor and was one of the designers of the Antwerp City Hall. Jacob Floris was a painter of stained-glass windows and Jan Floris was a potter. Jan traveled to Spain to practice his art there and died young.
Documentary evidence about the life of Frans Floris is scarce. Most of what we know about the youth and training of Frans Floris is based on the early biographer Karel van Mander's biography of the artist. At ten pages long it is one of the most detailed biographies in van Mander's Het Schilder-boeck published in 1604. According to van Mander, Frans Floris was the son of the stonecutter Cornelis I de Vriendt (died 1538). Like his brothers, Frans began as a student of sculpture, but later he gave up sculpture for painting. Floris went to Liège where he studied with the prominent painter Lambert Lombard. The choice for Lombard as a teacher was surprising since Antwerp was a cultural centre with many outstanding painters. He may have chosen Lombard as his brother Cornelis was good friends with Lombard, whom he had met in Rome around 1538. It is also possible that Frans trained as a painter in Antwerp before studying under Lombard. Floris became a master in the Antwerp Guild of Saint Luke in 1539–40.
Lombard encouraged Frans Floris to study in Italy. He traveled to Rome probably as early as 1541 or 1542 and became fascinated with Italian contemporary painting (particularly Michelangelo and Raphael) and the Classical sculpture and art of Rome. He kept a notebook of sketches, which his pupils would later etch. Floris visited other cities in Italy including Mantua and Genoa.
Upon his return to Antwerp around 1545, Frans Floris opened a workshop on the Italian model. He became the leading history painter and was called the 'Flemish Raphael'. He enjoyed the patronage of prominent personalities such as the wealthy Antwerp banker Niclaes Jonghelinck for whose house he painted a series of ten compositions on the legend of Hercules and seven compositions on the liberal arts. He also painted 14 large panels for the duke of Aarschot's palace of Beaumont. Local nobility including the knights of the Golden Fleece, the Prince of Orange and the Counts of Egmont and Horn (later the leaders of the Dutch Revolt) visited Floris at his home, attracted by his artistic reputation as well as his ability to talk with 'great insight and judgment on any topic'. He also moved in the circle of the leading humanists such as Abraham Ortelius, Christophe Plantin, Lucas de Heere, Lambert Lombard, Dominicus Lampsonius and Hieronymus Cock. This group of intellectuals and artists was the first to develop theories on art and the role of artists in the Low Countries. In 1549 Floris was commissioned by the Antwerp city authorities to design the decorations for the Joyous entry into Antwerp of Charles V of Spain and the Infante Philip.
In 1547 Floris married Clara Boudewijns and the couple had one daughter and two sons. The sons Frans and Baptist were later trained as artists by their father. Baptist died young while Frans moved to Italy where he had a successful career.
Van Mander recounts that at the end of his life Floris became heavily indebted and started drinking. The debts were likely related to his high costs of living as well as the impact of the Beeldenstorm or Iconoclastic Fury that commenced from the 1560s and reached its peak in 1566. During the period of iconoclasm, Catholic art and many forms of church fittings and decoration were destroyed by nominally Calvinist Protestant crowds as part of the Protestant Reformation. It is said Floris never recovered from the shock of seeing his artworks destroyed. Instead, he found himself in a downward spiral in both his personal and professional affairs. His disaffection was so great that he even refused to restore his own works damaged during the Beeldenstorm. He virtually stopped painting after 1566 and his place as the leading history painter in the Habsburg Netherlands was taken by a younger generation of artists among whom Marten de Vos became the most prominent.
Van Mander recounts that while working on a large commission for the grand prior of Spain, Floris became ill and died on 1 October 1570 in Antwerp. His paintings for the grand prior were finished by his studio assistants Frans Pourbus the Elder and Chrispijn van den Broeck. Poems were written about him by Dominicus Lampsonius and the poet-painter Lucas de Heere, who according to van Mander, was his pupil.