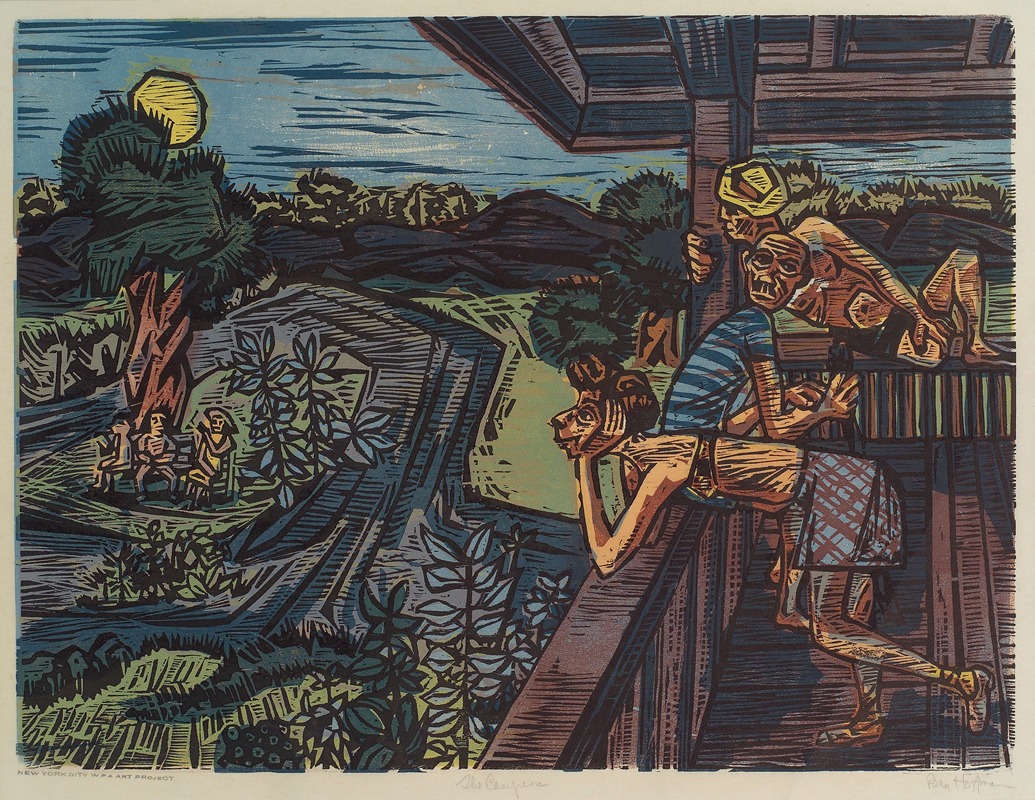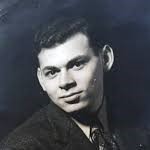 About the Artist
Benjamin Abramowitz (also known as "Ben Hoffman" during the late 1930s and early 1940s) was an American painter, printmaker, and sculptor. First recognized for his contribution at age 19 as senior artist with the Federal Art Project of the Works Progress Administration (WPA) in New York City, he is among the most respected Washington DC artists of the past century.
Abramowitz was born in Brooklyn, New York in 1917 to Russian immigrants. He studied life drawing at the Brooklyn Museum School, and had his first solo exhibition there at the age of 16. He attended the National Academy of Design. In 1936 he joined the Work Projects Administration (W.P.A.) using the name of Ben Hoffman and was a teacher, mural assistant, senior printmaker and painter. The Metropolitan Museum in New York holds eleven lithographs from the young artist.
In 1941, Abramowitz moved to Washington, DC taking on U.S. government graphic assignments. He chose to make Greenbelt his base for both home and studio for more than half a century. The postwar years were a time of critical personal and artistic evolution for him. By day a lithographer, each and every night driven by discipline, he drew and painted.
By the time he was in his early 30s, Abramowitz had become a celebrated star in the growing Washington, DC-Baltimore regional art scene. From the 1940s on, critics, curators and collectors enthusiastically sought out his work. His work began to be purchased for major regional collections among them, the Baltimore Museum of Art and the Phillips Collection. The Corcoran Gallery of Art selected his work annually for its biennial exhibitions.
By the mid-20th century, Abramowitz, was recognized not only as a painter, but also as a teacher and "art coach" throughout the Washington metropolitan area. Among his students was the D.C. painter and sculptor Lilian Thomas Burwell. The Ford Foundation sent him throughout the country, lecturing, conducting seminars and critiques as artist-in-residence. All the while, he kept journals and maintained an active correspondence with critics, curators and students.
By the 1970s, he moved beyond the canvas, and turned to making elegant and iconic wall works and freestanding sculptures, some black, some white, filling book after book with ideas for more. He designed four books illustrating the basic principles of the creative experience. Until his mid-80s, when diminishing vision essentially prevented him from continuing to work, he created steadily and with the same discipline and vigor that marked his earlier years. By 2008, his early work in the WPA became increasingly valuable and recognized, and is currently featured in a touring exhibition.
Abramowitz' distinguished lifework has been cited in numerous prestigious biographical volumes. The National Archives of American Art holds hundreds of papers, letters and other materials.