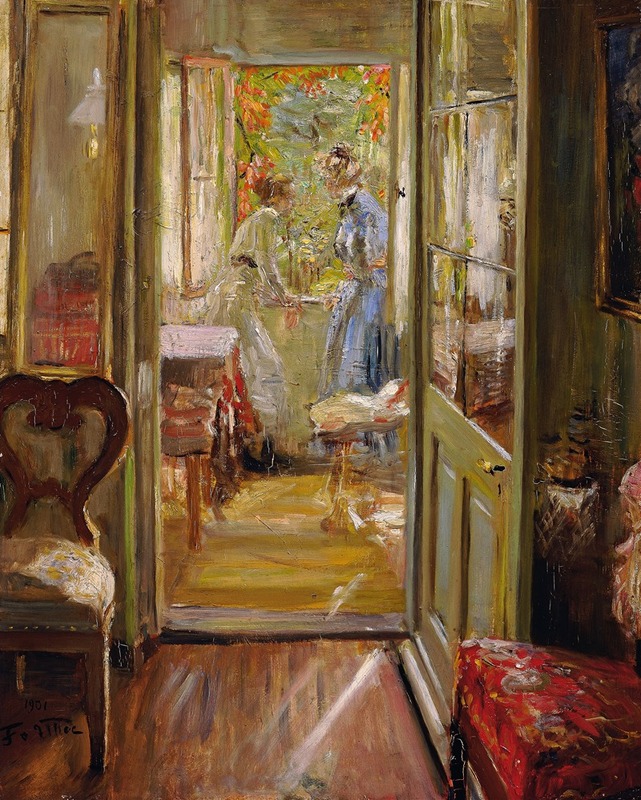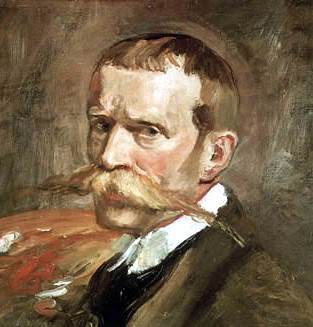 About the Artist
Fritz von Uhde was a German painter of genre and religious subjects. His style lay in-between Realism and Impressionism, he was once known as "Germany's outstanding impressionist" and he became one of the first painters to introduce plein-air painting in his country.
Uhde was born in Wolkenburg, Saxony. His family, moderately wealthy civil servants, had artistic interests. His father was actually a part-time painter and his maternal grandfather was director of the Royal Museums in Dresden. Uhde found art appealing while studying at the Gymnasium at this city, and in 1866 he was admitted to the Academy of Fine Arts in Dresden. Totally at variance with the spirit prevailing there, later that year he left his studies to join the army. He became horsemanship instructor to the regiment of the assembled guard, and was promoted to Lieutenant in 1868.
After meeting the painter Makart in Vienna in 1876, Uhde left the army in 1877 with the intention to become an artist. He moved to Munich in that year to attend the Academy of Fine Arts. There, he particularly came to admire the Dutch old masters, especially Rembrandt. He also taught Lilla Cabot Perry, influencing her use of color.
Unsuccessful in his attempts to gain admittance to the studios of Piloty, Lindenschmit, or Diez, in 1879 he traveled to Paris where his studies of the Dutch painters continued under Mihály Munkácsy's supervision. He worked for a short time in that master's studio, but principally studied from nature and his old Netherland models. As a late starter in his art studies, he was determined to succeed quickly. The final work he painted at Munkácsy's school, The Singer, was exhibited in the Paris Salon of 1880, where it was awarded an honorable mention.
In 1882 a journey to the Netherlands brought about a change in his style, as he abandoned the dark chiaroscuro he had learned in Munich in favor of a colorism informed by the works of the French Impressionists. Encouraged by his contemporary Max Liebermann, whose portrait he painted, Uhde painted Fishermen's Children in Zandvoort (1882) as an experiment in plein-air painting, but chose to exhibit a more conventional version of the composition, the Arrival of the Organ-Grinder (1883; Kunsthalle Hamburg). This conflict between innovation and caution characterized the greater part of his career.
In about 1890, Uhde became a professor at the Academy of Fine Arts in Munich. He was, with Max Slevogt, Ludwig Dill and Lovis Corinth, one of the founding members of the Verein Bildender Künstler (Society of Fine Artists), better known as the Munich Secession. He later joined the Berlin Secession as well.
Uhde became an honorary member of the academies of Munich, Dresden and Berlin. He became the first President of the Secession, and progressing in his naturalistic conception, he came to develop his own "unacademic" syle. He gave rise to a complete change in German art, and counted among his followers most of the younger generation. Adolf Hölzel was influenced by him in his early work.
He became less active in the art world after 1900, but continued to paint until his last days. This was the time when, in the opinion of Charles & Carl, he created "the most vivid and artistic paintings of his career", so that he can be considered "one of the most important artists of the 20th century". He died in Munich in 1911.
Load previous products
Load next products