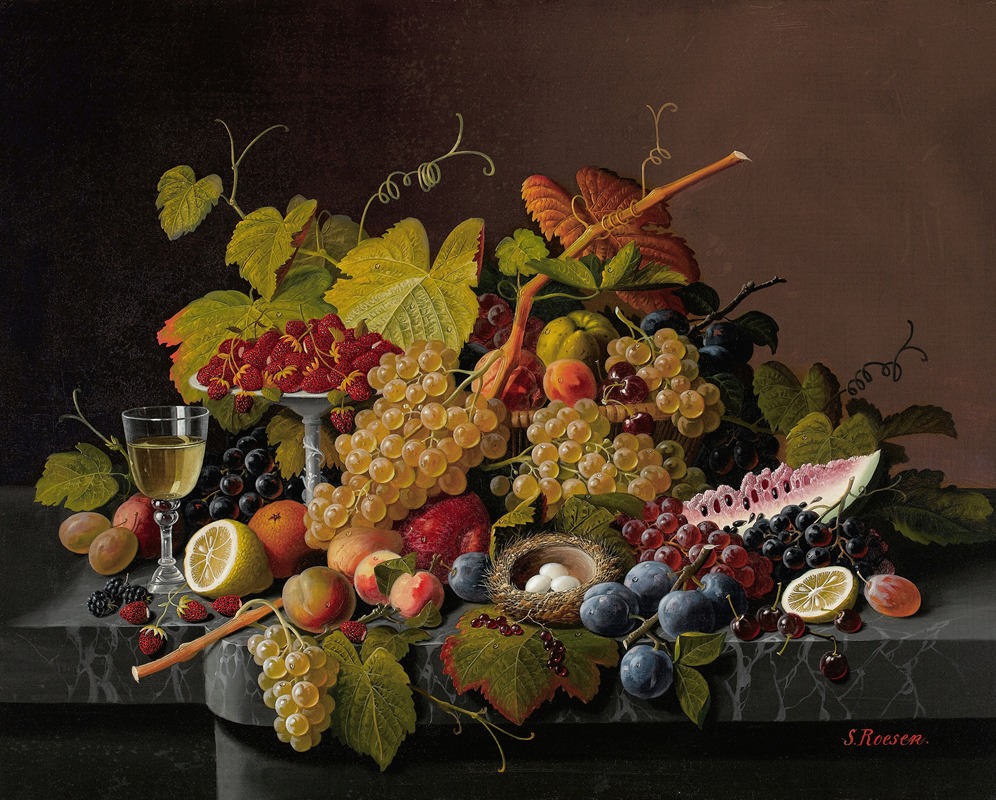 Severin Roesen is a painter known for his abundant fruit and flower still lifes and is today recognized as one of the major American still-life painters of the mid-nineteenth century.
Little is known about Roesen. He was baptized on February 5, 1816 in Boppard. His parents were called Stephanus and Margaretha (nee Krebs.) On 10 March 1847 at Sankt Kastor Katholisch, Koblenz Stadt, Rheinland, Prussia he married Sophia Jacobina Lambricht b 22 January 1824. He was a porcelain painter in Cologne and exhibited a floral painting at the Cologne local art club in 1847. On the way to New York he arrived at Dover England on 27 December 1847. He immigrated to New York and arrived on 4 February 1848, and exhibited eleven paintings there at the American Art-Union between 1848 and 1852. Sophia died soon after their marriage and on 30 October 1849 he re married. The marriage took place at the Evangelical Lutheran Church of Saint Matthew in York York City. His new wife was Wilhelmine Ludwig born 1831 in Alzey Germany. They had 2 children. Minnie b 1854 and Oscar b 1857. Roesen moved to Pennsylvania in 1857, leaving New York and his family. He lived briefly in Philadelphia, and then moved to rural, German-American communities in Harrisburg, Huntingdon, and finally Williamsport, where he settled around 1863. During this period, he also exhibited works at the Maryland Historical Society in Baltimore in 1858, at the Pennsylvania Academy of Fine Arts in 1863, and at the Brooklyn Art Association in 1873.
A large number of Roesen's paintings were discovered in Williamsport. His pictures of nature's abundance found a ready market in the town's growing population (many of German descent) of prosperous merchants and lumbermen, who purchased them to adorn their newly built homes as well as taverns, restaurants, and hotels. One hotelier and brewer, Jacob Flock, owned more than fifty paintings by Roesen, which were presumably traded for lodging and for beer, the artist's favorite beverage.
Roesen's last dated painting is from 1872, and his life after, as well as his date and place of death, remains unknown.