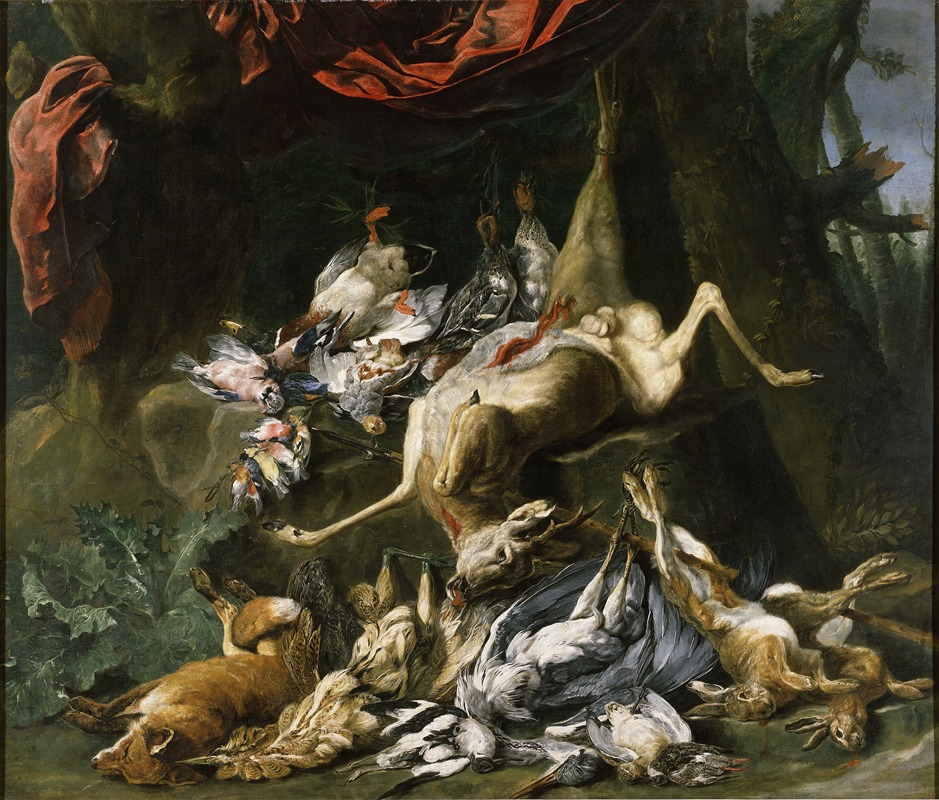 Jan Fijt or Johannes Fijt (or Fyt) was a Flemish Baroque painter, draughtsman and etcher. One of the leading animaliers of the 17th century, he was known for his refined depictions of animals and his lush hunting pieces.
Jan Fyt was born in Antwerp as the son of a wealthy merchant. In 1621 he was registered at the Antwerp Guild of St Luke as an apprentice of Hans van den Berghe (also referred to as 'Jan van den Bergh'), a Dutch painter and draughtsman who had trained with Goltzius in Haarlem and later with Rubens in Antwerp. Fyt then likely completed his training with the leading Antwerp animal painter Frans Snyders from 1629 to 1631. He became a master of the Antwerp Guild of St Luke in 1630.
After setting out on a trip to Southern Europe in 1633, Fyt stopped for a while in Paris. He traveled on to Italy the following year. He worked in Venice for the prominent Sagredo and Contarini families. During his stay in Italy, he most likely visited Naples, Florence and Genoa. He resided in Rome in 1635. Here he joined the Bentvueghels, an association of mainly Dutch and Flemish artists working in Rome. It was customary for the Bentvueghels to adopt an appealing nickname, the so-called 'bent name'. Fyt was reportedly given the bent name 'Goudvink' ('bullfinch'). The Italian art historian Pellegrino Antonio Orlandi stated in his Abecedario pittorico of 1704 that Fyt also spent time in Spain and London.
Diana's hunt, collaboration with Thomas Willeboirts Bosschaert
By 1641 Fyt is recorded back in Antwerp where he remained active for the remainder of his life aside from a brief trip to the Dutch Republic which he is believed to have made that same year. Fyt ran a successful studio in Antwerp which produced many copies of his creations. He became a wealthy man and maintained a network of contacts with patrons and art dealers both at home and abroad. He was frequently mentioned in judicial documents in Antwerp in relation to disputes and court cases with other painters and members of his own family over money.
Fyt joined the Guild of Romanists in 1650. The Guild of Romanists was a society of notables and artists which was active in Antwerp from the 16th to 18th century. It was a condition of membership that the member had visited Rome. In the year 1652 the Guild chose Fyt as its dean.
Fyt married Françoise van de Sande on 22 March 1654 and the couple had four children. He died in Antwerp on 11 September 1661.
Fyt's pupils included Pieter Boel and Jaques van de Kerckhove. Pieter Boel's style remained very close to Fyt's.