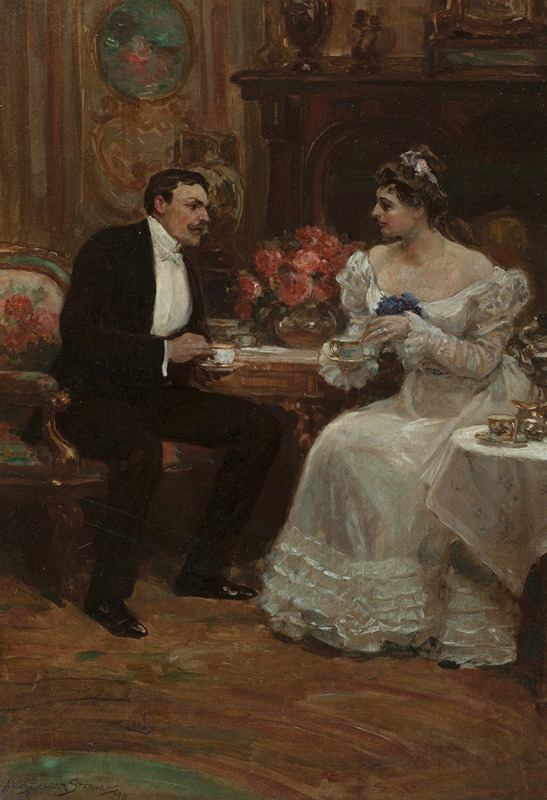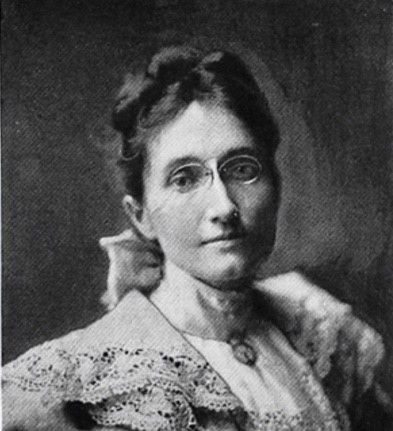 About the Artist
Alice Barber Stephens was an American painter and engraver, best remembered for her illustrations. Her work regularly appeared in magazines such as Scribner's Monthly, Harper's Weekly, and The Ladies Home Journal.
Alice Barber was born near Salem, New Jersey. She was the eighth of nine children born to Samuel Clayton Barber and Mary Owen, who were Quakers.
She attended local schools until she and her family moved to Philadelphia, Pennsylvania. At age 15 she became a student at the Philadelphia School of Design for Women (now Moore College of Art & Design), where she studied wood engraving.
She was admitted to the Pennsylvania Academy of the Fine Arts in 1876 (the first year women were admitted), studying under Thomas Eakins. Among her fellow students at the Academy were Susan MacDowell, Frank Stephens, David Wilson Jordan, Lavinia Ebbinghausen, Thomas Anshutz, and Charles H. Stephens (whom she would marry). During this time, at the academy, she began to work with a variety of media, including black-and-white oils, ink washes, charcoal, full-color oils, and watercolors. In 1879, Eakins chose Stephens to illustrate an Academy classroom scene for Scribner's Monthly. The resulting work, Women's Life Class, was Stephens' first illustration credit.
In 1880, Stephens left the Academy to work full-time as an engraver. Her work was in high demand for popular illustrated magazines like Harper's, the oldest general-interest monthly magazine in America, and Century. While she frequently depicted domestic scenes featuring women and children, her illustrations defied categorization in a single genre. Stephens' connection with Harper's began in approximately 1882, as it printed the work of American artists and writers, such as Winslow Homer and Mark Twain. Much of her work was published in Harper's Young People (later known as Harper's Round Table).
By the mid-1880s, however, Stephens' pace of work began to affect her health. She started to shift into pen-and-ink illustration. Her health continued to suffer, however. In an effort to recuperate, during 1886–1887, she traveled to Europe to sketch, study, and rest. In Paris, she studied at the Académie Julian and the Académie Colarossi. She exhibited two works, a pastel study and engraving, at the Paris Salon in 1887.
Upon her return from Europe, Stephens resumed her illustration career with contributions to the Ladies' Home Journal and several book projects for Houghton Mifflin and Crowell publishers. Likely influenced by her European travels (and potentially by her husband), she also began painting in oil.
Stephens exhibited her work at the Palace of Fine Arts and The Woman's Building at the 1893 World's Columbian Exposition in Chicago, Illinois.
In 1888, she began to teach courses at the Philadelphia School of Design for Women. Around the same time, with artist and educator Emily Sartain, she was one of the founders and officers of The Plastic Club of Philadelphia (1897), the oldest art club for women in continuous existence. During this period she also co-founded the Civic Club of Philadelphia.
Among Stephens' students at the School of Design was Charlotte Harding, who became a well-known illustrator. Harding also worked for Century, Harper's and other popular magazines at the time. Stephens later invited Harding to share her studio, located at 1004 Chestnut Street in Philadelphia. The Chestnut Street studio became a meeting point for other artists, including students from the School of the Design and the Academy of Fine Arts.
She illustrated Sarah Orne Jewett's An Every-Day Girl (1890). Her painting The Germania Orchestra at the Pennsylvania Academy of the Fine Arts (1891) is now among the collection of the Biggs Museum of American Art in Dover, Delaware. During the mid-1890s, following the development of the halftone process, Stephens started to use more varied media, including watercolor, for her illustrations. The increasing popularity of her illustrations for mystery stories earned her the title "Mistress of Mysteries."
In 1899, Stephens was invited to teach at the Pennsylvania Academy of the Fine Arts, but she declined the offer due to poor health. Following another European sojourn during 1901–1902, Stephens also completed illustrations for the 1903 edition of Louisa May Alcott's Little Women. During Stephens' time in Paris in 1902, Maria Christina of Spain requested that Stephens paint her portrait.
Stephens continued to work as a renowned illustrator and completed illustrations for the 1903 edition of Louisa May Alcott's Little Women. She served on the jury for the Louisiana Purchase Exposition in St. Louis. In 1904, more commonly known as the St. Louis World's Fair.
During the late 1910s, the pace of Stephens' work began to slow. She reportedly told an interviewer that she refused to work during World War I, saying it was not "worthwhile to make pictures in the midst of destruction." In 1917, Hamlin Garland's A Son of the Middle Border was published, which was illustrated by Stephens.
In the later part of her career, in the 1920s, Stephens' illustrations were made of mostly washes or charcoal with washes. She painted landscapes and portraits of Quakers and Pennsylvania Germans. By 1926, she had ceased working commercially.
In 1929, the Plastic Club held a retrospective exhibition of her work in Philadelphia.
In June 1890, Stephens married Charles Hallowell Stephens (1855-1931), an instructor at the Pennsylvania Academy of the Fine Arts. According to Charles' student Helen W. Henderson, Alice Barber and Charles H. Stephens had first become attached while they were both students at the Academy, and a "long romantic engagement" preceded their eventual marriage. They had one son, D. Owen Stephens (1894–1937), who also became an artist. Following a long trip abroad in 1901–1902, the Stephenses had architect Will Price convert a stone barn in the utopian community of Rose Valley, Pennsylvania into Thunderbird Lodge (1904), a sprawling house that contained studios for both of them.
She died in 1932 at Thunderbird Lodge at the age of 74, after having a paralytic stroke. She is buried in West Laurel Hill Cemetery in Bala-Cynwyd.