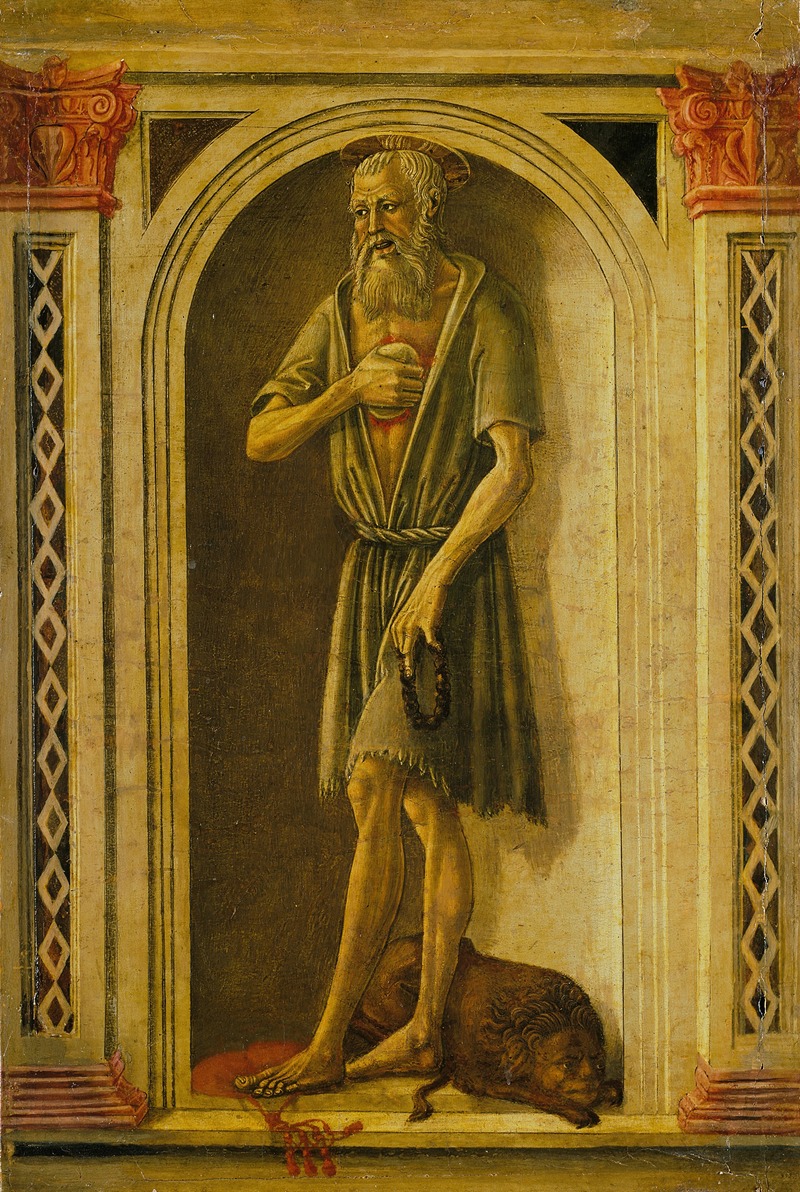 About the Artist
Benvenuto di Giovanni, also known as Benvenuto di Giovanni di Meo del Guasta was an Italian painter and artist known for his choral miniatures, pavement designs, and frescoes. Working chiefly in Siena, he was first recognized to be working as an artist in 1453 and continued his work nearly until his death in approximately 1518. During his lifetime, he was influenced by many various artists and in the 1480s, Benvenuto's style changed drastically.
Though Benvenuto did explore into other fields of work, painting was consistently a part of his life. His son, Girolamo di Giovanni, followed in his footsteps and also became a painter. In fact, there have often been instances in which the work of one the two has been confused for that of the other. Nevertheless, Benvenuto left behind significantly more works. Some of his works were both signed and dated, some were only signed, and some were only dated. However, regardless of debate over date or authorship, Benvenuto left behind a significant number of works, both ones that are quite well known as well as others that are more minor in their distinction. His pieces that are signed, dated, and still existing have dates spanning a period of 43 years. In addition to the works that he left behind, he also left behind a legacy through the artists that he influenced during his lifetime.
Born to a bricklayer in Siena, Benvenuto remained there for his entire life, only occasionally venturing to nearby cities for his work. The first records of him as an artist are of his contributions to the Siena Baptistery in 1453. His work here was likely in collaboration with il Vecchietta, as it is believed that Benvenuto was trained in his workshop. Outside of Vecchietta, Benvenuto was also likely to have worked under Sano di Pietro because they share a number of similarities stylistically.
Benvenuto was commissioned to do a number of works in the Siena Cathedral during his life that included choral miniatures, pavement designs, and frescoes. However, he was not the only artist requested to work in the cathedral; artists and painters such as Matteo di Giovanni, Francesco di Giorgio Martini, and Neroccio di Bartolomeo de' Landi were also commissioned, or hired, for nearly the same jobs. This commonality led to Benvenuto and the other artists having a significant amount of influence upon one another's style.
Other painters that had works in the Siena Cathedral were Liberale da Verona and Girolamo da Cremona. What sets these artists apart is that it is believed that their pieces in the cathedral were what led to Benvenuto's great shift in style in the 1480s. In 1482, he was commissioned to paint Donation of the Keys to St. Peter in the Antiphonary of the Birth of St. John. It was at this time that he saw Liberale and Girolamo's recent works in the cathedral that incorporated bright colors and manipulated light. As a result of this, he began to do the same in his paintings. Additionally, not only did his style shift in this way, but he also began to experiment with the concept of spatial distortion that was common in paintings by Vecchietta and Donatello. He used a very naturalistic style for his figures, but paired them with a brightly colored and sharply lit background. The combination of his efforts to depict realistic figures, to strategically utilize colors, and to manipulate space in order to give his paintings depth led to a style that was both distinct and uniquely his. These shifts in his style can be seen in paintings such as Maestà and Ascension.
Outside of painting, Benvenuto also explored other personal endeavors. In 1466, he married Jacopa di Tommaso de Cetona. After their marriage, he served at least two terms in a public office. Together, they owned a vineyard and also had seven children. The only child that much is known about is Girolamo, as he was Benvenuto's only follower. However, Girolamo is regarded as both less gifted and less influential, largely because he only survived his father by six years.