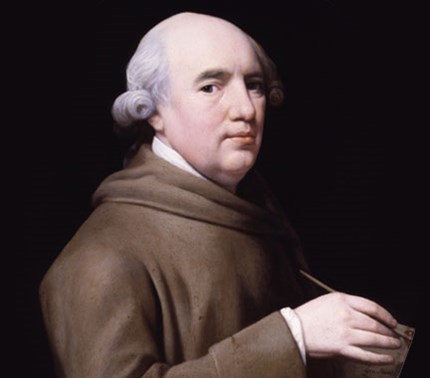 About the Artist
George Stubbs ARA (1724 – 1806) was an English painter, best known for his paintings of horses.
Stubbs was born in Liverpool, the son of a currier, or leather-dresser, John Stubbs, and his wife Mary.
He worked at his father's trade until the age of 15 or 16, at which point he told his father that he wished to become a painter.
He had had a passion for anatomy from his childhood, and in or around 1744, he moved to York, in the North of England, to pursue his ambition to study the subject under experts. In York, from 1745 to 1753, he worked as a portrait painter, and studied human anatomy under the surgeon Charles Atkinson, at York County Hospital.
His most famous work is probably Whistlejacket, a painting of the thoroughbred race horse rising on his hind legs, commissioned by the 2nd Marquess of Rockingham. Throughout the 1760s he produced a wide range of individual and group portraits of horses, sometimes accompanied by hounds. He often painted horses with their grooms, whom he always painted as individuals. Meanwhile, he also continued to accept commissions for portraits of people, including some group portraits. From 1761 to 1776 he exhibited at the Society of Artists of Great Britain, but in 1775 he switched his allegiance to the recently founded but already more prestigious Royal Academy of Arts.
Stubbs also painted more exotic animals including lions, tigers, giraffes, monkeys, and rhinoceroses, which he was able to observe in private menageries.