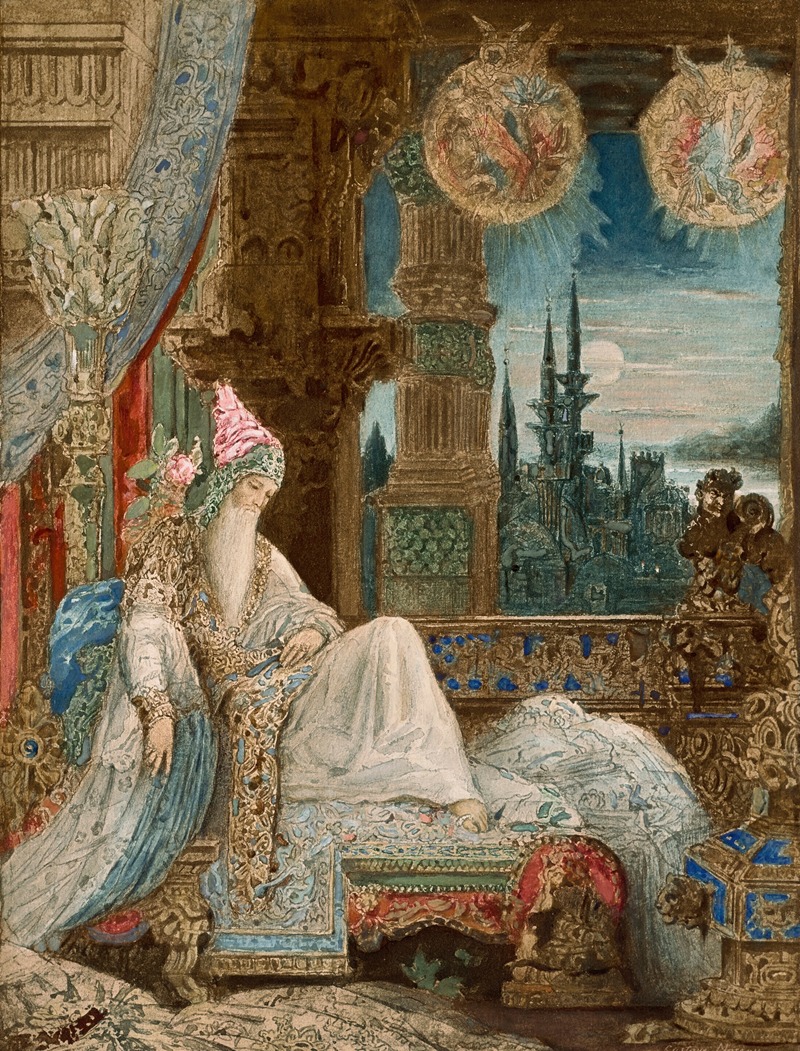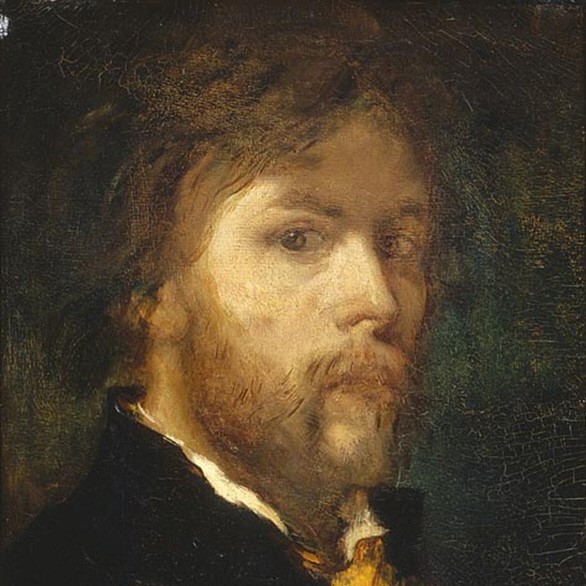 Gustave Moreau was a major figure in the French Symbolist movement, whose main emphasis was the illustration of biblical and mythological figures. Moreau's paintings appealed to the imaginations of some Symbolist writers and artists. He is recognized for his works that are influenced by the Italian Renaissance and exoticism. Many of his works are on display at the Musée Gustave Moreau, a museum in Paris dedicated to his works.
Moreau was born in Paris, France, into an upper-middle-class family. His father, Louis Jean Marie Moreau, was an architect for the city of Paris and his mother, née Adèle Pauline Desmoutier, was a musician. Moreau lived a sheltered life growing up. Having visited Italy at age 15 he began his love for art. At age 18 he entered École des Beaux-Arts to study under the guidance of François-Édouard Picot and left in 1850. He then began to study art under his new mentor Théodore Chassériau, whose work, along with Eugène Delacroix, strongly influenced his own. Moreau participated in the Salon for the first time in 1852.
Moreau had a 25-year personal, possibly romantic relationship, with Adelaide-Alexandrine Dureux (b. Guise, 8 November 1835), a woman whom he drew several times. His first painting was a Pietà which is now located in the cathedral at Angoulême. He showed A Scene from the Song of Songs and The Death of Darius in the Salon of 1853. In 1853, he contributed Athenians with the Minotaur and Moses Putting Off his Sandals within Sight of the Promised Land to the Great Exhibition.
Oedipus and the Sphinx, one of his first Symbolist paintings, was exhibited at the Salon of 1864. Moreau quickly gained a reputation for eccentricity. One commentator said Moreau's work was "like a pastiche of Mantegna created by a German student who relaxes from his painting by reading Schopenhauer." The painting currently resides in the permanent collection at the New York Metropolitan Museum of Art.
From 1879 until 1884 Moreau was commissioned by collector Anthony Roux to illustrate The Fables of Jean de La Fontaine in which he excelled. Moreau was paid 83,5000 Francs for sixty four watercolours all of which were sold to a private collector in 1914. One of the watercolours was later given to the Musée national Gustave Moreau.
On 28 March 1890, Alexandrine Dureux died. Her death affected Moreau greatly, and his work after this point contained a more melancholic edge. She was buried at the same cemetery where Moreau himself would later be buried.
Moreau became a professor at Paris' École des Beaux-Arts in October 1891. Among his many students were fauvist painters Henri Matisse and Georges Rouault. Jules Flandrin, Theodor Pallady, Léon Printemps and Henri Evenepoel also studied with Moreau. Pierre Marcel-Béronneau was "one of the most brilliant students" of Moreau.
Moreau died of stomach cancer and was buried at the Cimetière de Montmartre in Paris in his parent's tomb.
He was made a Chevalier de la Légion d'honneur in 1875 and was promoted to an Officier de la Légion d'honneur in 1883.