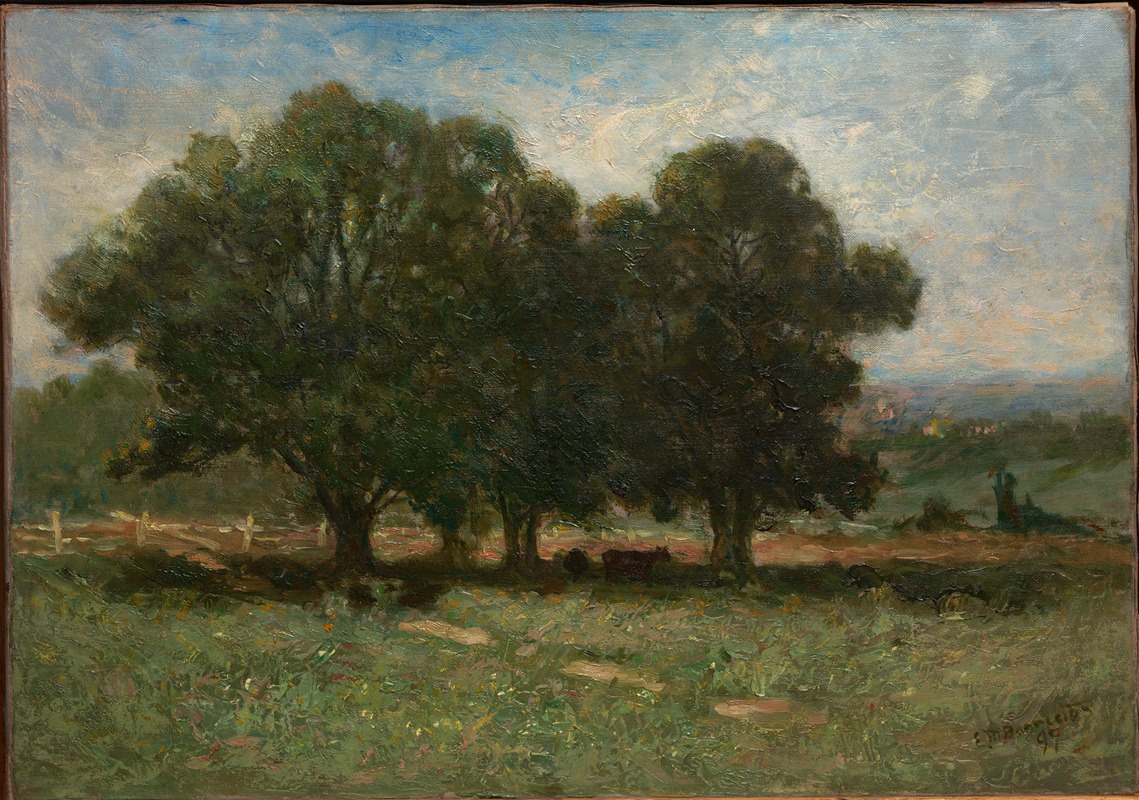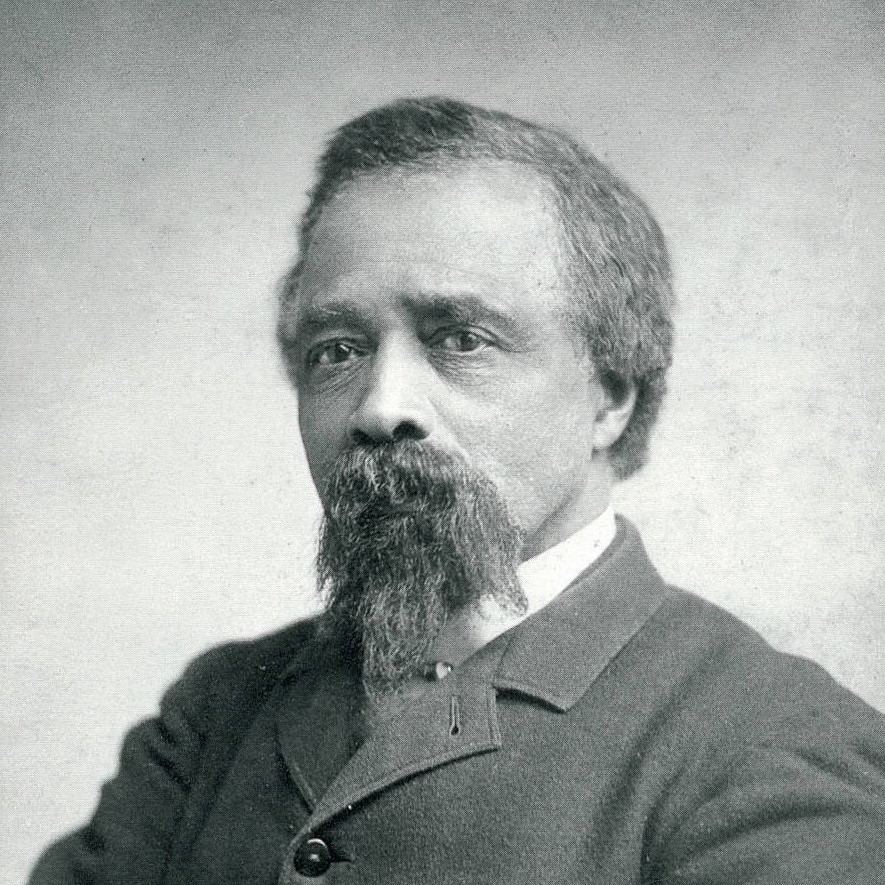 Edward Mitchell Bannister was a Black Canadian–American Tonalist painter. Like other Tonalists, his style and predominantly pastoral subject matter were drawn from his admiration for Millet and the French Barbizon School. Bannister lived for most of his life in New England, where he was a member of the Boston abolition movement and a founding member of the Providence Art Club.
Bannister was born in St. Andrews, New Brunswick. His father Edward Bannister, who was probably from Barbados, died in 1832, so Edward and his brother William were raised by their mother Hannah Alexander Bannister. Bannister credited his mother with igniting his early interest in art. She died in 1844, however, so Edward and William moved to live on the farm of the wealthy merchant Harris Hatch. Together the brothers found work aboard ships. Bannister became a ship's cook. He moved with William to Boston in the late 1840s.
In Boston, Bannister at first became a barber. He had aspirations of painting but had difficulty finding an apprenticeship or academic programs that would accept him, likely due to racial prejudice. At first, he was self-taught and received his first oil painting commission The Ship Outward Bound in 1854 from an African American doctor, John V. DeGrasse.
Bannister met Christiana Carteaux in 1853 when he applied to be a barber in her salon. They married on 10 June 1857; both were members of Boston's abolitionist movement. They boarded for two years with Lewis Hayden and Harriet Bell Hayden at 66 Southac Street, a stop on Boston's Underground Railroad. Carteaux lobbied for equal pay for black soldiers during the Civil War and also organized the soldiers' relief fair in 1864. Bannister donated his portrait of Robert Gould Shaw to raise money for the cause. And Bannister was part of Boston's African American artistic community, which included Edmonia Lewis, William H. Simpson, and Nelson A. Primus. He also sang and acted as a member of both the Crispus Attucks Choir and The Histrionic Club. Bannister served as a delegate for the New England Colored Citizens Conventions in 1859 and 1865, and his name appears on petitions published in Boston's abolitionist newspaper The Liberator.
Despite his early commissions, Bannister still struggled to receive recognition for his work due to racism in the US: an 1867 article in the New York Herald belittled both him and his work, stating "[...] the negro has an appreciation for art while being manifestly unable to produce it." The article reportedly spurred his desire to achieve success as an artist. Supported by Carteaux, Bannister became a full-time painter from 1870 on, which is around when they moved to Providence, Rhode Island. He first took a studio in the Mercantile National Bank Building and eventually moved his studio to the Woods Building in Providence, where he shared a floor with artists like Sydney Burleigh and became friends with Providence painter George William Whitaker. Bannister finally received commendation for his artistic skill when he won first prize for his large oil Under the Oaks at the 1876 Philadelphia Centennial. Even then, the jurors tried to rescind his award until the other exhibition artists protested. On the award, Bannister stated: "I was and am proud to know that the jury of award did not know anything about me, my antecedents, color or race. There was no sentimental sympathy leading to the award of the medal."
As his career matured, Bannister received more commissions and accumulated many honors, several from the Massachusetts Charitable Mechanics Association (silver medals in 1881 and 1884). He was an original board member of the Rhode Island School of Design in 1878, and in 1880, Bannister joined with other professional artists, amateurs, and art collectors to found the Providence Art Club to stimulate the appreciation of art in the community. Their first meeting was in Bannister's studio in the "Wood Building" at the bottom of College Hill. He was the second to sign the club's charter, served on its initial executive board, and taught regular Saturday art classes. He also submitted many paintings to Boston Art Club exhibitions. Through his teaching, he became a mentor to younger Providence artists, like Charles Walter Stetson: "Stetson mentions Bannister frequently in his diaries, claiming that 'He is my only confidant in Art matters & I am his.'" In the 1880s, Bannister bought a small sloop, the Fanchon, and he would spend his summers sketching, painting watercolors, and sailing Narragansett Bay.
Bannister died of a heart attack on January 9, 1901, while attending a prayer meeting at his church, Elmwood Avenue Free Baptist Church.