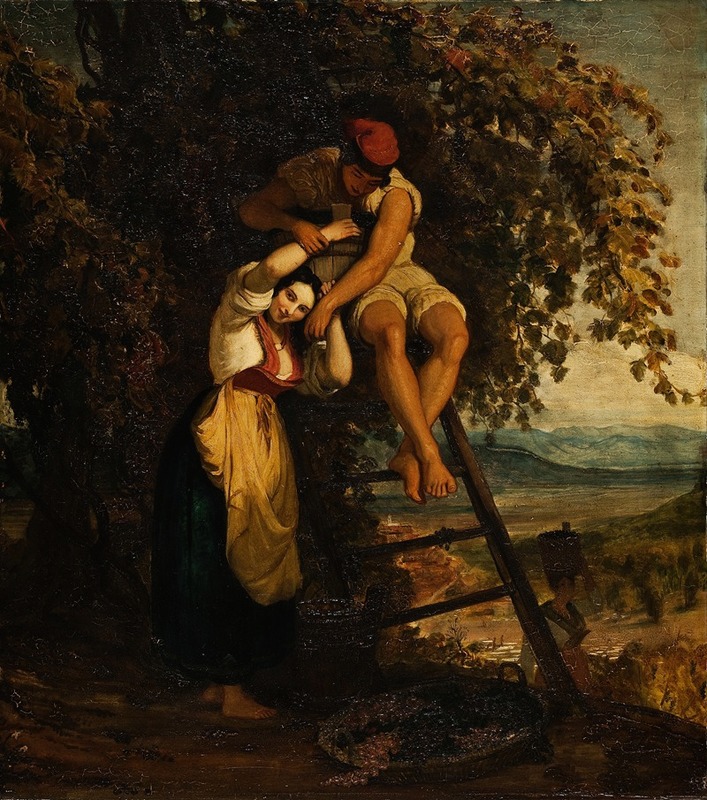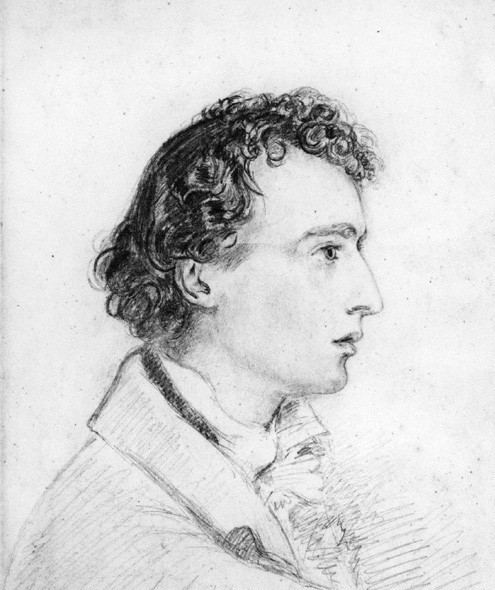 About the Artist
Joseph Severn was an English portrait and subject painter and a personal friend of the famous English poet John Keats. He exhibited portraits, Italian genre, literary and biblical subjects, and a selection of his paintings can today be found in some of the most important museums in London, including the National Portrait Gallery, the Victoria and Albert Museum and Tate Britain.
The eldest son of a music teacher, Severn was born at Hoxton, near London, and apprenticed at the age of 14 to William Bond, an engraver. Severn was one of seven children; two of his brothers, Thomas (1801–1881) and Charles (1806–1894), became professional musicians, and Severn himself was an adroit pianist. During his early years he practised portraiture as a miniaturist.
In 1815, he was admitted to the Royal Academy Schools in London and exhibited his first work in oil, Hermia and Helena, a subject from A Midsummer Night's Dream, along with a portrait miniature, "J. Keats, Esq", in the Royal Academy Exhibition of 1819. He probably first met the poet John Keats in the spring of 1816.
In 1819, Severn was awarded the gold medal of the Royal Academy for his painting Una and the Red Cross Knight in the Cave of Despair which was inspired by the epic poem The Faerie Queene by Edmund Spenser. It was the first time the prize had been awarded in eight years and the painting was exhibited at the Academy in 1820. This award also allowed Severn to apply for a three years' traveling studentship, paid for by the Royal Academy.
On 17 September 1820, Severn set sail onboard the Maria Crowther from England to Italy with the famous English poet John Keats. Keats and Severn had known one another in England, but they were only passing acquaintances. Yet it was Severn who agreed to accompany the poet to Rome when all others could, or would, not. The trip was intended to cure Keats's lingering illness, which he suspected was tuberculosis; however, his friends and several doctors disagreed and urged him to spend some time in a warm climate. After a harrowing voyage, they arrived in the Bay of Naples on 21 October, only to be placed in quarantine for ten days. The two men remained in Naples for a week before heading off to Rome in a small carriage, where they arrived mid-November 1820 and met Keats's physician, Dr. James Clark. In Rome they lived in an apartment at number 26 Piazza di Spagna, just at the bottom right of the Spanish Steps and overlooking Bernini's famous Barcaccia fountain.
Severn nursed Keats until his death on 23 February 1821, three months after they had arrived in Rome.
Until recently, it was believed that Severn's life culminated in his association with Keats and that he lived on this fame for the rest of his long life. In reality, Severn launched his own successful artistic career soon after Keats died, becoming a versatile painter in Rome during the 1820s and 1830s. He painted miniatures and altarpieces, landscapes and frescoes, historical and religious scenes, and subjects from the Bible, Greek mythology and Shakespeare. His pictures of Italian peasant life and pastoral genre scenes became very popular with British visitors on the continent and generated multiple commissions for his work.
Severn was also instrumental in helping to found the British Academy of the Fine Arts in Rome, which drew the support of such influential figures as the Duke of Devonshire, John Flaxman and Sir Thomas Lawrence. Indeed, Severn's spacious apartment in the Via di San Isidoro became the busy center of Academy life. Among those who joined the academy were Charles Eastlake, Richard Westmacott (the younger), William Bewick and Thomas Uwins. Perhaps the most dedicated patron of Severn's work in the 1830s was William Gladstone, who was drawn to Severn more for his reputation as a painter than as Keats's friend.
On his return to England in 1841 Severn fell on hard times, trying desperately to earn enough money to support his growing family by painting portraits. Although he was never able to match his early artistic success in Rome and eventually had to flee his creditors for the Isle of Jersey in 1853, between 1819 and 1857, Severn exhibited 53 paintings at the Royal Academy in London.
In 1861 Severn was appointed British Consul in Rome during the ferment over Italian unification. He eventually retired as Consul in 1872.
Severn died on 3 August 1879 at the age of 85, and was buried in the Protestant Cemetery alongside John Keats.
More Artwork by Joseph Severn
More Artwork by Joseph Severn