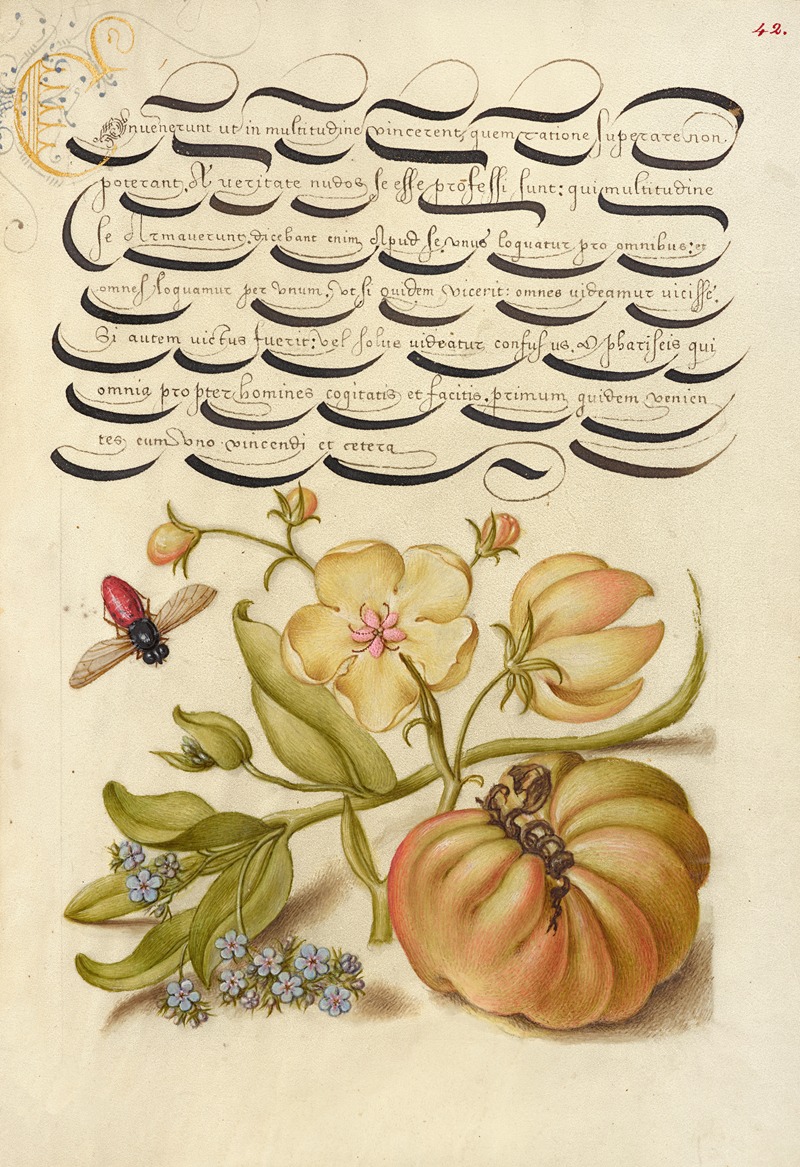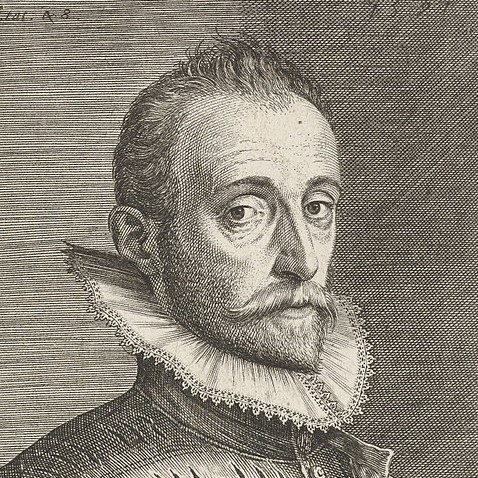 Joris Hoefnagel or Georg Hoefnagel was a Flemish painter, printmaker, miniaturist, draftsman and merchant. He is noted for his illustrations of natural history subjects, topographical views, illuminations and mythological works. He was one of the last manuscript illuminators and made a major contribution to the development of topographical drawing.
His manuscript illuminations and ornamental designs played an important role in the emergence of floral still-life painting as an independent genre in northern Europe at the end of the 16th century. The almost scientific naturalism of his botanical and animal drawings served as a model for a later generation of Netherlandish artists. Through these nature studies he also contributed to the development of natural history and he was thus a founder of proto-scientific inquiry.
Joris Hoefnagel was the son of Jacob Hoefnagel, a dealer in diamonds and luxury goods such as tapestries, and his wife Elisabeth Vezelaer, daughter of the Antwerp mint master Joris Vezelaer. As his father likely wished him to enter the family business, he received a comprehensive humanistic education. He spoke, in addition to his native Dutch, several languages and was able to write poetry and play various musical instruments. In one of his works, Hoefnagel described himself as self-taught as an artist. However, according to the early Flemish biographer Karel van Mander he received his first art lessons from Hans Bol, probably in the period 1570-1576 before he permanently left Antwerp. This apprenticeship with Hans Bol is not documented. Hans Bol likely introduced Hoefnagel to miniature painting.
He lived from 1560 to 1562 in France, where he attended the universities of Bourges and Orléans. Here he probably made his first landscape drawings. He was forced to leave France in 1563 due to religious unrest and he returned to Antwerp. He left soon thereafter for Spain, where he resided from 1563 to 1567 and was active on behalf of the family business. He made various sketches of places in Spain and was particularly fascinated with Seville, the primary colonial trading port of Spain, where he could see many exotic animals and plants. He returned to Antwerp in 1567 but may have visited his hometown in between on business. He travelled to England in 1568 and resided in London for a few months where he built friendships with other Flemish businessmen. After returning to Antwerp in 1569, Joris Hoefnagel married Suzanne van Onchem in 1571 and in 1573 the couple had a son called Jacob, who would also become an artist.
After the Sack of Antwerp by Spanish troops during the Eighty Years War in 1576, in which much of the family fortune was lost to plunder, Joris Hoefnagel left his hometown. He traveled in 1577, accompanied by his friend the cartographer Abraham Ortelius, along the Rhine via Frankfurt, Augsburg and Munich to Venice and Rome. The pair also travelled southwards from Rome to Naples and visited various ancient sites.
The art patron Hans Fugger and the physician Adolf Occo, whom he met in Augsburg, recommended him to the Duke of Bavaria, Albert V. The Duke was impressed by Hoefnagel's miniatures and promised him a job as a court painter. In Rome he was introduced to the circle of Cardinal Alessandro Farnese. Thanks to his special ability in miniature painting he was offered by the Cardinal in 1578 the position of the late miniaturist Giulio Clovio. He decided, however, to take on the position at the ducal court in Munich. He lived in Munich for about eight years and worked at the court of the Bavarian dukes Albert V and William V. Hoefnagel was granted the freedom to pursue his own interests and seems to have accepted the post at the ducal court mainly not to be hemmed in by the city and guild rules. He also took on commissions from Fugger and the Este family of Ferrara. In between he worked in Innsbruck at the court of Archduke Ferdinand II. He also continued with his collecting and trading in old master drawings.
As a Calvinist, he was forced to leave Munich in 1591 when a rule was imposed that all members of the court had to proclaim their adherence to the Catholic faith. Hoefnagel refused to do so. He then went to work for Emperor Rudolf II, first residing in the city of Frankfurt am Main, where he moved in a circle of Flemish humanists, merchants, artists and publishers. In particular his friendship with the Flemish botanist Carolus Clusius may have played an important role in his later botanical illustrations. In 1594, he was forced to leave Frankfurt because of the repression of the Calvinist faith. He worked in his final years in Vienna but made regular visits to Prague. His brother Daniel lived in Vienna, where he ran a business under court protection. At this time Joris Hoefnagel promoted his son Jacob at court. He regularly collaborated with his son on artistic projects. According to Karel van Mander he died in Vienna in 1600 but this is not certain as there continue to be references to him in documents referring to his brother Daniel and his son Jacob after that date.
More Illustrations in Book: The Model Book of Calligraphy (Mira calligraphiae monumenta) (View all 158)