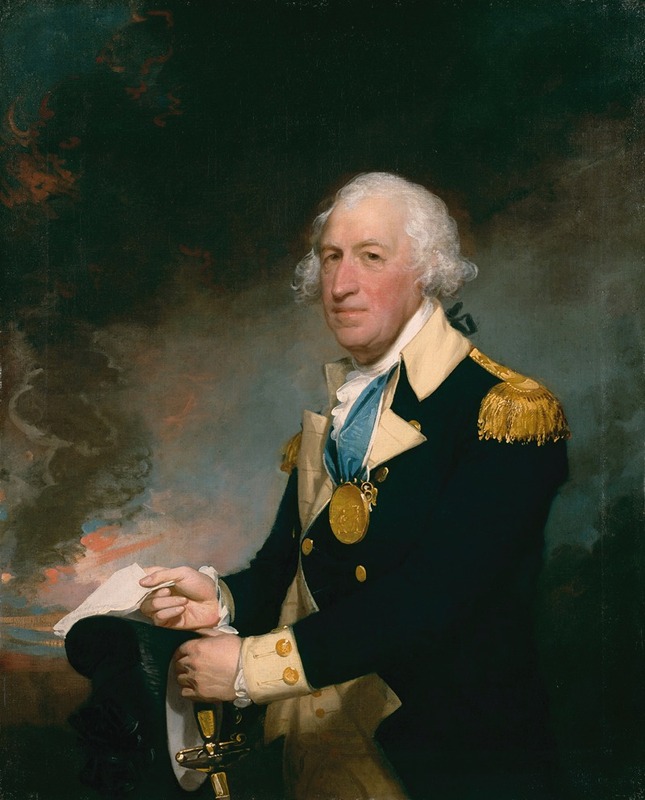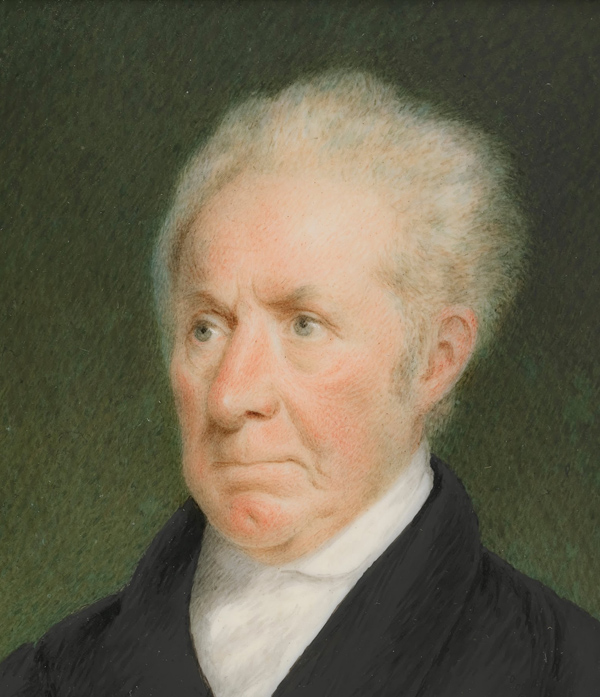 Gilbert Charles Stuart was an American painter from Rhode Island Colony who is widely considered one of America's foremost portraitists. His best-known work is an unfinished portrait of George Washington, begun in 1796, which is sometimes referred to as the Athenaeum Portrait. Stuart retained the portrait and used it to paint scores of copies that were commissioned by patrons in America and abroad. The image of George Washington featured in the painting has appeared on the United States one-dollar bill for more than a century and on various postage stamps of the 19th century and early 20th century.
Stuart produced portraits of more than 1,000 people, including the first six Presidents. His work can be found today at art museums throughout the United States and the United Kingdom, most notably the Metropolitan Museum of Art and Frick Collection in New York City, the National Gallery of Art in Washington, D.C., the National Portrait Gallery, London, Worcester Art Museum in Massachusetts, and the Museum of Fine Arts, Boston.
Gilbert Stuart was born on December 3, 1755, in Saunderstown, a village of North Kingstown in the Colony of Rhode Island and Providence Plantations, and he was baptized at Old Narragansett Church on April 11, 1756. He was the third child of Gilbert Stewart, a Scottish immigrant employed in the snuff-making industry, and Elizabeth Anthony Stewart, a member of a prominent land-owning family from Middletown, Rhode Island. Stuart's father owned the first snuff mill in America, which was located in the basement of the family homestead.
Stuart moved to Newport, Rhode Island at the age of six, where his father pursued work in the merchant field. In Newport, he first began to show great promise as a painter. In 1770, he made the acquaintance of Scottish artist Cosmo Alexander, a visitor to the colonies who made portraits of local patrons and who became a tutor to Stuart. Under the guidance of Alexander, Stuart painted the portrait Dr. Hunter's Spaniels when he was 14; it hangs today in the Hunter House Mansion in Newport.
In 1771, Stuart moved to Scotland with Alexander to finish his studies; however, Alexander died in Edinburgh one year later. Stuart tried to maintain a living and pursue his painting career, but to no avail, so he returned to Newport in 1773.
Stuart's prospects as a portraitist were jeopardized by the onset of the American Revolution and its social disruptions. Although he was a patriot, he departed for England in 1775 following the example set by John Singleton Copley. His painting style during this period began to develop beyond the relatively hard-edged and linear style that he had learned from Alexander. He was unsuccessful at first in pursuit of his vocation, but he became a protégé of Benjamin West in 1777 and studied with him for the next six years. The relationship was beneficial, with Stuart exhibiting for the first time at the Royal Academy in spring of 1777.
By 1782, Stuart had met with success, largely due to acclaim for The Skater, a portrait of Sir William Grant. It was Stuart's first full-length portrait and, according to art historian Margaret C. S. Christman, it "belied the prevailing opinion that Stuart 'made a tolerable likeness of a face, but as to the figure, he could not get below the fifth button'". Stuart said that he was "suddenly lifted into fame by a single picture".
At one point, the prices for his pictures were exceeded only by those of renowned English artists Joshua Reynolds and Thomas Gainsborough. Despite his many commissions, however, he was habitually neglectful of finances and was in danger of being sent to debtors' prison. In 1787, he fled to Dublin, Ireland where he painted and accumulated debt with equal vigor.
Stuart ended his 18-year stay in Britain and Ireland in 1793, leaving behind numerous unfinished paintings. He returned to the United States with a particular goal in mind: to paint a portrait of George Washington, have an engraver reproduce it, and provide for his family by the sale of the engravings. He settled briefly in New York City and pursued portrait commissions from influential people who could bring him to Washington's attention. In 1794, he painted statesman John Jay, from whom he received a letter of introduction to Washington. In 1795, Stuart moved to Germantown, Philadelphia where he opened a studio, and Washington posed for him later that year.
Stuart painted Washington in a series of iconic portraits, each of them leading to a demand for copies and keeping him busy and highly paid for years. The most famous and celebrated of these likenesses is known as The Athenaeum and is portrayed on the United States one-dollar bill. Stuart painted about 75 reproductions of The Athenaeum. However, he never completed the original version; after finishing Washington's face, he kept the original version to make the copies. He sold up to 70 of his reproductions for a price of $100 each, but the original portrait was left unfinished at the time of his death in 1828. The painting was jointly purchased by the National Portrait Gallery and Museum of Fine Arts, Boston in 1980, and is generally on display in the National Portrait Gallery.
Another celebrated image of Washington is the Lansdowne portrait, a large portrait with one version hanging in the East Room of the White House. This painting was rescued during the Burning of Washington in the War of 1812 thanks to the efforts of First Lady Dolley Madison and Paul Jennings, one of President James Madison's slaves. Four versions of the portrait are attributed to Stuart, and additional copies were painted by other artists for display in U.S. government buildings. In 1803, Stuart opened a studio in Washington, D. C.
Stuart moved to Devonshire Street in Boston in 1805, continuing in both critical acclaim and financial troubles. He exhibited works locally at Doggett's Repository and Julien Hall. He was sought out for advice by other artists, such as John Trumbull, Thomas Sully, Washington Allston, and John Vanderlyn.
Stuart married Charlotte Coates around September 1786; she was 13 years his junior and "exceedingly pretty". They had 12 children, five of whom died by 1815 and two others died while they were young. Their daughter Jane (1812–1888) was also a painter. She sold many of his paintings and her replicas of them from her studios in Boston and Newport, Rhode Island. In 2011, she was inducted into the Rhode Island Heritage Hall of Fame.
In 1824, he suffered a stroke which left him partially paralyzed, but he still continued to paint for two years until his death in Boston on July 9, 1828, at 72. He was buried in the Old South Burial Ground of the Boston Common.
Stuart left his family deeply in debt, and his wife and daughters were unable to purchase a grave site. He was, therefore, buried in an unmarked grave which was purchased cheaply from Benjamin Howland, a local carpenter. His family recovered from their financial troubles 10 years later, and they planned to move his body to a family cemetery in Newport. However, they could not remember the exact location of his body, and it was never moved. There is a monument for Stuart, his wife, and their children at the Common Burying Ground in Newport.