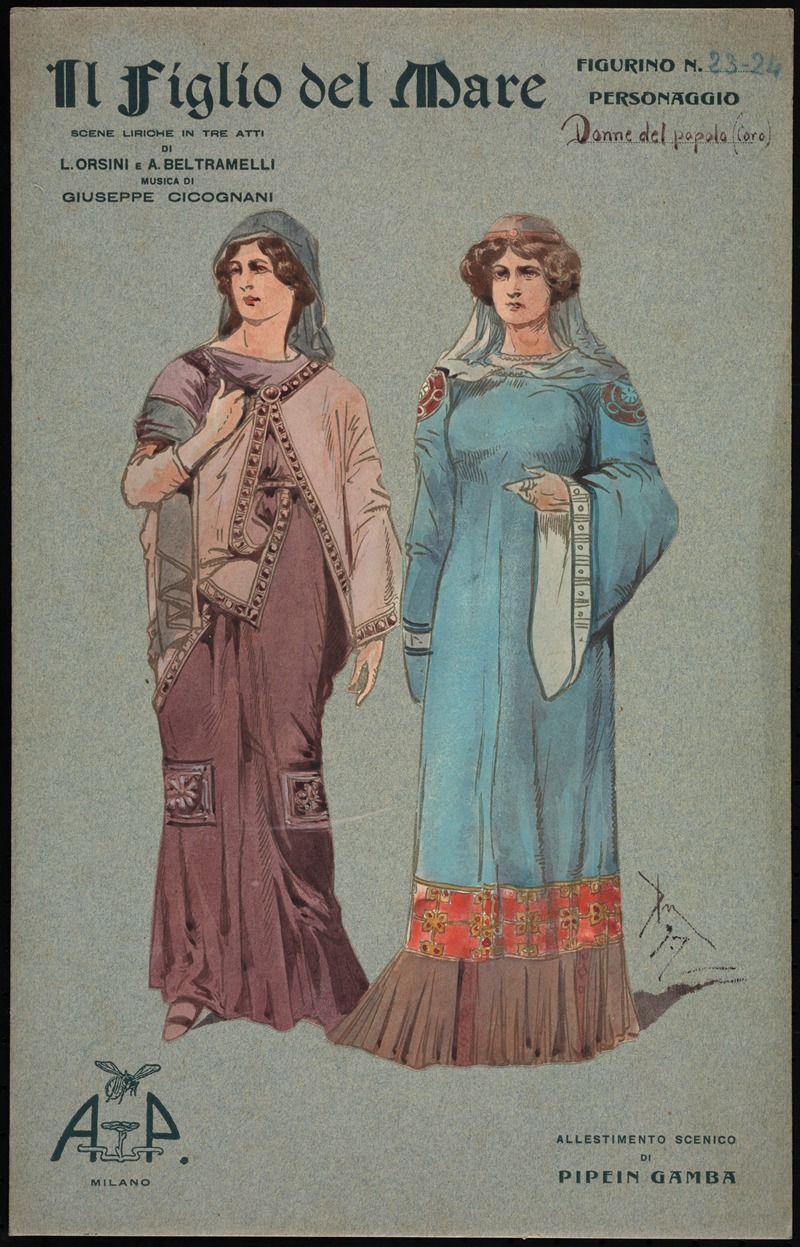 About the Artist
Pipein Gamba, stage name of Joseph Garuti was a set designer, costume designer and illustrator
After studying accounting in his hometown, he moved to Genoa with his mother in 1888. After a few months he abandoned a job in a bank and devoted himself to a career as an illustrator, first in satirical periodicals, then for Il Secolo XIX. From 1895 he collaborated with the publisher Donath, for whom he created the illustrations of many novels by Emilio Salgari and in 1901 he designed the provocative illustrations of the Aeneid in Genoese verses by Niccolò Bacigalupo.
In the same years he lent his work as an illustrator for theatrical posters for the companies of the Politeama Genovese and from 1902 collaborated with the company of operettas of Giulio Marchetti alongside Luigi Sapelli, first as a poster designer and then as a fashion designer.
Since 1904 he has collaborated with the brothers Giovanni (librettist) and Domenico Monleone (composer) for the scenic realization of their works. In 1907 the scenes and costumes for the Cavalleria rusticana dei Monleone were by Pipein Gamba, authorized by Giovanni Verga and represented in Amsterdam and in various European cities, but then blocked by the publisher Sonzogno at the request of Pietro Mascagni .
In the early ten years Gamba collaborated with the Teatro alla Scala and with the Teatro Colón in Buenos Aires, where in 1914 he created the costumes for the world premiere of El Sueño de Alma by López Buchardo . Back in Genoa, in the 1920s the change in taste and the end of the Genoese belle époque excluded him from the scene.