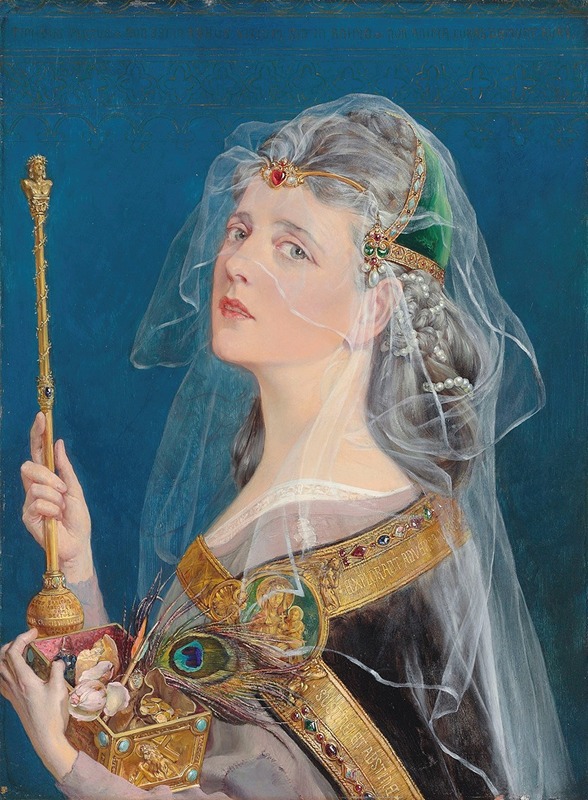 Talbot Hughes was a British painter (of genre, history and landscape), a collector of historical costumes and miniature portraits, and writer on fine art and costume design. He exhibited at the Royal Academy from the age of 17 to 1913.
Talbot Hughes was the son of still-life painter, William Hughes, and brother of Sir Herbert Hughes-Stanton, a landscape painter.
He lived in London, and later in Osmington, near Weymouth, Dorset. From 1871 to 1913 he exhibited at the Royal Academy. He also exhibited with the Society of British Artists. In 1894 he was elected to the Arts Club. In 1903 he was elected to the Society of Oil Painters.
His painterly subjects ranged from the allegorical, figurative, and historical to the theatrical. He admired the style of Jean-Louis-Ernest Meissonier, the French classicist painter. Hughes was preoccupied with the refinement of the presentation of his subject, the depiction of idealized feminine beauty and the tribulations of romantic love. In a 1902 article in The Magazine of Art writer Marion Hepworth Dixon commented on Hughes's "dexterity of hand, the extraordinary facility with which he renders the different surfaces of stuffs, woods, and metal, together with the agility of his outlook and the verve and spontaneity of his eighteenth century designs." Hughes's submissions to the Royal Academy included works carrying such titles as "Temptation" (1899), "Fate leads the willing, and the unwilling drags" (1900) and "The Road of Love" (1900).