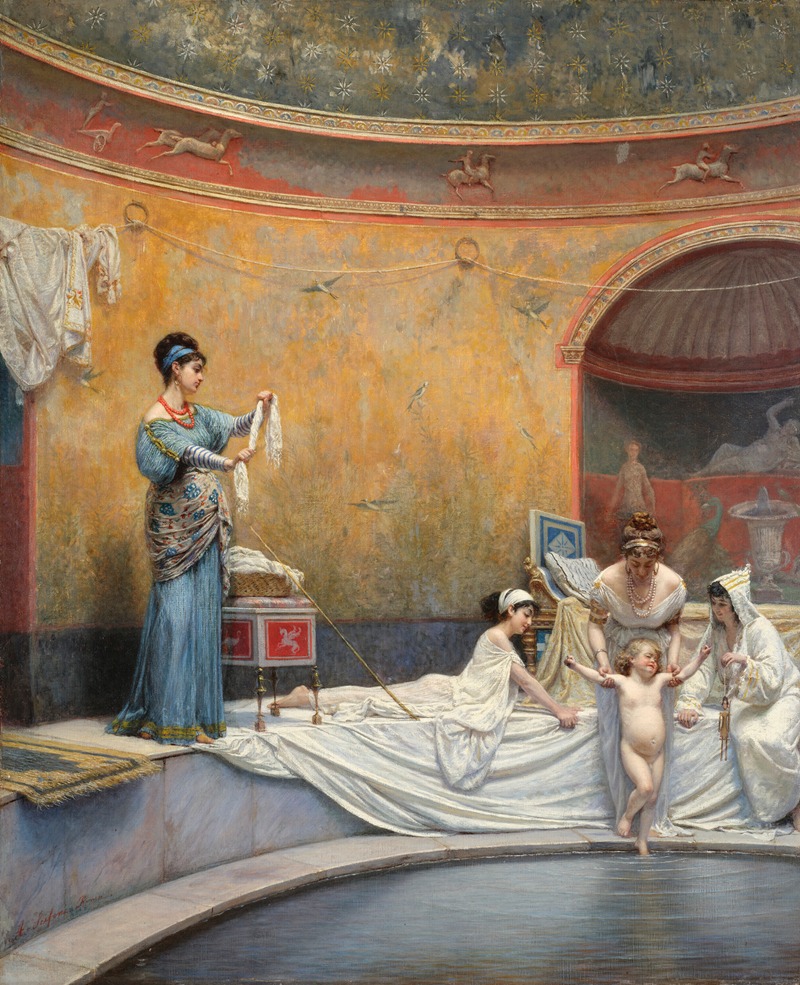 Anatolio Scifoni was an Italian painter of mainly genre paintings.
He was the son of the painter I. Botti and of the poet Luigi Scifoni. He studied painting first in the Albertina Academy in Turin, then in Paris, and then moved to Rome, where he became a friend and follower of Lorenzo Delleani. In 1860 at Turin he exhibits his first painting: La spigolatrice di Sapri. By 1865 at Milan, he exhibited the small genre canvas Convalescenza e sanità.
Once he moved to Rome he focused on Neo-Pompeian themes from ancient Greece and Rome. He called his works archeologic painting. He painted baths, gardens, triclinia (Antique Roman dining room), and ginecei (women's quarters in Ancient Greece. He spent months among the silent ruins of Pompei, where he imagined girls in fanciful pursuits, provocative and sensual matrons outside in gardens or orchards, or strolling under elaborate arches, or on cushions in aristocratic and mysterious cubiculi.
Scifoni's work found patrons among the royal family. He was knighted into the Order of the Crown of Italy. His large canvas of Vittorio Emanuele II in Campidoglio was commissioned by the artist of the prefect of the Royal House, Prince Doria Pamphili, to commemorate the enthronement of the King in Campidoglio, in January 1870.