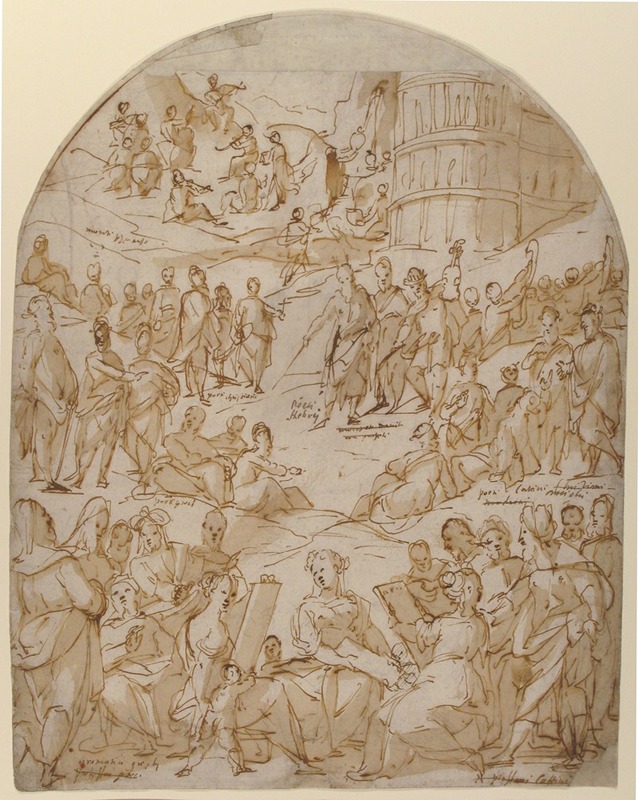 Italian painter and draughtsman. The natural son of a Venetian aristocrat, Salvador Michiel, he pursued his early training in the workshop of Titian and later in his career was associated with Paolo Veronese, who provided him with drawings for his paintings. He is known to have been in Rome before 1547.
Micheli's earliest work is an altarpiece depicting the Virgin and Child with Sts Lorenzo and Ursula (1535; Murano, San Pietro Martire), which was commissioned by Ursula Pasqualigo in memory of her deceased husband, the former Procurator Lorenzo Pasqualigo. There is also a Venus and Cupid (c. 1547; private collection) and a Lucrezia (c. 1547; London, Mond collection). In 1550 he married the daughter of a German baker.
Several documented paintings have been destroyed or are untraced: the painting of Doge Lorenzo Priuli Accompanied by Ten Senators with Personifications of Fortune and Venice (1563), for which he received 225 ducats, was destroyed in the fire in the Doge's Palace of 1574. The work is known from a preparatory study (Berlin, Kupferstichkabinett) and a contract of 22 October 1563. Five paintings known to have been in the Libreria Marciana that same year are also untraced. The large painting depicting the Adoration of the Dead Christ (Venice, San Giuseppe), signed and dated parrhasio Micheli dipinse nel 1573, includes a self-portrait.
Micheli also painted portraits of Venetian noblemen (e.g. Girolamo Zane, Venice, Accademia; Tommaso Contarini, Venice, Doge's Palace) and associated with prominent men of letters including Paolo Giovio and Pietro Aretino. He corresponded with Philip II, King of Spain, and two signed paintings by Micheli are in the Prado. He left a will dated 17 April 1578 (Venice, Archivio di Stato).