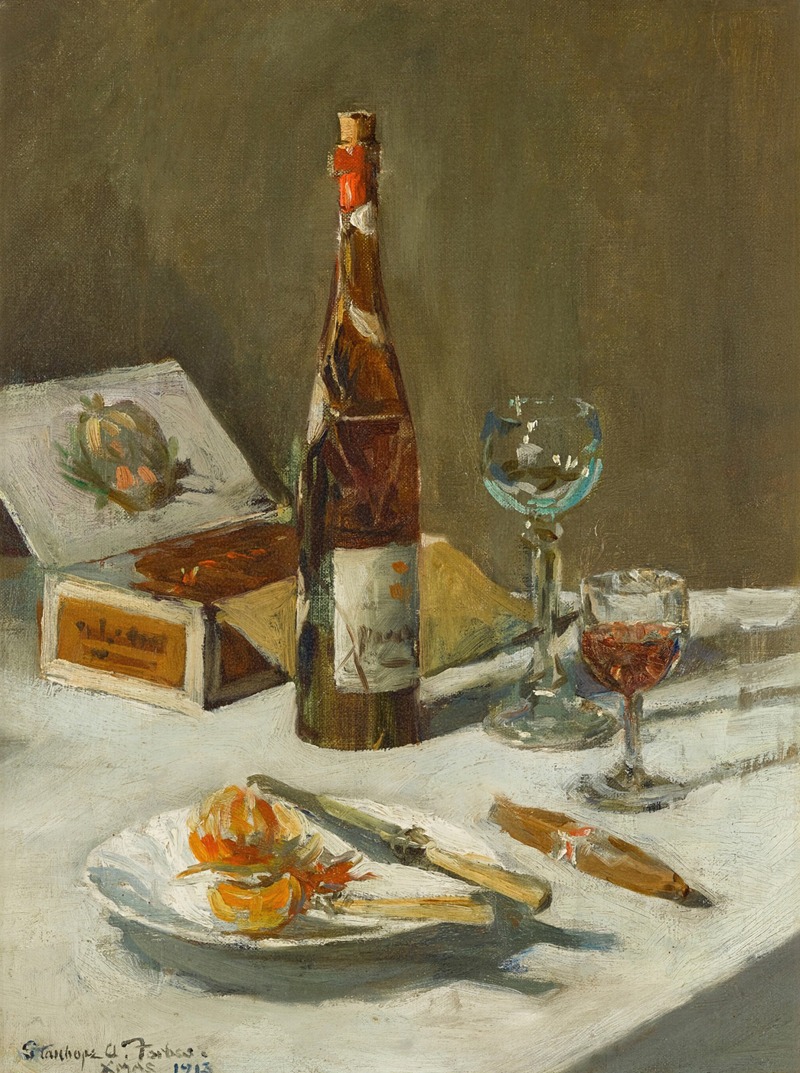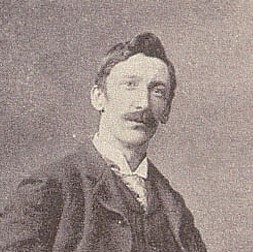 Stanhope Alexander Forbes RA was a British artist and a founding member of the influential Newlyn school of painters. He was often called 'the father of the Newlyn School'.
Forbes was born in Dublin, the son of Juliette de Guise Forbes, a French woman, and William Forbes, an English railway manager, who was later transferred to London. He had an older brother, Sir William Forbes, who was a railway manager for the London, Brighton, and South Coast Railway.
He was married in the summer of 1889 to fellow painter Elizabeth Armstrong at Newlyn's St Peter's Church. Their first home was at the "Cliffs Castle" cottage, which overlooked the sea. They had a son named Alexander (Alec). The couple had a home built for the family in Higher Faughan, Penzance. Elizabeth died in 1912.
In 1915, Forbes married friend and previous student Maudie Palmer, who had been "assistant, helper and friend to the whole Forbes family." During the First World War his son Alec served in the Duke of Cornwall's Light Infantry and was killed in August 1916. He is buried in Guillemont Road Cemetery where his headstone bears an inscription composed by his father: HE SAW BEYOND THE FILTH OF BATTLE, AND THOUGHT DEATH A FAIR PRICE TO PAY TO BELONG TO THE COMPANY OF THESE FELLOWS. Stanhope Forbes also sculpted and erected a memorial to his son in their local parish church with the inscription: "I will get me out of my COUNTRY & from my KINDRED & from my FATHER'S house unto a LAND that GOD will shew me".
Forbes died in Newlyn on 2 March 1947 at the age of 89. He was buried in the churchyard of Sancreed Parish Church.
Educated at Dulwich College, he studied art under John Sparkes who later taught at South Kensington School of Art. His father then worked for the Luxembourg Railway and after a period of poor health Forbes was removed from Dulwich College and studied under private teachers in Brussels. This afforded additional time to draw. After the end of the Franco-Prussian War, the Forbes family returned to London. John Sparkes helped influence William Forbes to recognise his son's artistic talent, Stanhope Forbes then attended Lambeth School of Art (now the City & Guilds of London Art School). By 1878 he attended the Royal Academy under Sir Frederic Leighton and Sir John Millais. Fellow students at the academy included Arthur Hacker, Henry Herbert La Thangue and Solomon J. Solomon. He participated in his first exhibition there.
Forbes returned to Ireland for a few months to visit Dr Andrew Melville, family friend and Queen's College professor. While there the men shared their appreciation of art and Forbes painted landscapes of the Galway area. He also received his first commission for a portrait. Back in London, at the age of 18, he received another commission for a portrait of a doctor's daughter, Florence. It was exhibited at the Royal Academy in 1879.
He then studied at the private atelier of Léon Bonnat in Clichy, Paris from 1880 to 1882. Henry Herbert La Thangue, who also attended Dulwich College, Lambeth School of Art and the Royal Academy, came to Paris, too, and studied at the École nationale supérieure des Beaux-Arts. Arthur Hacker, a friend from the Royal Academy joined Forbes at Bonnat's atelier. In 1881 Forbes and La Thangue went to Cancale, Brittany and painted en plein air, like Jules Bastien-Lepage, which became a technique that Forbes used throughout his career.
A painting made there, A Street in Brittany, was shown and well received at the 1882 Royal Academy Summer Exhibition and sold later that year to the Walker Art Gallery in Liverpool. During an 1883 trip to Brittany, Forbes stayed at Quimperlé. His Breton Children in an Orchard - Quimperlé, was shown at the 1884 Royal Hibernian Academy. Two other works were made Fair Measures: a shop in Quimperlé and Preparations for the Market, Quimperlé; They were both shown at the Royal Academy in 1884. True to his degree of satisfaction, the Fair Measures painting was well-received and the Market painting was found to be too blue and shadowless. Since blue was the colour of the Breton costumes, Forbes decided that it might be useful to change locations for a broader range of subjects and colours.
Other artists who were painting in Brittany at the time and who Forbes may have met, were Norman Garstin, Nathaniel Hill, Joseph Malachy Kavanagh and Walter Osborne.
Having completed his studies in France, Forbes returned to London and showed works he made in Brittany at the 1883 Royal Academy and Royal Hibernian Academy shows. In 1884 he moved to Newlyn in Cornwall, and soon became a leading figure in the growing colony of artists.
The Slip was Forbes' first painting made in Newlyn. The artist colony received national attention with the Royal Academy exhibition of Forbes works in 1885. Henry Tate bought The Health of the Bride, which is now at the Tate Gallery in London. The exhibition of A Fish Sale on a Cornish Beach also brought notoriety to Forbes and the artist colony. He was one of the founders of the New English Art Club (NEAC) in 1886.
In 1892 Forbes became an Associate of the Royal Academy. Forbes was the founding chairman and trustee of the Newlyn Art Gallery beginning in 1895.
Forbes and his wife founded the Newlyn Art School in 1899. It attracted students such as Ernest and Doris "Dod" Shaw, Frank Gascoigne Heath and Jill and Geoffrey Garnier. The Newlyn area had experienced an economic downturn as the result of failing fishing, mining and farming industries. The school helped to bring an economic resurgence to the area by encouraging individuals to vacation in the area and study and practise art.
His friends included Henry Herbert La Thangue, Blandford Fletcher and Charles E. Hannaford, who had also been a student. In Newlyn, Forbes tutored the landscape watercolourist Mabel Mary Spanton.
For a 1909 publish date, Forbes illustrated Mary Russell Mitford's Sketches of English Life and Character. Some of the illustrations were Old Cronies, Bringing Home the Milk, and February Sunshine.
In 1910 Forbes was elected a Royal Academician. Forbes became a member of the St Ives Society of Artists in 1928. In 1933 he was made a Senior Royal Academician.