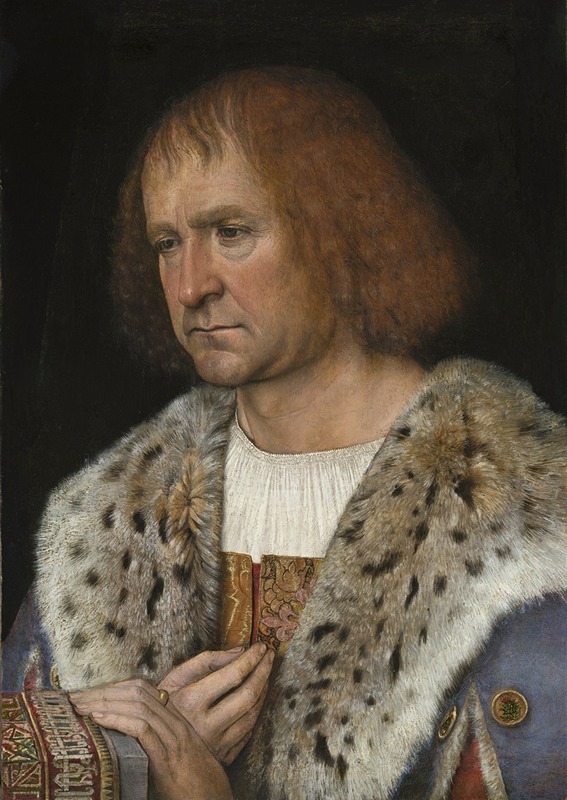 About the Artist
Michael Sittow , also known as Master Michiel, Michel Sittow, Michiel, Miguel and many other variants, was a painter from Reval (now Tallinn, Estonia) who was trained in the tradition of Early Netherlandish painting. For most of his life, Sittow worked as a court portrait painter, for Isabella of Castille, the Habsburgs and others in Spain and the Netherlands. He was one of the most important Flemish painters of the era.
Michael Sittow was born in 1468 or 1469 in Reval to a wealthy family. His father was painter and wood-carver Clawes (Claves, Claes) van der Sittow (Suttow) and his mother was Margarethe Molner. He was the eldest of three brothers, followed by Clawes and Jasper.
The origins of Clawes van der Sittow (? - 1482) are not clear - he might have originated from the village of Zittow near Wismar or he could have been of Flemish origin. He arrived in Reval in 1454 and became a citizen in 1457. Clawes was a wealthy man for an artist, owning several houses in the city. He became an assessor in the artists' guild in 1479. Clawes van der Sittow married Margarethe Molner (? - 1501) in 1468. She was a Swedish-speaking Finn and the daughter of a wealthy merchant Olef Mölner (Olef Andersson Mölnare).
At first Michel Sittow studied painting and sculpture in his father's workshop, while attending the city school to learn Latin, arithmetic and singing. After his father's death in 1482, Michel continued his studies in Bruges from 1484 to 1488. It is thought that he worked as an apprentice in the leading Netherlandish workshop of Hans Memling.
Michel Sittow became an independent master between 1488 – 1491/92, although he did not become a master in the local Bruges guild. Working as a portrait painter, he travelled in southern Europe, as traits of French and Italian art became apparent in his work.
From 1492 Sittow worked in Toledo, Spain for Isabella of Castille as court painter. Isabella assembled academicians and painters from several countries to her court. Sittow became known as Melchior Alemán ("the German") in the court, although letters of Emperor Maximilian and Margaret of Austria speak also of a painter "Mychel Flamenco" ("Michael the Fleming"), who may have been Michael Sittow. Sittow was the highest-paid painter in the queen's court, receiving a salary of 50,000 maravedis a year (Juan de Flandes, the second highest paid artist, received 20,000 maravedis). Sittow collaborated with Juan de Flandes on the series of small panels of the lives of Christ and the Virgin for the queen.
Officially Sittow worked for Isabella until her death in 1504, although he had left Spain two years before and was presumably working in Flanders for the queen's Habsburg son-in-law Philip the Handsome and daughter-in-law Margaret of Austria, painting a portrait of Philibert the Good, Duke of Savoy.
Suggestions that Sittow may have visited London in about 1503–05 to paint portraits of Henry VII (National Portrait Gallery, London) are no longer accepted.
When Philip died in 1506, Sittow lost his patron again. In the same year, he returned to Reval where his stepfather, the glass-maker Diderick van Katwijk had seized his parents' houses, as Michael's mother had died in 1501. Van Katwijk had journeyed to Brabant in 1501 and offered a property settlement to Sittow that the latter refused. As the local court did not support Sittow's claim for inheritance, he had to go to the Court of Higher Instance in Lübeck. He won the case in Lübeck, but could not officially register his parents' houses as his property until the death of his stepfather in 1518.
In 1507 Michael Sittow joined the Guild of Kanut (German: Kanutigilde, Estonian: Kanuti gild), the local painters' guild and married in 1508. Despite being a renowned master in Europe, Sittow was accepted only as a journeyman and was required to paint a masterpiece before becoming a full master craftsman in the guild. Sittow completed various local orders and worked for the St. Peter's Church in Siuntio, Finland.
In 1515 Sittow was again in Spain, this time to claim outstanding debts incurred by Isabella of Castile, and it is significant that in the documentation for his claim he is referred to as 'pintor criado de madama la prinçesa doña Margarita', that is the painter of Margaret of Austria. It seems likely that this was the case at least a year earlier. In 1514 Sittow visited Copenhagen, to paint the portrait of Christian II of Denmark. The portrait was part of the diplomacy for the betrothal of Christian II to Margaret's niece Isabella of Austria. The portrait that is held in Copenhagen's Statens Museum for Kunst is probably a copy of a lost original or a second copy ordered from Sittow.
The same year Sittow also painted a portrait of Mary Tudor, today in the Vienna Kunsthistorisches Museum, as part of the betrothal negotiations. This portrait has been frequently mis-identified as Catherine of Aragon. Two other Sittow paintings of Mary Magdalen (Detroit) and the Virgin Mary (Berlin) may also use the same model, or take the portrait as their starting point – the use of members of royal households as models for sacred figures is found in court art in the Netherlands at this time. The Berlin Virgin formed the other half of a diptych with the Washington portrait of Diego de Guevara, a Spanish courtier with the Habsburgs, otherwise best known for giving the Arnolfini Portrait to Archduchess Margaret of Austria, governor of the Spanish Netherlands.
From the Netherlands, Sittow returned to Spain and worked for Ferdinand II of Aragon, followed in 1516 by the Spanish King Carlos I, the future Charles V, Holy Roman Emperor. When Charles V abdicated from power he took Sittow's wooden sculpture of the Virgin and three paintings with him to his retirement in the monastery of Yuste. It is possible that Sittow travelled to Spain in an attempt to recover an unpaid salary from queen Isabel of Castille.
In 1516 (possibly 1517 or 1518) Michael Sittow returned to Reval. In 1518, he married Dorothie, a daughter of a merchant named Allunsze. Their son Michel died shortly after birth. In 1523, Sittow became the Aldermann (guild-master) of the Guild of Kanut. Michael Sittow died of the plague in Reval between 20 December 1525 and 20 January 1526. He is buried in the cemetery of the almshouse of the Church of the Holy Spirit (Estonian: Pühavaimu kirik).