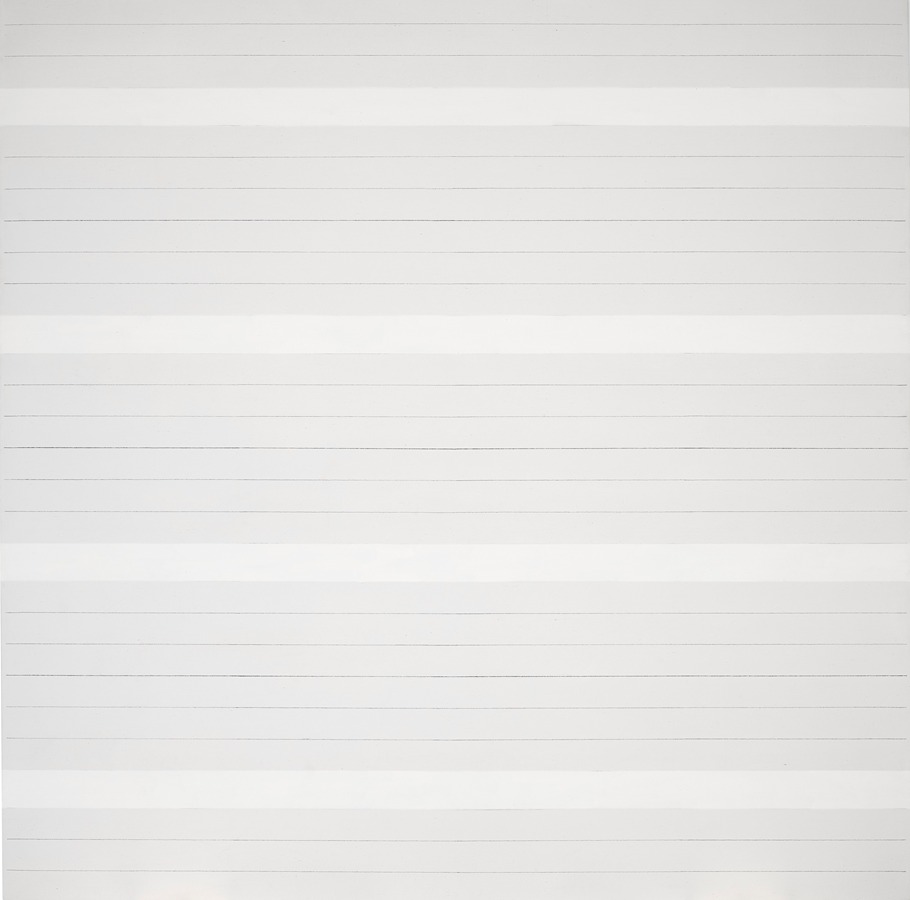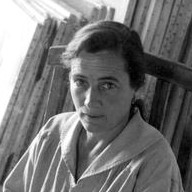 Agnes Bernice Martin RCA, was an American abstract painter. Her work has been defined as an "essay in discretion on inward-ness and silence". Although she is often considered or referred to as a minimalist, Martin considered herself an abstract expressionist and was one of the leading practitioners of Abstract Expressionism in the 20th century. She was awarded a National Medal of Arts from the National Endowment for the Arts in 1998. She was elected to the Royal Canadian Academy of Arts in 2004.
Agnes Bernice Martin was born in 1912 to Scottish Presbyterian farmers in Macklin, Saskatchewan, one of four children. From 1919, she grew up in Vancouver. She moved to the United States in 1931 to help her pregnant sister, Mirabell, in Bellingham, Washington. She preferred American higher education and became an American citizen in 1950. Martin studied at Western Washington University College of Education, Bellingham, Washington, prior to receiving her B.A. (1942) from Teachers College, Columbia University. It was while living in New York that Martin became interested in modern art and was exposed to artists such as Arshile Gorky (1904–1948), Adolph Gottlieb (1903–1974), and Joan Miró (1893–1983). She took a multitude of studio classes at Teachers College and began to seriously consider a career as an artist.
In 1947 she attended the Summer Field School of the University of New Mexico in Taos, New Mexico. After hearing lectures by the Zen Buddhist scholar D. T. Suzuki at Columbia, she became interested in Asian thought, not as a religious discipline, but as a code of ethics, a practical how-to for getting through life. A few years following graduation, Martin matriculated at the University of New Mexico, Albuquerque, where she also taught art courses before returning to Columbia University to earn her M.A. (1952) in modern art. She moved to New York City in 1957 and lived in a loft in Coenties Slip in lower Manhattan. The Coenties Slip was also home to several other artists and their studios. There was a strong sense of community although each had their own practices and artistic temperaments. The Coenties Slip was also a haven for the queer community in the 1960s. It is speculated that Martin was romantically involved with the artist Lenore Tawney (1907–2007) during this time. A pioneer of her time, Agnes Martin never publicly expressed her sexuality, but has been described as a "closeted homosexual." The 2018 biography Agnes Martin: Pioneer, Painter, Icon describes several romantic relationships between Martin and other women, including the dealer Betty Parsons. She often employed a feminist lens when she critiqued fellow artists' work. Jaleh Mansoor, an art historian, stated that Martin was "too engaged in a feminist relation to practice, perhaps, to objectify and label it as such." It is worth noting that Martin herself did not identify as a feminist and even once told a New Yorker journalist in an interview that she thought "the women's movement had failed."
Martin was publicly known to have schizophrenia, although it was undocumented until 1962. She even once opted for electric shock therapy for treatment at Bellevue Hospital in New York. Martin did have the support of her friends from the Coenties Slip, who came together after one of her episodes to enlist the help of a respected psychiatrist, who as an art collector was a friend to the community. However, her struggle was a largely private and individual one, and the full effect of the mental illness on her life is unknown.
Martin left New York City abruptly in 1967, disappearing from the art world to live alone. After eighteen months on the road camping across both Canada and the western United States, Martin settled in Mesa Portales, near Cuba, New Mexico (1968-1977). She rented a 50-acre property and lived a simple life in an adobe home that she built for herself, adding four other buildings over the years. During these years she did not paint, until 1971, when she was approached by curator Douglas Crimp who was interested in organizing her first solo non-commercial exhibition. Subsequently, Martin started to write and lecture at various universities about her work. Slowly Martin's interest in painting renewed as well. She approached Pace Gallery about her work and the gallery's founder Arne Glimcher (b.1938) became her lifelong dealer. Finally able to own her own property, she moved to Galisteo, New Mexico, where she lived until 1993. She built an adobe home there too, still choosing an austere lifestyle. Although she still preferred solitude and she lived alone, Martin was more active in the art world, travelling extensively and showing in Canada, the United States, and internationally. In 1993 she moved to a retirement residence in Taos, New Mexico, where she lived until her death in 2004.
Many of her paintings bear positive names such as Happy Holiday (1999) and I Love the Whole World (2000). In an interview in 1989, discussing her life and her painting, Agnes Martin said, "Beauty and perfection are the same. They never occur without happiness."
Her work is most closely associated with Taos, with some of her early work visibly inspired by the desert environment of New Mexico. However, there is also a strong influence from her young upbringing in rural Canada, particularly the vast and quiet Saskatchewan prairies. While she described herself as an American painter, she never forgot her Canadian roots, returning thereafter she left New York in 1967, as well as during her extensive travels in the 1970s. Some of Martin's early works have been described as simplified farmer's fields, and Martin herself left her work open to interpretation encouraging comparisons of her unembellished, monochromatic canvases to landscapes.
She moved to New York City at the invitation of the artist/gallery owner Betty Parsons in 1957 (the women had met prior to 1954). That year, she settled in Coenties Slip in lower Manhattan, where her friends and neighbors, several of whom were also affiliated with Parsons, included Robert Indiana, Ellsworth Kelly, Jack Youngerman, and Lenore Tawney. Barnett Newman actively promoted Martin's work, and helped install Martin's exhibitions at Betty Parsons Gallery beginning in the late 1950s. Another close friend and mentor was Ad Reinhardt. In 1961 Martin contributed a brief introduction to a brochure for her friend Lenore Tawney's first solo exhibition, the only occasion on which she wrote on the work of a fellow artist. In 1967, Martin famously abandoned her life in New York. Cited reasons include the death of her friend Ad Reinhardt, the demolition of many buildings on Coenties Slip, and a breakup with the artist Chryssa whom Martin had dated off and on throughout the 1960s. In her ten years living in New York Martin was frequently hospitalized to control symptoms of schizophrenia which manifested in the artist in a number of ways, including aural hallucinations and states of catatonia: on a number of occasions she received electroconvulsive therapy at Manhattan's Bellevue Hospital. After Martin left New York, she drove about the western US and Canada, deciding to settle in Cuba, New Mexico, for a few years (1968-1977), then settled in Galisteo, New Mexico, (1977-1993). In both New Mexico homes, she built adobe brick structures herself. She did not return to art until 1973 and consciously distanced herself from the social life and social events that brought other artists into the public eye. She collaborated with architect Bill Katz in 1974 on a log cabin she would use as her studio. That same year, she completed a group of new paintings and from 1975 they were exhibited regularly.
In 1976 she made her first film, Gabriel, a 78-minute landscape film which features a little boy going for a walk. A second movie, Captivity, was never completed after the artist threw the rough cut into the town dump.
According to a filmed interview with her that was released in 2003, she had moved from New York City only when she was told her rented loft/workspace/studio would be no longer available because of the building's imminent demolition. She went on further to state that she could not conceive of working in any other space in New York. When she died at age 92, she was said not to have read a newspaper for the last 50 years. Essays in the book dedicated to the exhibition of her work in New York at The Drawing Center (traveling to other museums as well) in 2005 – 3x abstraction – analyzed the spiritual dimension in Martin's work. The 2018 biography Agnes Martin: Pioneer, Painter, Icon was the first book to explore Martin's relationship with women and her early life in substantial detail and was written in collaboration with Martin's family and friends.