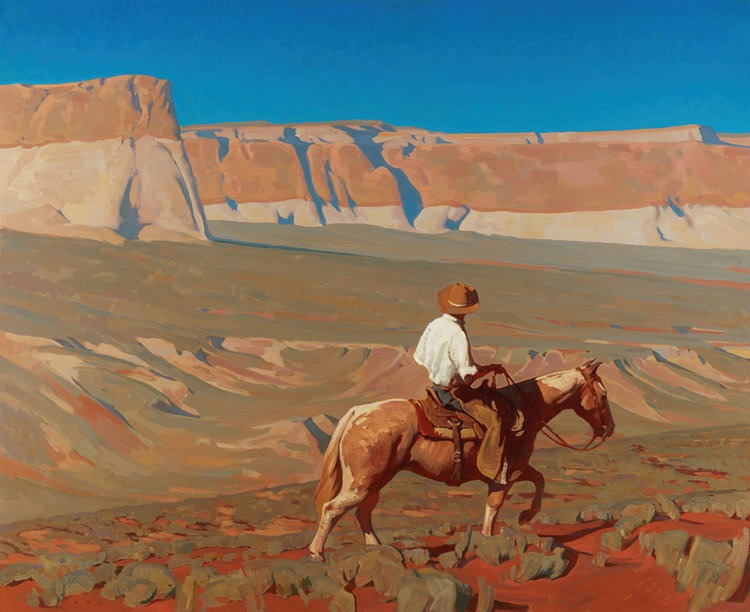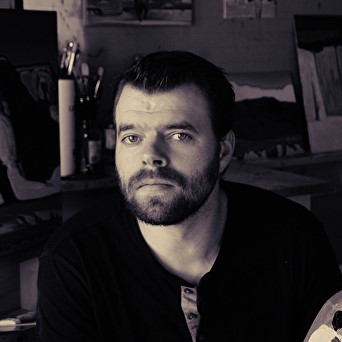 Watching the land change ever so subtly out the window of the family car, that was the part that fascinated a young Brett Allen Johnson as he and his siblings would make the trip from northern Utah to Arizona. They would pass through places named Nephi, Hatch, Mt. Carmel, Kanab, Page, Wupatki, Vermilion Cliffs and Bitter Springs, each one as odd and wonderful as the one before it. The snow-capped peaks would shift to shallow grass-lined valleys with pinon and juniper, and then to pine forests and desert moonscapes with vast fields of rock and sand bleached white like bone.
Their destination was Sedona, where Johnson's grandparents had a home amid the pristine desertscapes of Northern Arizona. His grandmother was a watercolor artist who would frequently paint the Southwest, so the Arizona trips would include adventures outdoors and the exploration of her studio and art supplies. The young artist didn't know it at the time, but these trips would be milestones in his career.
Raised at the foot of Mount Timpanogos in the Wasatch Range—in a small town called American Fork, Utah—Johnson remembers having an interest in art throughout his life, but didn't immediately see the potential as a professional fine artist. After high school, at 18 years old, he married his high school sweetheart and took a job as a carpenter, where he worked with his hands, first on suburban tract homes and later on multi-million-dollar mansions. The position, where he would remain for 16 years, helped establish a meticulous work ethic and laid the groundwork for what would become the foundation of his art career: the ability to visualize an idea and then bring that to conception and beyond. In 2003, while working as a carpenter, Johnson attended Utah Valley State College, where he started to explore graphic design, which was the outcome of an aptitude test he had taken several years earlier. After three years, he realized he wanted to be a different kind of artist and left school to pursue art in his own way.
Over the course of the next decade, he would hone his craft, and his voice as an artist, through his experiences painting the Southwest, like his grandmother before him. Once in the studio Johnson's paintings skewed toward expressionism, modernism and abstraction—more Rothko and Motherwell than Russell and Remington. He started filtering his subjects through this unique lens—hard edges, complex forms and vivid colors—and coming away with astonishing results. In 2011 he would visit the groundbreaking Wide-Open Spaces exhibition at the BYU Museum of Art, and everything started to click into place after he discovered the work of Maynard Dixon and the members of the Taos Society of Artists. The West, he learned, could be as modern as he wanted, and nothing was going to hold him back.
Painting by painting, Johnson developed his work into a profound and unified vision of the West. A vision that brought the iconography of the land and the people together as monuments to the West. In 2016, the artist started posting his work online and within a year he had generated important and loyal fans at Maxwell Alexander Gallery in Los Angeles. It wasn't long before he was showing with some of the biggest names in contemporary Western art, and then taking center stage in his own solo shows. While his incubation took close to 16 years, Johnson, still in his 30s, has ascended quickly through the ranks of Western art to become one of the must-watch rising stars.
Today he lives in Lehi, Utah, with his wife, Tosha, and his four children. He still makes those pilgrimages south to explore the desert, find subject matter and paint the beauty of the West.