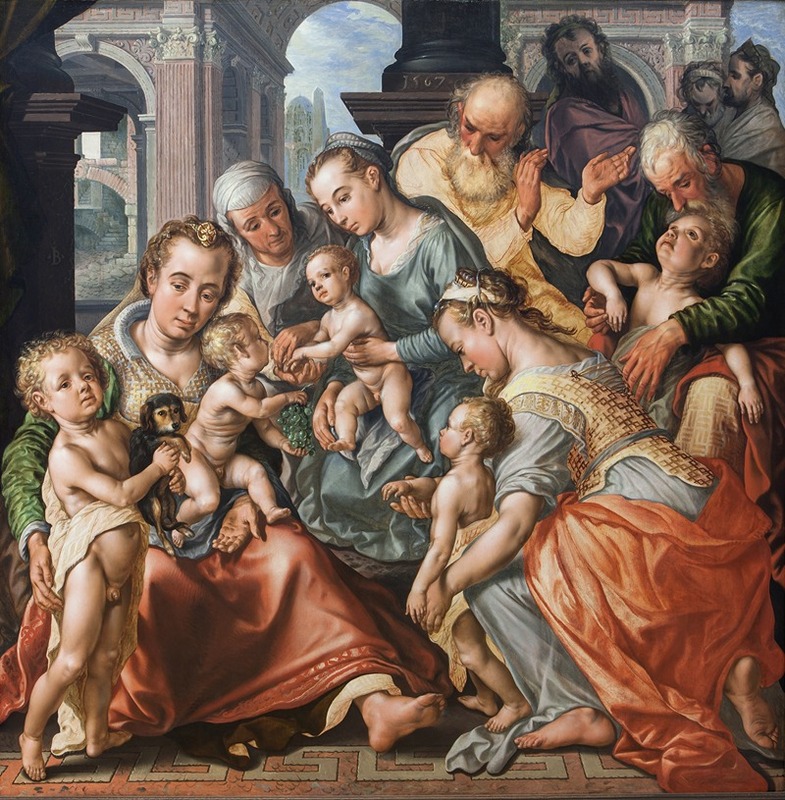 Joachim Beuckelaer was a Flemish painter specialising in market and kitchen scenes with elaborate displays of food and household equipment. He also painted still lifes with no figures in the central scene. His development of the genre of market and kitchen scenes was influential on the development of still life art in Northern Europe as well as Italy.
Details about the life of the artist are scarce. Beuckelaer was born in Antwerp into a family of painters. He was likely the son of the painter Mattheus Beuckeleer and the brother of Huybrecht Beuckeleer. His brother also became a painter and the works of Huybrecht have occasionally been misattributed to Joachim. He possibly learned to paint in the workshop of his uncle, Pieter Aertsen, who had married his aunt Kathelijne Beuckelaer. Aertsen was best known for his market and kitchen scenes, genres. Beuckelaer became an independent master in the Antwerp Guild of Saint Luke in 1560.
Beuckelaer remained active in Antwerp throughout his career and continued to develop themes pioneered in painting by Aertsen, but arguably surpassing his presumed master in skill. The date of his death is not known with certainty but fell likely between 1570 and 1574.
Beuckelaer specialised in market and kitchen scenes with elaborate displays of food and household equipment. During the 1560s, especially during the early part of the decade, Beuckelaer painted some purely religious works, for which, unlike the kitchen and market scenes, drawings are known. In this period he also made designs for stained glass.
His work was influential. The Flemish still life and animal painter Frans Snyders developed his Baroque many market scenes by taking inspiration of the work of Aertsen and Beuckelaer. Northern Italian painters such as Vincenzo Campi and Jacopo Bassano were also influenced by his work.