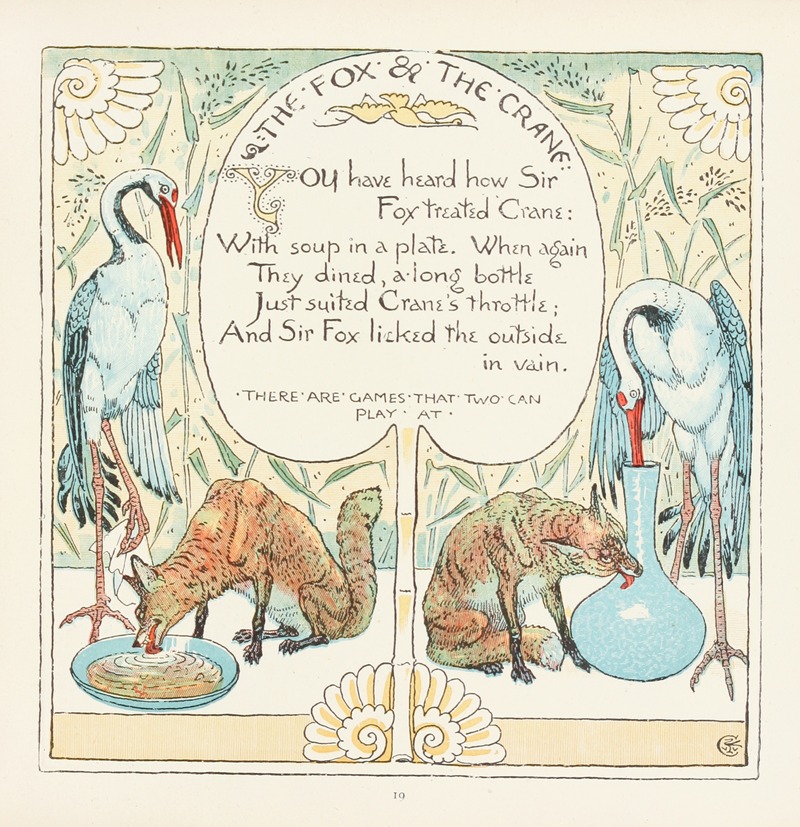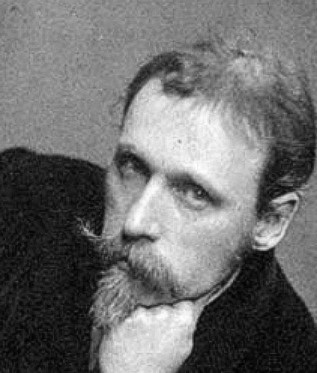 Walter Crane was a British artist and book illustrator. He is considered to be the most influential, and among the most prolific, children's book creators of his generation and, along with Randolph Caldecott and Kate Greenaway, one of the strongest contributors to the child's nursery motif that the genre of English children's illustrated literature would exhibit in its developmental stages in the later 19th century.
Crane's work featured some of the more colourful and detailed beginnings of the child-in-the-garden motifs that would characterize many nursery rhymes and children's stories for decades to come. He was part of the Arts and Crafts movement and produced an array of paintings, illustrations, children's books, ceramic tiles and other decorative arts. Crane is also remembered for his creation of a number of iconic images associated with the international Socialist movement.
Crane was the second son of Thomas Crane, a portrait painter and miniaturist, and Marie Crane (née Kearsley), the daughter of a prosperous malt-maker. His elder brother Thomas would also go into illustration, and sister Lucy was a noted writer. He was a fluent follower of the newer art movements and he came to study and appreciate the detailed senses of the Pre-Raphaelite Brotherhood, and was also a diligent student of the renowned artist and critic John Ruskin. A set of coloured page designs to illustrate Tennyson's "Lady of Shalott" gained the approval of wood-engraver William James Linton to whom Walter Crane was apprenticed for three years in 1859–62. As a wood-engraver he had abundant opportunity for the minute study of the contemporary artists whose work passed through his hands, of Pre-Raphaelites Dante Gabriel Rossetti and John Everett Millais, as well as Sir John Tenniel, the illustrator of Alice in Wonderland, and Frederick Sandys. He was a student who admired the masters of the Italian Renaissance, however he was more influenced by the Elgin marbles in the British Museum. A further and important element in the development of his talent was the study of Japanese colour-prints, the methods of which he imitated in a series of toy books, which started a new fashion.
From the early 1880s, initially under William Morris's influence, Crane was closely associated with the Socialist movement. He did as much as Morris himself to bring art into the daily life of all classes. With this object in view he devoted much attention to designs for textiles and wallpapers, and to house decoration; but he also used his art for the direct advancement of the Socialist cause. For a long time he provided the weekly cartoons for the Socialist organs Justice, Commonweal and The Clarion. Many of these were collected as Cartoons for the Cause. He devoted much time and energy to the work of the Art Workers Guild, of which he was master in 1888 and 1889 and to the Arts and Crafts Exhibition Society, which he helped to found in 1888. He was also a Vice President of the Healthy and Artistic Dress Union, a movement begun in 1890, whose aim was to promote loose-fitting clothing, in opposition to "stiffness, tightness and weight". They produced numerous pamphlets setting out their cause, including one entitled "How to Dress Without a Corset" which Crane illustrated.
Although not himself an anarchist, Crane contributed to several libertarian publishers, including Liberty Press and Freedom Press. He is credited with the design and decoration of the front facade of "The Bomb Shop", Henderson's bookshop at 66 Charing Cross Road specialising in left-wing and radical literature.
Crane was controversial in his support of the four Chicago anarchists executed in 1887 in connection with the Haymarket affair. Visiting the United States for the first time in connection with an exhibition of his work in 1891, Crane scandalised polite society by appearing at a Boston anarchist meeting and expressing the opinion that the Haymarket defendants had been put to death wrongfully. Returning to his hotel, Crane found a letter stating that he faced "hopeless ruin" among American patrons of the arts owing to his support of those who were commonly considered to be terrorist conspirators in public opinion of the day. Financial support was withdrawn and planned dinners in Crane's honour were cancelled. In response to the controversy, Crane wrote a letter to the press explaining that he had not meant to cause insult and did not himself favour the use of explosives, but had merely been expressing his principled opinion that those convicted were innocent of the crime for which they were charged. The incident was memorialised in the press as "probably the most dramatic episode" in the artist's career.
Walter Crane died on 14 March 1915 in Horsham Hospital, West Sussex. His body was cremated at the Golders Green Crematorium, where his ashes remain. He was survived by three children, Beatrice, Lionel and Lancelot.