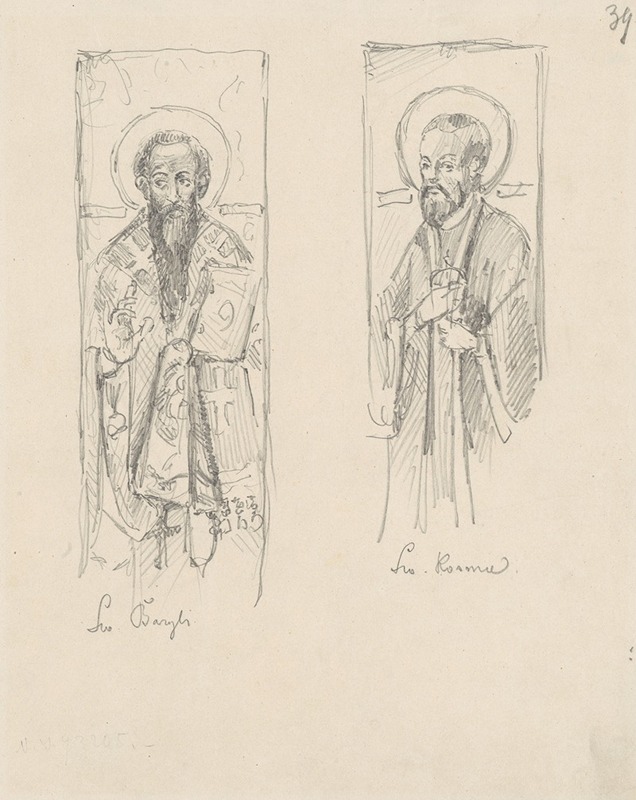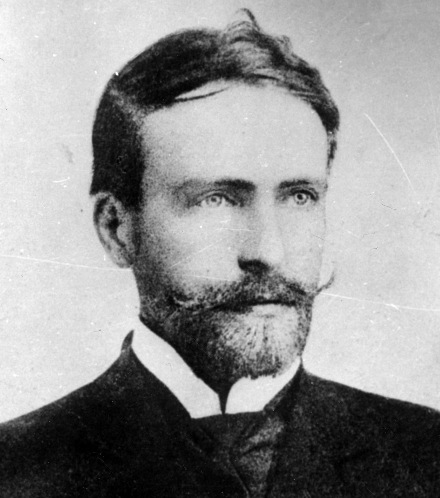 Stanisław Mateusz Ignacy Wyspiański was a Polish playwright, painter and poet, as well as interior and furniture designer. A patriotic writer, he created a series of symbolic, national dramas within the artistic philosophy of the Young Poland Movement. Wyspiański was one of the most outstanding and multifaceted artists of his time in Poland under the foreign partitions. He successfully joined the trends of modernism with themes of the Polish folk tradition and Romantic history. Unofficially, he came to be known as the Fourth Polish Bard (in addition to the earlier Three Bards: Adam Mickiewicz, Juliusz Słowacki, and Zygmunt Krasiński).
Stanisław Wyspiański was born to Franciszek Wyspiański and Maria Rogowska. His father, a sculptor, owned an atelier on Wawel Hill. His mother died of tuberculosis in 1876 when Stanisław was seven years old. Due to problems with alcohol, Stanisław's father could not fulfil his parental responsibilities. Stanisław was adopted by his aunt Joanna Stankiewiczowa and her husband Kazimierz. The Stankiewicz family belonged to the bourgeois intellectual class. In their house, Wyspiański became acquainted with painter Jan Matejko, who was a frequent visitor. Matejko soon recognized that the boy had artistic talent and gave him his first artistic guidance. Wyspiański attended Saint Anne's secondary school. The school was unique for several reasons. First, although the Polish language was forbidden in educational institutions under foreign rule, the lectures at Saint Anne's were delivered in Polish. Second, the teacher's goal was to equip the students with a thorough knowledge of Polish history and literature. Third, graduates of the school, including Lucjan Rydel, Stanisław Estreicher and Henryk Opieński, were considered prominent figures in Kraków's cultural life. As a student, Wyspiański took particular interest in art and literature. According to Joanna Stankiewiczowa, the young Stanisław portrayed small cottages, animals, plants, armors and decorations. Wyspiański also created a dramatic interpretation of Matejko's painting Stefan Batory pod Pskowem (Bathory at Pskov).
In 1887 Wyspiański enrolled in the Faculty of Philosophy at Jagiellonian University and the School of Fine Arts in Kraków. While studying at the university, he attended lectures in art, history and literature. Jan Matejko, the dean of the School of Fine Arts, soon recognized Wyspiański's talent and asked him to join in the creation of a polychrome inside the Mariacki Church.
The years 1890–1895 were devoted to travel. Wyspiański visited Italy, Switzerland, Germany, Prague and France. His stay in France is regarded as a major point in his artistic life. He studied at the private Académie Colarossi. Since the school fee was very high, Wyspiański applied for a grant. During his stay in France he got acquainted with Paul Gauguin. Together they visited art museums, where Wyspiański was bewitched by the beauty of Pierre Puvis de Chavannes's paintings. He also attended theatre performances based on Shakespeare and classical era plays. His future dramas Daniel i Meleager (Daniel and Meleagra) and Powrót Odysa (Return of Odysseus) were based on the antic tradition. Meanwhile, he worked on several dramas, Królowa Polskiej Korony (The Queen of Polish Crown), Warszawianka (Varsovian Anthem) and the first version of Legenda (Legend). The play Legenda (Legend) was based on the famous Polish legend of Wars and Sawa. In August 1894 he returned to Kraków, where he got involved in the modernist movement. It was then he designed and partially made a polychrome for the Franciscan Church that was composed of flowery, geometrical and heraldic motifs. Moreover, the prior of the church encouraged Wyspiański to design various stained glass windows, such as Blessed Salomea, Saint Francis Stigmata and God the Father. Wyspiański received an award from the Polish Academy of Learning for the landscape of the Kopiec Kościuszki (Kościuszko Mound). As a painter, interior designer and poet he cooperated with the Municipal Theatre in Kraków. First he designed furniture and scenography for the theatre performances, then he staged various dramas on the stage of the theatre.
He cooperated with the Kraków Society of Friends of Fine Art and in mid-1898 was named art manager of the weekly Życie (Life). Unfortunately, his first published dramas, Legenda (Legend), (1897) and Daniel i Meleager (Daniel and Meleagra) (1898), did not receive the acclaim of the critics. It was the Warszawianka (Varsovian Anthem) that brought instantaneous acclaim to its author. The premiere of the drama marked his debut as a playwright of national dramas. The theatre premiere of the drama on 2 July 1901 starred Helena Modrzejewska as Maria. The years 1899–1900 marked the publication of Protesilas i Laodamia (Protesilas and Laodamia), Lelewel (Lelevel) and Legion. This drama is regarded to be the author's polemic displaying a romantic vision of history. In 1900, Wyspiański married the mother of his four children, Teodora Pytko. In November the same year he participated in the wedding of his friend Lucjan Rydel in Bronowice, a village near Kraków. The wedding party was the inspiration for his widely acclaimed play Wesele (The Wedding). It is a deeply critical yet sarcastic exposé of Polish society of the 19th century. "Wesele" transformed Wyspianski from a moderately successful visual and verbal artist associated with the Young Poland movement into a national dramatist-visionary whose significance in Poland is comparable to Yeats's in Ireland, O'Neill's in America, or Maeterlinck's in Belgium." The drama made references to the contemporary situation in Poland and depicted a powerless society. Although censorship barred the sale of copies of Wesele (The Wedding), the play was staged in the theatre.
After the success of Wesele (The Wedding) four new plays based on Polish history were published: Wyzwolenie (Liberation), Achilles, Bolesław Śmiały (Boleslaus The Bold) and Legenda II (Legend 2). The following years were devoted to publishing of Skałka and Powrót Odysa (Return of Odysseus); meanwhile Wyspiański translated Corneillea's Cyd (Le Cid) and Voltaire's Zaïre.
In 1906 Wyspiański became a professor at the Academy of Fine Arts in Kraków. He was also a member of the city council. In his last years, Wyspianski's health deteriorated. As a result, he underwent medical treatments in Rymanów and Bad Hall and then settled in his small cottage in the village of Węgrzce. He died of syphilis, which was incurable at the time. His funeral took place in Kraków and became a national day of mourning. Wyspiański was buried in the Crypt of the Distinguished in the Skałka Church.