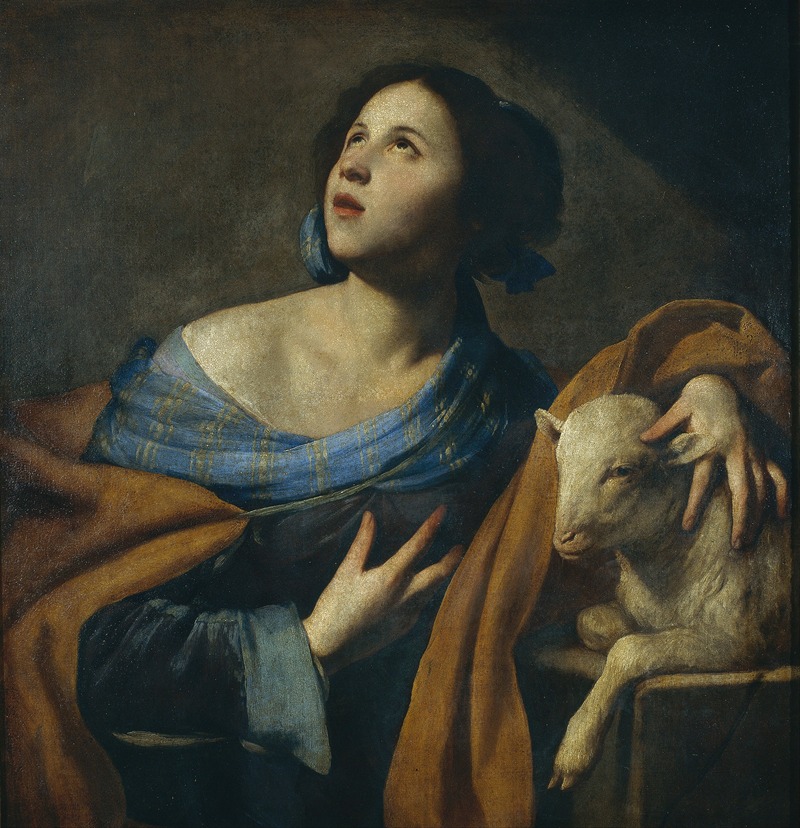 Massimo Stanzione (also called Stanzioni) was an Italian Baroque painter, mainly active in Naples, where he and his rival Jusepe de Ribera dominated the painting scene for several decades. Most of his work, in both oils and fresco (these usually for ceilings), depicted religious subjects. A papal knight, he is often referred to as Cavalliere Massimo Stanzione, especially in older sources.
Born in Frattamaggiore, Naples in 1585, Massimo Stanzione was influenced by Caravaggio. What distinguished Massimo's art from that of Caravaggio's was that he combined the latter's dramatically lit and brutally realistic style with the classical and lyrical manner of Bolognesi painters, earning him the nickname of the Napolitan Guido Reni.
Though his preliminary training is uncertain, it is thought that he studied with Fabrizio Santafede and Battistello Caracciolo; however, most of the influence he received was from Caravaggio. Art historians believe that Stanzione developed his career as an artist in Rome. It is thought that he began his career as a portraitist. Some of his most famous works include Portrait of a Woman in Popular Costume, and Portrait of Jerome Banks.
His first trip to Rome was in 1617 to 1618, where he worked in Santa Maria della Scala, where traces of his work remain. He returned to the Eternal City several times between 1620 and about 1630. In Rome he underwent the influence of Annibale Carracci and of the revamped Caravaggism of Simon Vouet, among others. In 1621, pope Gregory XV awarded him the title of Knight of the Golden Spur and in 1627, he received the title of Knight of Saint George and Urban VIII invested him with the Order of Christ which, in Spain, gave him the title Caballero Máximo.
Along with Jusepe de Ribera, Stanzione was the principal Neapolitan painter during the first half of the 17th century. This was due to his vast altarpieces and frescoes and of course his following of students and imitators. Massimo's rich color and idealized naturalism had a large influence on other local artists, such as Francesco Solimena. It is believed that Massimo Stanzione died during the plague of 1656.
Naples was the third largest city in 17th century Europe after Paris and London. In 1630, it was a center of opportunity for artistic commissions. Many of these artistic commissions were sought after by the Spanish Viceroys who maintained positions of political power in Naples at this time. Other art enthusiasts arrived from various Mediterranean ports in Naples looking for artistic expertise. Stanzione along with Bernardo Cavallino and most importantly Artemisia Gentileschi represented a new and more graceful painting style.
Apparently Stanzione's artistic relationship with Gentileschi was significant in his development as an artist. Documentation shows that Stanzione and Gentileschi both moved to Naples the same year, 1630. De Dominici describes the relationship between Gentileschi and Stanzione as an informal apprenticeship. Stanzione joined Artemisia daily to observe her while she painted and may have imitated her coloring style, but not her design style. There is no written proof to substantiate this hypothesis because the fact remains that Stanzione had a tremendous amount of interaction with other colorists throughout this time and also he was already established artistically in Rome by 1617 when he was working with Saraceni and Honthrost at the Santa Maria della Scala. The S.M. della Scala was one of the first hospitals in Europe. The hospital had its own organization, which was set up as a means to care for pilgrims, assist the poor and provide for abandoned children.
However, later writers credited Artemisia with influencing Stanzione's rich light effects and greater classicizing. Gentileschi and Stanzioni collaborated on certain works such as Birth of St. John the Baptist for Philip IV's Buen Retiro Palace. The two artists compromised their styles; Gentileschi subdued her realist style of tenebrism and substituted it with more even lighting and classical composition, and the two succeeded in creating an agreeable collection. Stanzione's Saint Agatha In Prison along with his Young Saint John the Baptist were his first known works. Those works combine the influence of Reni and Domenichino among others to create a composition of "lyric classicism".