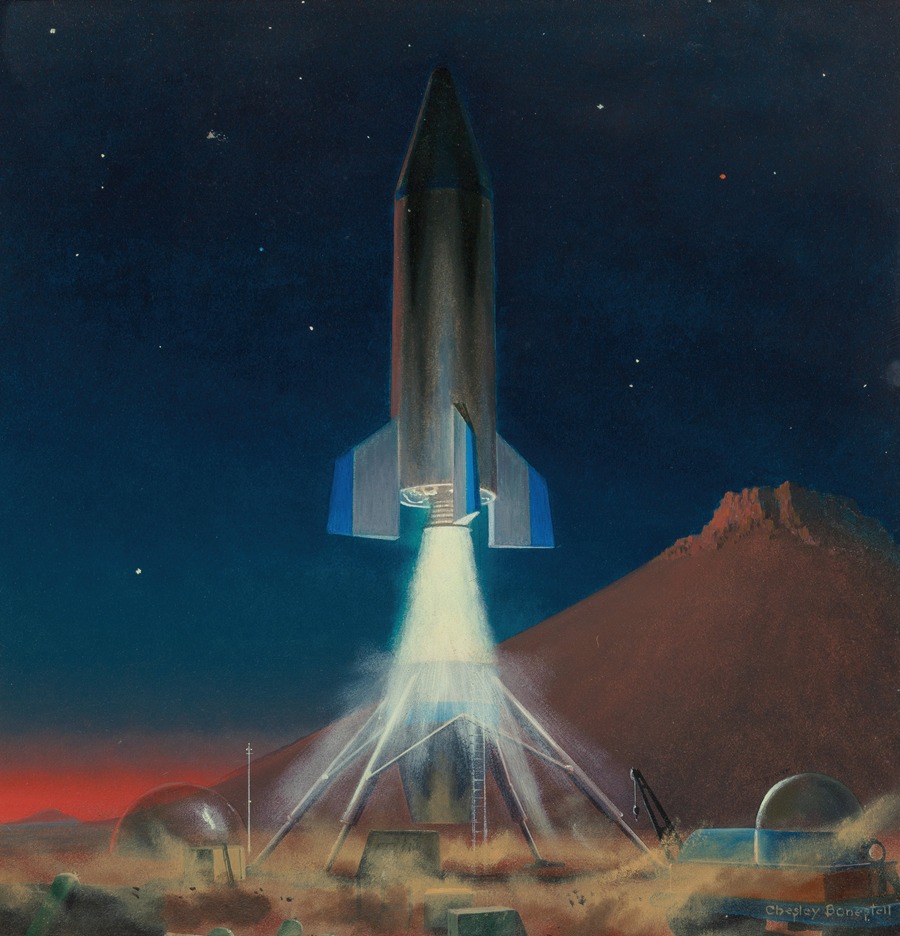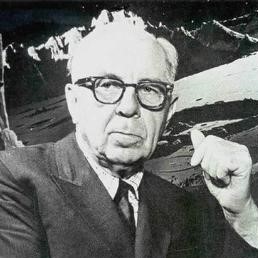 Chesley Knight Bonestell Jr. was an American painter, designer and illustrator. His paintings inspired the American space program, and they have been (and remain) influential in science fiction art and illustration. A pioneering creator of astronomical art, along with the French astronomer-artist Lucien Rudaux, Bonestell has been dubbed the "Father of Modern Space art".
Bonestell was born in San Francisco, California. His first astronomical painting was done in 1905. After seeing Saturn through the 12-inch (300 mm) telescope at San Jose's Lick Observatory, he rushed home to paint what he had seen. The painting was destroyed in the fire that followed the 1906 earthquake. Between 1915 and 1918, he exhibited lithographs in the 4th and 7th annual exhibitions of the California Society of Etchers (now the California Society of Printmakers) in San Francisco.
Bonestell studied architecture at Columbia University in New York City. Dropping out in his third year, he worked as a renderer and designer for several of the leading architectural firms of the time, including the firm of Willis Polk, "The Man Who Rebuilt San Francisco."
Bonestell moved to England in 1920, where he rendered architectural subjects for the Illustrated London News. He returned to New York in 1926. While with William van Alen, he and Warren Straton designed the art deco façade of the Chrysler Building as well as its distinctive eagles. During this same period, he designed the Plymouth Rock Memorial, the U.S. Supreme Court Building, the New York Central Building, Manhattan office and apartment buildings and several state capitols.
Returning to the West Coast, he prepared illustrations of the chief engineer's plans for the Golden Gate Bridge for the benefit of funders. In the late 1930s he moved to Hollywood, where he worked (without screen credit) as a special effects artist, creating matte paintings for films, including The Hunchback of Notre Dame (1939), Citizen Kane (1941) and The Magnificent Ambersons (1942).
Bonestell's first cover for Galaxy Science Fiction (Feb 1951), The Tying Down of a Spaceship on Mars in Desert Sandstorm
Bonestell then realized that he could combine what he had learned about camera angles, miniature modeling, and painting techniques with his lifelong interest in astronomy. The result was a series of paintings of Saturn as seen from several of its moons that was published in Life in 1944. Nothing like these had ever been seen before: they looked as though photographers had been sent into space. His painting "Saturn as Seen from Titan" is perhaps the most famous astronomical landscape ever, and is nicknamed "the painting that launched a thousand careers." It was constructed with a combination of clay models, photographic tricks and various painting techniques. (Titan has a thick haze; such a view is probably not possible in reality.)
Bonestell followed up the sensation these paintings created by publishing more paintings in many leading national magazines. These and others were eventually collected in the best-selling book The Conquest of Space (1949), produced in collaboration with author Willy Ley. Bonestell's last work in Hollywood was contributing special effects art and technical advice to the seminal science fiction films produced by George Pal, including Destination Moon, When Worlds Collide, The War of the Worlds and Conquest of Space, as well as Cat-Women of the Moon. Beginning with the October 1947 issue of Astounding Science Fiction, Bonestell painted more than 60 cover illustrations for science fiction magazines, primarily The Magazine of Fantasy & Science Fiction, in the 1950s through 1970s. He also illustrated many book covers.
When Wernher von Braun organized a space flight symposium for Collier's, he invited Bonestell to illustrate his concepts for the future of spaceflight. For the first time, spaceflight was shown to be a matter of the near future. Von Braun and Bonestell showed that it could be accomplished with the technology then existing in the mid-1950s, and that the question was that of money and will. Coming as they did at the beginning of the Cold War and just before the sobering shock of the launch of Sputnik, the 1952–54 Collier's series, "Man Will Conquer Space Soon!", was instrumental in kick-starting America's space program.
In 1986, Bonestell died in Carmel, California, with an unfinished painting on his easel.