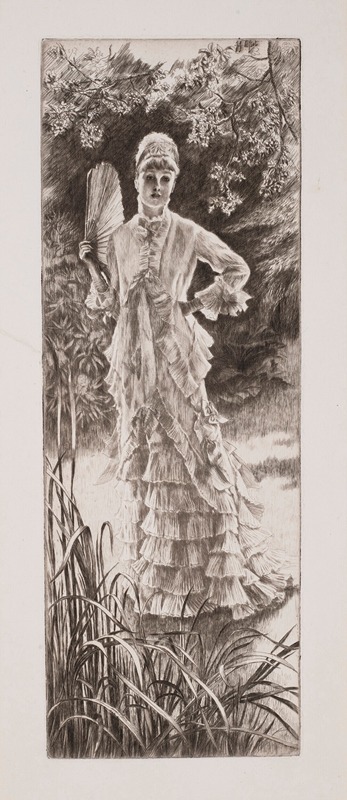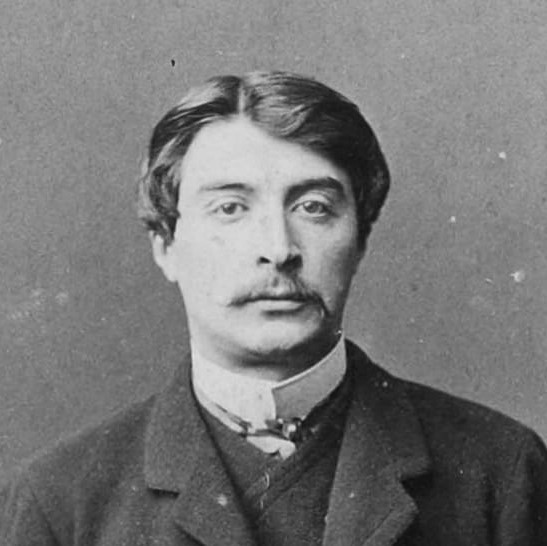 Jacques Joseph Tissot, was a French painter and illustrator. He was a successful painter of Paris society before moving to London in 1871. He became famous as a genre painter of fashionably dressed women shown in various scenes of everyday life. He also painted scenes and characters from the Bible.
Jacques Tissot was born in the city of Nantes in France and spent his early childhood there. His father, Marcel Théodore Tissot, was a successful drapery merchant. His mother, Marie Durand, assisted her husband in the family business and designed hats. A devout Catholic, Tissot's mother instilled pious devotion in the future artist from a very young age. Tissot's youth spent in Nantes likely contributed to his frequent depiction of shipping vessels and boats in his later works.
The involvement of his parents in the fashion industry is believed to have been an influence on his painting style, as he depicted women's clothing in fine detail. By the time Tissot was 17, he knew he wanted to pursue painting as a career. His father opposed this, preferring his son to follow a business profession, but the young Tissot gained his mother's support for his chosen vocation. Around this time, he began using the given name of James. By 1854 he was commonly known as James Tissot; he may have adopted it because of his increasing interest in everything English.
In 1856 or 1857, Tissot travelled to Paris to pursue an education in art. While staying with a friend of his mother, painter Elie Delaunay, Tissot enrolled at the Ecole des Beaux-Arts to study in the studios of Hippolyte Flandrin and Louis Lamothe. Both were successful Lyonnaise painters who moved to Paris to study under Jean-Auguste-Dominique Ingres. Lamothe provided the majority of Tissot's studio education, and the young artist studied on his own by copying works at the Louvre, as did most other artists of the time in their early years. Around this time, Tissot also made the acquaintance of the American James McNeill Whistler, and French painters Edgar Degas (who had also been a student of Lamothe and a friend of Delaunay), and Édouard Manet.
In 1859, Tissot exhibited in the Paris Salon for the first time. He showed five paintings of scenes from the Middle Ages, many depicting scenes from Goethe's Faust. These works show the influence in his work of the Belgian painter Henri Leys (Jan August Hendrik Leys), whom Tissot had met in Antwerp earlier that same year. Other influences include the works of the German painters Peter von Cornelius and Moritz Retzsch. After Tissot had first exhibited at the Salon and before he had been awarded a medal, the French government paid 5,000 francs for his depiction of The Meeting of Faust and Marguerite in 1860, with the painting being exhibited at the Salon the following year, together with a portrait and other paintings.
In 1885, Tissot had a revival of his Catholic faith, which led him to spend the rest of his life making paintings about Biblical events. Many of his artist friends were skeptical about his conversion, as it conveniently coincided with the French Catholic revival, a reaction against the secular attitude of the French Third Republic. At a time when French artists were working in impressionism, pointillism, and heavy oil washes, Tissot was moving toward realism in his watercolors. To assist in his completion of biblical illustrations, Tissot traveled to the Middle East in 1886, 1889, and 1896 to make studies of the landscape and people. His series of 365 gouache (opaque watercolor) illustrations showing the life of Christ were shown to critical acclaim and enthusiastic audiences in Paris (1894–5), London (1896) and New York (1898–9), before being bought by the Brooklyn Museum in 1900. They were published in a French edition in 1896–7 and in an English one in 1897–8, bringing Tissot vast wealth and fame. During July 1894, Tissot was awarded the Légion d'honneur, France's most prestigious medal. Tissot spent the last years of his life working on paintings of subjects from the Old Testament. Although he never completed the series, he exhibited 80 of these paintings in Paris in 1901 and engravings after them were published in 1904.
Tissot died suddenly in Doubs, France, on 8 August 1902, while living in the Château de Buillon, a former abbey which he had inherited from his father in 1888.