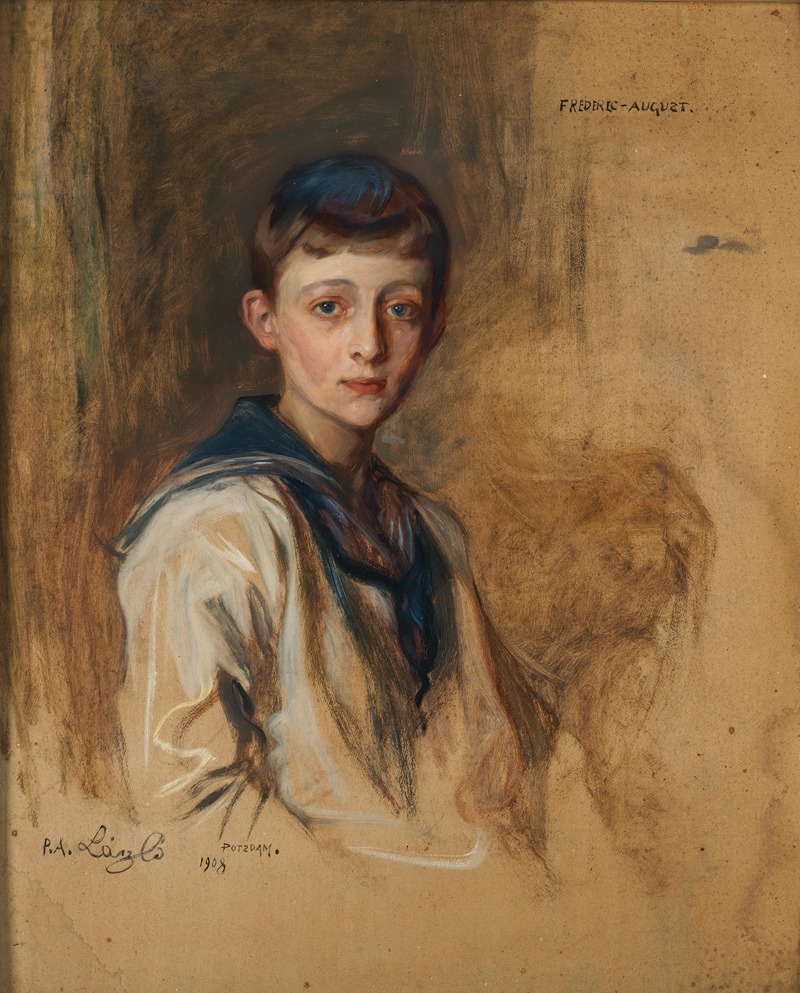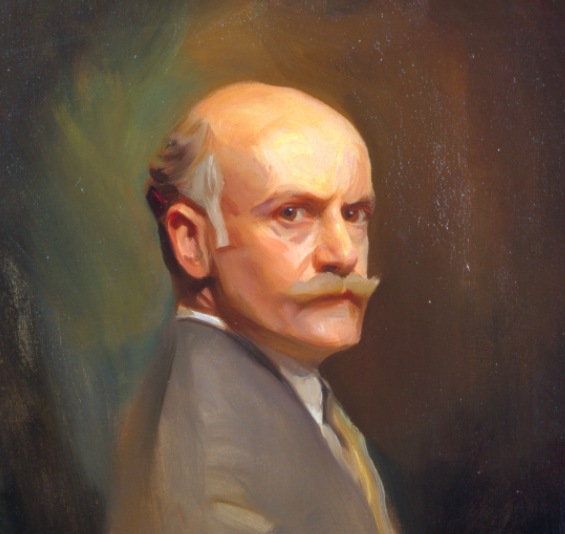 Philip Alexius de László was an Anglo-Hungarian painter known particularly for his portraits of royal and aristocratic personages. In 1900, he married Lucy Guinness of Stillorgan, County Dublin and he became a British subject in 1914.
László was born in humble circumstances in Budapest as Fülöp Laub, the eldest son of Adolf and Johanna Laub, a tailor and seamstress of Jewish origin. Fülöp and his younger brother Marczi changed their surname to László in 1891.
He was apprenticed at an early age to a photographer while studying art, eventually earning a place at the National Academy of Art, where he studied under Bertalan Székely and Károly Lotz. He followed this with studies in Munich and Paris. László's portrait of Pope Leo XIII earned him a Grand Gold Medal at the Paris International Exhibition in 1900. In 1903, László moved from Budapest to Vienna. In 1907, he moved to England and remained based in London for the remainder of his life, although endlessly travelling the world to fulfill commissions.
In 1900, László married Lucy Madeleine Guinness, a member of the banking branch of the Guinness family and a sister of Henry Guinness. They had first met in Munich in 1892, but for some years had been forbidden to see each other. The couple had six children and 17 grandchildren.
László became interested in Catholicism as a young man, probably through his friendship with the Valentins, an elderly Bavarian couple. He was baptised into the Hungarian Catholic Church in 1894 ... "he never worshipped regularly but read the Bible and was a firm believer in God and the Christian story". His faith was especially strengthened by his visit to the Vatican in 1900, where he met and painted the aging Pope Leo XIII. László converted to Anglicanism upon his marriage, and his children were raised as Protestants. At a lecture to the Fisher Society in 1934, he said "I believe that to worship nature is a religious duty. I see in nature the fullest revelation of the Divinity, and my faith is that only by acceptance of this revelation and by striving to realise it in all its perfection can I prove my worship to be sincere".
László's patrons awarded him numerous honours and medals. In 1909, he was invested MVO by Edward VII. In 1912, he was ennobled by King Franz Joseph of Hungary; his surname then became "László de Lombos", but he soon was using the name "de László".
Despite his British citizenship, his marriage and five British citizen sons, de László was interned for over twelve months in 1917 and 1918 during the First World War, accused of making contact with the enemy (he had written letters to family members in Austria). He was released on grounds of ill health, and exonerated in June 1919.
Due to overwork, de László suffered heart problems for the last years of his life. In October 1937, he had a heart attack and died a month later at his home, Hyme House, in Hampstead, London. His work was part of the painting event in the art competition at the 1932 Summer Olympics.