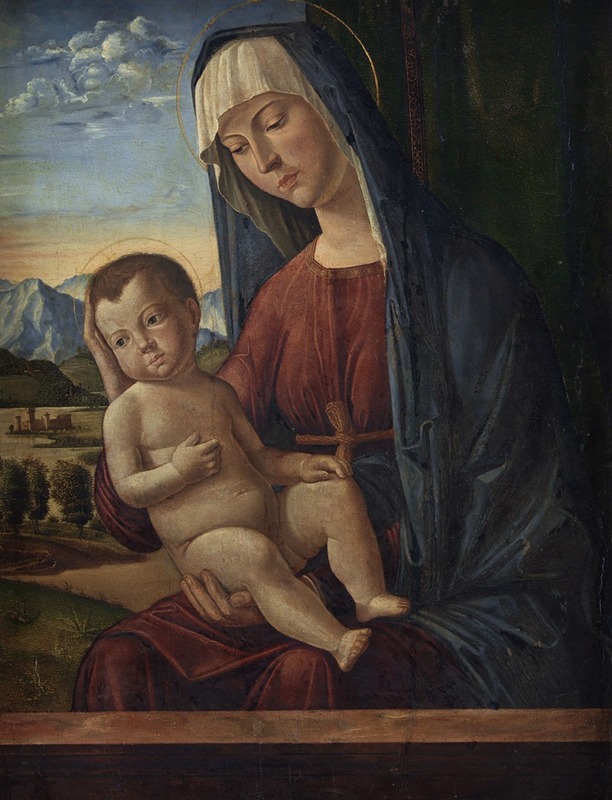 Giovanni Battista Cima, also called Cima da Conegliano was an Italian Renaissance painter, who mostly worked in Venice. He can be considered part of the Venetian school, though he was also influenced by Antonello da Messina, in the emphasis he gives to landscape backgrounds and the tranquil atmosphere of his works. Once formed his style did not change greatly. He mostly painted religious subjects, often on a small scale for homes rather than churches, but also a few, mostly small, mythological ones.
He often repeated popular subjects in different versions with slight variations, including his Madonnas and Saint Jerome in a Landscape. His paintings of the Madonna and Child include several variations of a composition that have a standing infant Jesus, which in turn are repeated several times.
Giovanni Battista Cima was born at Conegliano, then part of the terrafirma of the Republic of Venice but now part of the province of Treviso, in 1459 or 1460. His father, who died in 1484, was a cloth-shearer (cimator), hence the family surname.
In 1488 the young painter was at work at Vicenza; in 1492 he established himself at Venice, but by the summer of 1516 he had returned to his native place. Cima married twice, his first wife, Corona, bore him two sons, the older of whom took Holy orders at Padua. By Joanna, his second wife, he had six children, three being daughters.
His oldest painting inscribed with a date is the Madonna of the Arbour (1489; now in Museum of Vicenza). This picture is done in distemper and savours so much of the style of Bartolomeo Montagna, who lived at Vicenza from 1480, as to make it highly probable that Cima was his pupil. Even in this early production Cima gave evidence of the serious calm, and almost passionless spirit that so eminently characterized him. Later he fell under the influence of Giovanni Bellini and became one of his ablest successors, forming a happy, if not indispensable link between this master and Titian.
Among his pupils were his son, Carlo da Conegliano, and Vittore Belliniano. It is unclear if Francesco Beccaruzzi, who was born in Conegliano in 1492, received direct training from Cima.