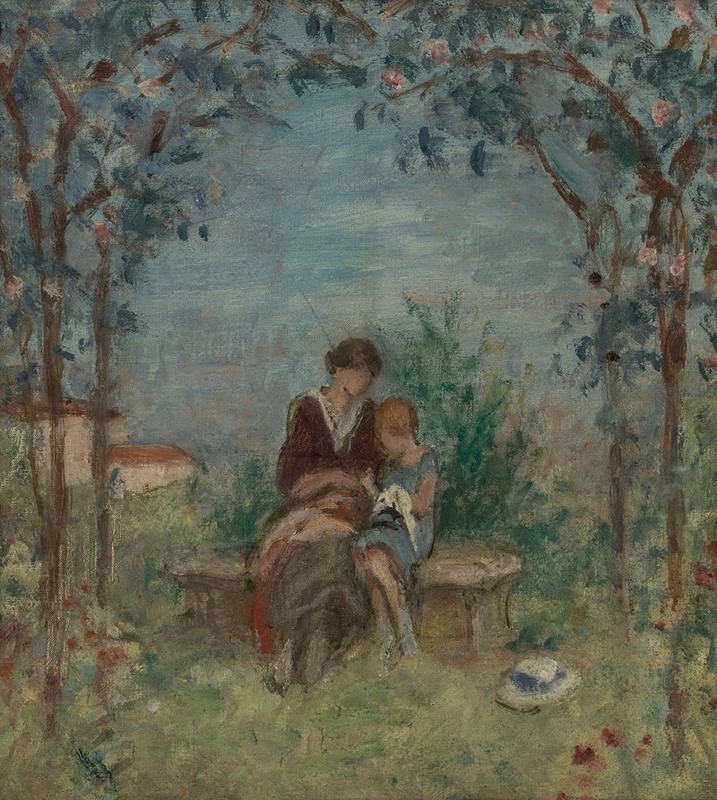 Georges d'Espagnat was born August 14, 1870 in Melun, France. He was a French Post-Impressionist painter, muralist, illustrator, and theater designer. His family moved to Paris when he was a young man in the 1880's and at the age of 18 he declined the academic training of the Ecole des Beaux-Arts spending only a few hours there and chose instead to independently study the works of the Old Masters in the Louvre and also attending classes at the free academy. By studying this painting, he became involved with prominent Impressionist painters of the time, exhibiting his work at the Salon des Refusés and the Salon des Indépendants in Paris. d'Espagnat's depicted everyday Parisian life, female figures, landscapes, and still lifes, in a painterly style of additive brushstrokes with a unique treatment of color, resembling the Fauves. He also travelled to Italy where he particularly admired the work of the Venetians, Titian and Tintoretto.
In 1891 d'Espagnat began his public career at the Salon des Refusées, where he took part of an exhibition and in the following year exhibited four paintings at the Salon des Indépendants, later exhibited at the Salon of the Société Nationale. A strongly independent student, and having rejected the traditional places of artistic education available in the capital, he become one of the most individualistic of 20th century French painters. Although associated with many of the greatest names in 20th century art, and though his work has at various times been identified as Fauve, Nabis or just plain Impressionist, he retained his own individuality. He was influential in the art circles of his time like Henri Matisse, Paul Gauguin, Pablo Picasso, Camille Pissaro and Marc Chagall. D'Espagnat also became closely acquainted with many of the Impressionists and Post-Impressionists including Renoir, Vuillard, Andre, Bonnard and Denis. In 1895 he had his first solo show in Paris and three years after that a show of his work was held at Durand-Ruel Gallery. Later and with a close friendship with Renoir he was a part of a group exhibition of 1907 at the Marcel Bernheim Gallery along with Bonnard, Cézanne, Matisse, Pissarro, Rouault, Seurat and Toulouse-Lautrec while in 1926 his works were a part of another exhibition at the same gallery along with André, Bonnard, Braque, Chagall, Matisse, Picasso and Signac. In 1898 he traveled Morocco and worked along the Mediterranean coast near Toulon, capturing in his canvas the strong light and vivid colors of the region.
1903 d'Espagnat, along with the architect Frantz Jourdain and critic Ivanhoe Rambosson, was a founding member of the Salon d'Automne and, a year later, became the vice president. Then in 1906 he collaborated on the illustrations for Remy de Gourmont's Sixtine, and later worked with Alphonse Daudet on his book, L'Immortel. Traveling extensively throughout his lifetime, d'Espagnat visited Britain, Germany, Italy, Portugal, Morroco, and Spain. Elected vice president of the Salon d'Automne in Paris in 1935, d'Espagnat from 1936 he served as a Professor at the Ecole Nationale Superieure des Beaux-Arts in Paris until the 1940s. In 1945 d'Espagnat became the president of La Société des Amis d'Eugène Delacroix, that was a position that he held until his death. In the following years he painted La Rochelle and Concarneau, villages along the coast of France, with watercolors.