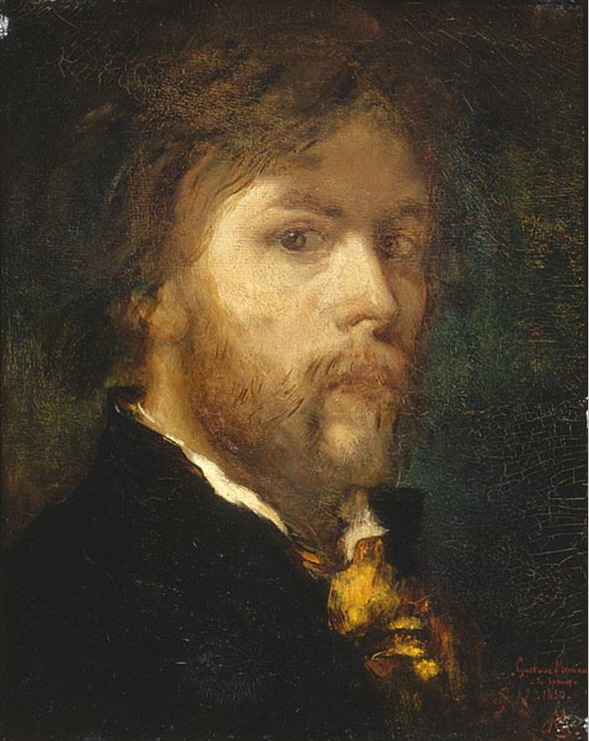 About the Artist
Gustave Moreau was a major figure in the French Symbolist movement, whose main emphasis was the illustration of biblical and mythological figures. Moreau's paintings appealed to the imaginations of some Symbolist writers and artists. He is recognized for his works that are influenced by the Italian Renaissance and exoticism. Many of his works are on display at the Musée Gustave Moreau, a museum in Paris dedicated to his works.
Moreau was born in Paris, France, into an upper middle-class family. His father, Louis Jean Marie Moreau, was an architect for the city of Paris and his mother, née Adele Pauline Desmoutier, was a musician. Moreau lived a sheltered life growing up. Having visited Italy at age 15 he began his love for art. At age 18 he entered École des Beaux-Arts to study under the guidance of François-Édouard Picot and left in 1850. He then began to study art under his new mentor Théodore Chassériau, whose work strongly influenced his own. Moreau participated in the Salon for the first time in 1852.
His first painting was a Pietà which is now located in the cathedral at Angoulême.
Moreau became a professor at Paris' École des Beaux-Arts in October 1891. Among his many students were fauvist painters Henri Matisse and Georges Rouault. Jules Flandrin, Theodor Pallady and Léon Printemps also studied with Moreau. Pierre Marcel-Béronneau was "one of the most brilliant students" of Moreau.