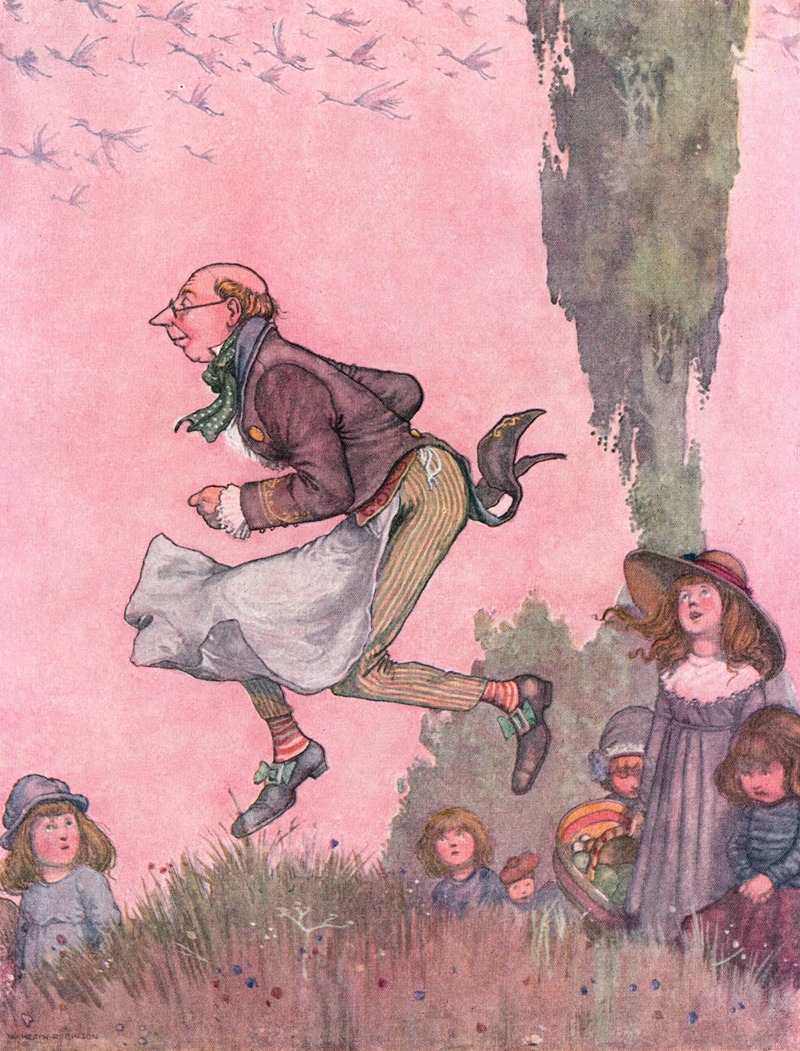 William Heath Robinson was an English cartoonist, illustrator and artist, best known for drawings of whimsically elaborate machines to achieve simple objectives.
William Heath Robinson was born at 25 Ennis Road on 13 May 1872 into a family of artists in an area of London known as Stroud Green, Finsbury Park, North London. His father Thomas Robinson (1838–1902) and brothers Thomas Heath Robinson (1869–1954) and Charles Robinson (1870–1937) all worked as illustrators.
His early career involved illustrating books – among others: Hans Christian Andersen's Danish Fairy Tales and Legends (1897), The Arabian Nights (1899), Tales from Shakespeare (1902), Gargantua and Pantagruel (1904), Twelfth Night (1908), Andersen's Fairy Tales (1913), A Midsummer Night's Dream (1914), Charles Kingsley's The Water-Babies (1915) and Walter de la Mare's Peacock Pie (1916). Robinson was one of the leading illustrators selected by Percy Bradshaw for inclusion in his The Art of the Illustrator (1917-1918) which presented a separate portfolio for each of twenty illustrators.
Robinson also served as a consultant at the Percy Bradshaw's The Press Art School, a school teaching painting, drawing, and illustration by corresponcence. The consultants commented on the work submitted by the students. In the course of his work, Robinson also wrote and illustrated three children's books, The Adventures of Uncle Lubin (1902), Bill the Minder (1912) and Peter Quip in Search of a Friend (1922). Uncle Lubin is regarded as the start of his career in the depiction of unlikely machines.
During the First World War, he drew large numbers of cartoons, depicting ever-more-unlikely secret weapons being used by the combatants. He also depicted the American Expeditionary Force in France. His work was also part of the painting event in the art competition at the 1932 Summer Olympics.
He also produced a steady stream of humorous drawings for magazines and advertisements.
The machines he drew were frequently powered by steam boilers or kettles, heated by candles or a spirit lamp and usually kept running by balding, bespectacled men in overalls. There would be complex pulley arrangements, threaded by lengths of knotted string. Robinson's cartoons were so popular that in Britain the term "Heath Robinson" is used to refer to an improbable, rickety machine barely kept going by incessant tinkering. (The corresponding term in the U.S. is Rube Goldberg, after the American cartoonist born just over a decade later, with an equal devotion to odd machinery. Similar "inventions" have been drawn by cartoonists in many countries, with the Danish Storm Petersen being on par with Robinson and Goldberg.)
One of his most famous series of illustrations was that which accompanied the first Professor Branestawm book written by Norman Hunter. The stories told of the eponymous professor who was brilliant, eccentric and forgetful and provided a perfect backdrop for Robinson's drawings.
In around 1928 Robinson was commissioned to design a range of nursery ware for W.R. Midwinter, a Staffordshire pottery firm. Scenes from sixteen nursery rhymes (some illustrated with more than one vignette) were printed on ware ranging from eggcups to biscuit barrels, each with a decorative border of characterful children's faces. Titled "Fairyland on China", the range was favourably reviewed in the trade press.
The last project Robinson worked on shortly before he died was illustrations for Lilian M. Clopet's short story collection Once Upon a Time, which was published in 1944.
One of the automatic analysis machines built for Bletchley Park during the Second World War to assist in the decryption of German message traffic was named "Heath Robinson" in his honour. It was a direct predecessor to the Colossus, the world's first programmable digital electronic computer.
In 1903 he married Josephine Latey, the daughter of newspaper editor John Latey. Heath Robinson moved to Pinner, Middlesex, in 1908. His house in Moss Lane is commemorated by a blue plaque.
He died in September 1944, during the Second World War, and is buried in East Finchley Cemetery.