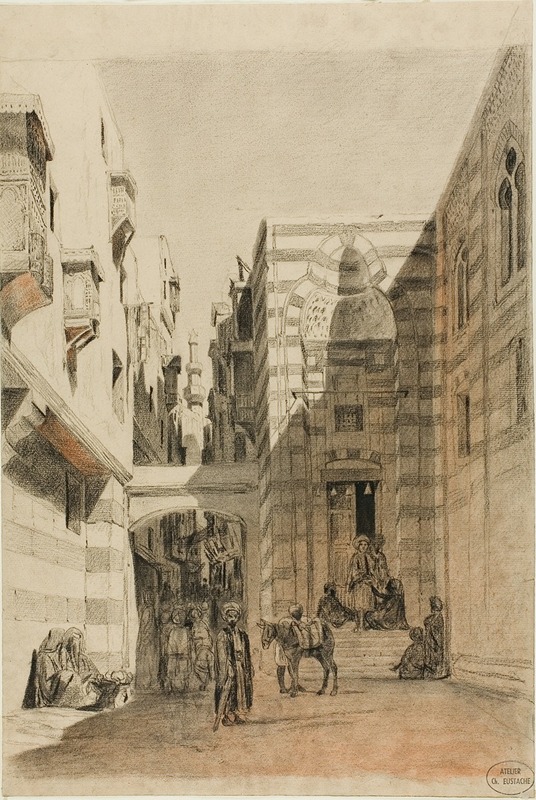 Charles-François Eustache was born in Paris in 1820. He began his training under Prosper Marilhat (1811-47), a Paris-based landscape painter and Orientalist. Eustache was invited by Marilhat to join him on a trip to the Near East.[1] Eustache came into contact with the painters Charles Desprez (1818- after 1852) and Eugène Fromentin (1820-76) who shared his enthusiasm for travel. The three friends visited Egypt and Nubia both in 1842 and in 1847. Eustache also visited Italy, Corsica, Provence, Switzerland and Great Britain. It was Desprez who probably introduced him to Alexandre Calame on a visit to Geneva. He developed a strong admiration for Calame's work.
Eustache was a particularly inventive artist. He produced a large body of cloud studies, very probably prompted by his observation of cloud formations on his travels in England and Scotland. In 1851 he began to focus on motifs drawn from his study of an iron works and foundry owned by the family of his late wife in Fourchambault in central France.
Charles-François Eustache was financially independent, so his artistic career was unaffected by considerations of having to cater to contemporary collecting taste. He exhibited at the Paris Salon in 1849, 1850 and 1852. After his untimely death in 1870 his work disappeared from public view and was overlooked for over a century until a Paris art gallery began to show it in the 1970s.