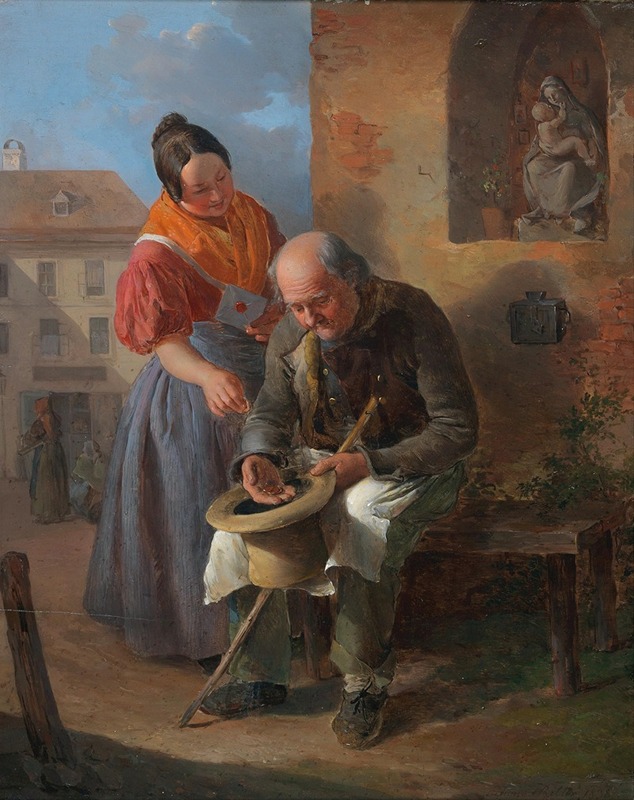 About the Artist
Eduard Ritter was an Austrian painter of the Biedermeier era.
According to a private family chronicle, Eduard Ritter was born in Haus Wieden 210 on September 28, 1808. He attended the Vienna Academy of Fine Arts from 1829-1834. He studied at the same time with Josef Danhauser, Peter Fendi and Ferdinand Georg Waldmüller. From 1830 he exhibited regularly at the academy, where he also became a member in 1848. From 1851 he also exhibited in the Austrian Art Association and in the Künstlerhaus Vienna.
Ritter was very successful in his day. He not only created landscapes in oils and watercolors, but also portraits and genre scenes influenced by 17th century Dutch artists, such as Adriaen van Ostade. He was able to study these artists in detail in the holdings of the Vienna Academy. Ritter painted peasant and rural scenes that have an anecdotal or narrative characteristics. This makes him one of the Austrian Biedermeier painters who were committed to realistic genre painting.