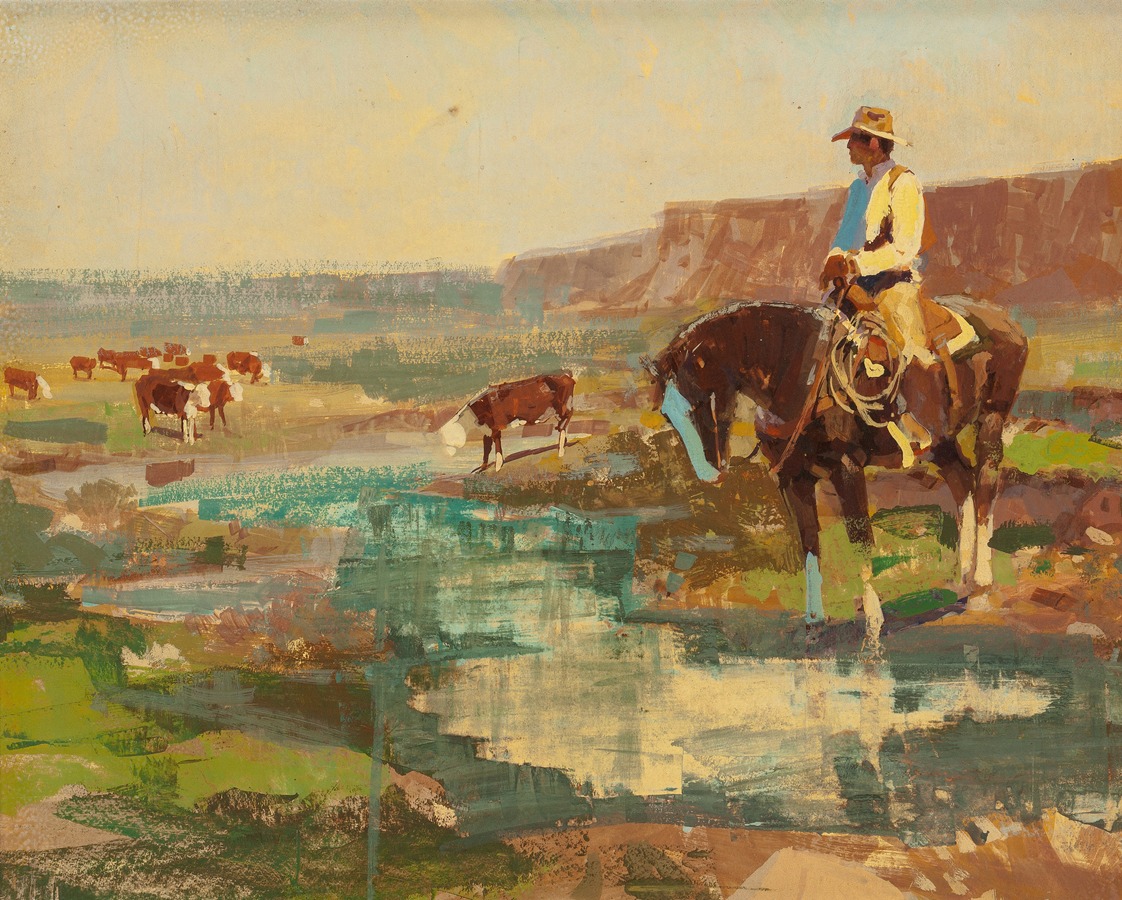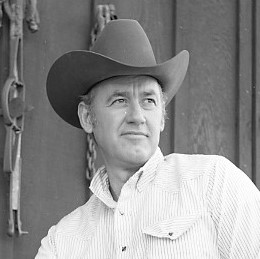 James Reynolds was born in 1926 in a Standard Oil Lease house in Taft, California. As a young child he showed little interest in art beyond drawing in grade school.
He spent his summers in Nevada City, California with his grandmother, who ran a hotel built in the mid-1800s. The town, complete with a saloon and jailhouse, was frequently visited by cowboys herding cattle nearby. It was here that Jim first heard stories of the Old West, including his own family's role in it.
After the bombing at Pearl Harbor and the United States entrance into the war, James' high school years alternated between going to school and working as a plane riveter at the Lockheed plant. When he was old enough, he enlisted in the United States Navy, serving on a fleet cruiser in the South Pacific and in the amphibious core.
Upon his discharge from the Navy, James, along with a few others, were shipped from China back to San Francisco aboard the USS Blackhawk. During the long voyage home, he noticed a bunkmate copying a Jeep advertisement using a small painting kit. James asked if he could give it a try. He decided right then and there that he was going to go to art school.
James studied at the Kann Institute of Art in Beverly Hills for one year and four years at the School of Allied Arts in Glendale, California.
After art school, and a short venture raising rabbits in northern California, a friend in the movie business arranged for some of James' work to be seen. Soon later he went to work in the art department at Fox Studios.
After 14 years of working for most of the major studios in numerous roles, James finally received screen credit on the Rod Steiger film "The Illustrated Man." For 7 hours each day, he would apply the tattoos he designed with the help of makeup artists to Steiger's body. The process was even photographed by Life Magazine.
When the film was complete, James was offered the position that every young artist in Hollywood sought, the position of art director. He turned down the role. He'd had enough of Hollywood, and had already purchased several acres of land in Arizona. The very next day, James was packed and on his way.
James settled near Sedona, Arizona in 1968. Though he'd only just arrived, he'd already been selling his western paintings at a gallery in Scottsdale.
He's said that a person does not become a cowboy, but one could learn about cowboys and experience their life. He started by building a barn and corral, then filled it with seven horses. His first trail drive was in Montana, where he helped drive a heard of cattle from Havre to Big Sandy.
James' success and reputation would continue to grow in the following decades. He would be twice commissioned by Marlboro for paintings depicting the American Cowboy, and in 1992, he would be the first artist to win the prestigious Prix de West International Award, along with the Gold Medal for best oil and Buyer's Choice Award, all in a single year.
In 1993, James relocated to Scottsdale, Arizona. In 1997, "Traildust - Cowboys, Cattle, and Country" was published. The book would use James' work as the backdrop for the author's tales of the cowboy and American west. In the following years, he would focus his work on landscapes. Shortly before his passing in 2010, he published "The Landscapes of James E. Reynolds."