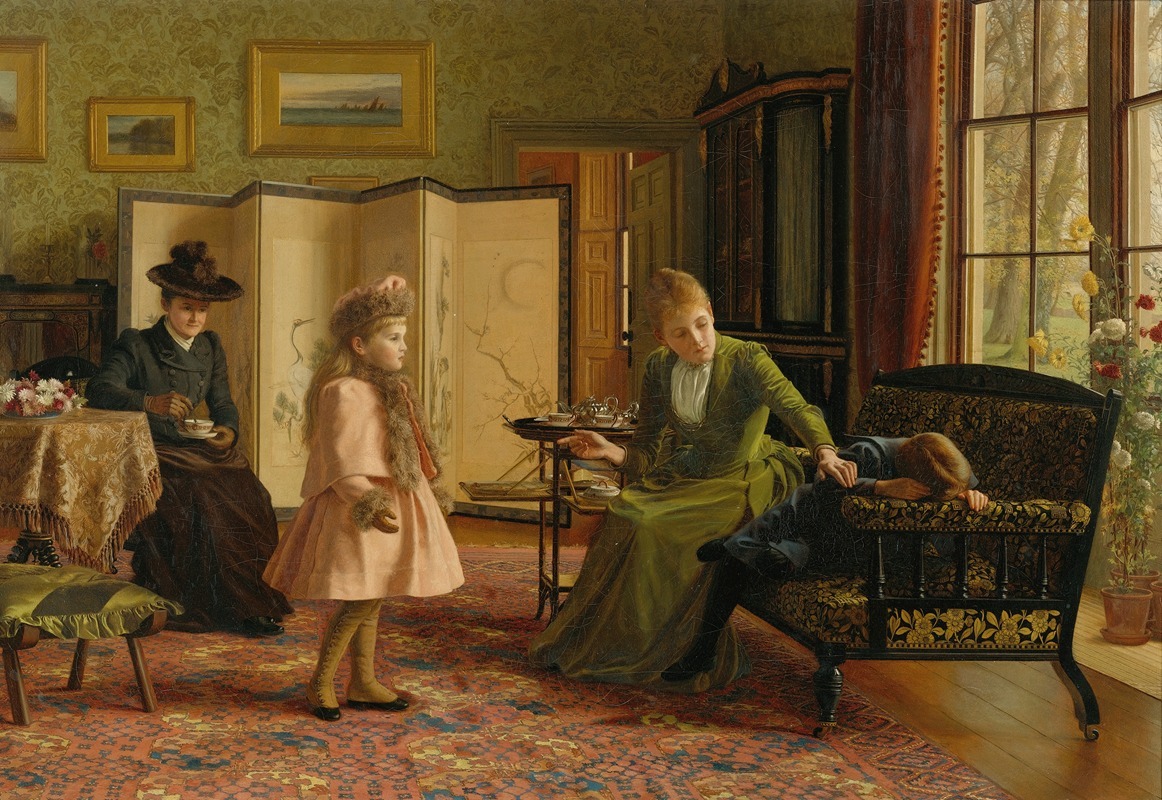 Jessica Ellen Hayllar was a British artist and painter.
Hayllar was born in London and was the eldest daughter of the nine children born to Ellen Phoebe Cavell (1827-1899) and her husband James Hayllar (1829-1920). The family lived at Mecklenburgh Square in London and also rented a country house in Suffolk for several months each year before moving to a large house, Castle Priory, by the Thames at Wallingford, then in Berkshire. Hayllar and her four sisters attended a day school in Gower Street and all were given art lessons by their father, who was himself a well-regarded painter. Jessica Hayllar became the most prolific artist among the Hayllar offspring, although her sister Edith also achieved some recognition. Jessica Hayllar exhibited at the Royal Academy in London regularly between 1879 and 1915 and also had works shown at the Society of British Artists, with the Institute of Painters in Oil Colours and at the Royal Manchester Institution. She often painted domestic scenes, local villagers and depicted family occasions and gatherings. Windows and doorways were another frequent theme in her work. Ill health as a result of being knocked down by a carriage in 1900 greatly reduced her output in her later years when she was living in Bournemouth with her father. In her final years she mostly concentrated on painting flower pieces.
Jessica Hayllar was born in 1858 into the middle-class family of James Hayllar and Ellen Cavell Hayllar. She was the third child and the oldest daughter. Hayllar spent the majority of her childhood in the countryside of Wallingford at the family home, Castle Priory, where she and her siblings learned to paint from her father. James Hayllar provided his daughters with artistic training and their own separate studio, as well as all the materials they needed and established working hours. Their artistic training began with drawing, learning perspective, modelling in clay, etching, and engraving before progressing to painting. The Hayllar sisters thus followed the traditional model of female artists learning from family members, even though public art classes were becoming more available for women at the time.
Hayllar lived with her parents throughout her life and never married. According to Christopher Wood, Hayllar's best works were painted from 1885 to 1900 and primarily consist of domestic scenes at Castle Priory. In 1899, Jessica moved with her parents from Castle Priory to a smaller home in Bournemouth, where she continued to live with her father after her mother's death. Hayllar became partially paralyzed in a carriage accident in 1900. She would spend the rest of her life in a wheelchair, but she continued her artistic work. After the accident, Hayllar's work tended to focus more on flowers, particularly azaleas. Following her father's death in 1920, Jessica moved to Surrey to live with her sister Edith Hayllar MacKay. Jessica Hayllar died in 1940.