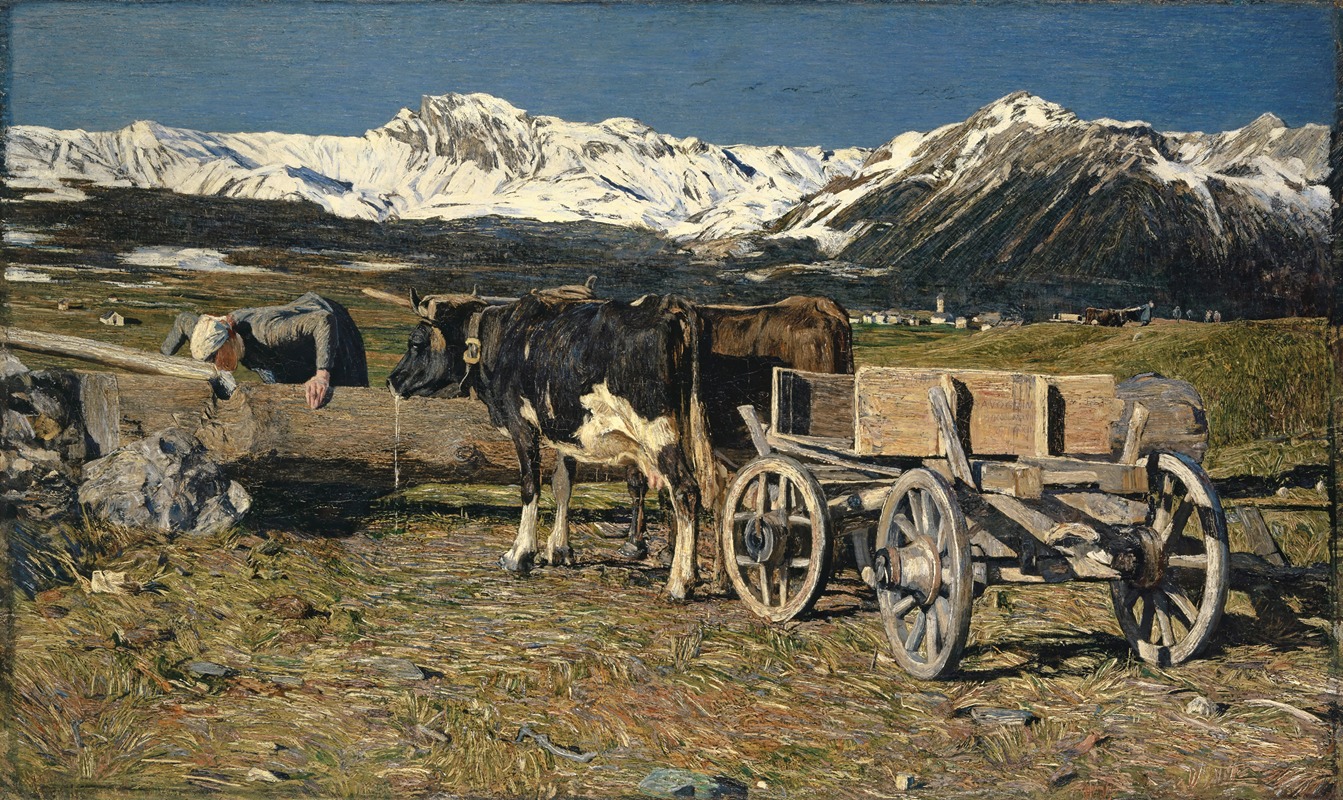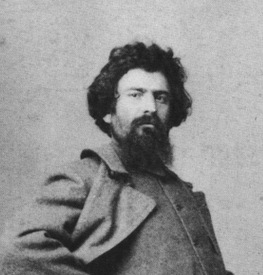 About the Artist
Giovanni Segantini was an Italian painter known for his large pastoral landscapes of the Alps. He was one of the most famous artists in Europe in the late 19th century, and his paintings were collected by major museums. In later life, he combined a Divisionist painting style with Symbolist images of nature. He was active in Switzerland during the last period of his life.
Giovanni Battista Emanuele Maria Segatini was born at Arco in Trentino, which was then part of the County of Tyrol in the Austro-Hungarian Empire. He later changed his family name by adding an "n" after the "a". He was the second child of Agostino Segatini (1802–1866) and Margarita De Girardi (1828–1865). His older brother, Lodovico, died in a fire the year Giovanni was born. During the first seven years of his life, his father, who was a tradesman, traveled extensively while looking for work. Except for a six-month period in 1864 when Agostino returned to Trentino, Segantini spent his early years with his mother, who experienced severe depression due to the death of Lodovico. These years were marked by poverty, hunger and limited education due to his mother's inability to cope.
In the spring of 1865, his mother died after spending the past seven years in increasingly poor health. His father left Giovanni under the care of Irene, his second child from a previous marriage, and again traveled in search of work. He died a year later without returning home and leaving his family nothing. Without money from her father, Irene lived in extreme poverty. She was forced to spend most of her time working menial jobs while leaving Giovanni to subsist on his own.
Irene hoped to improve her life by moving to Milan, and in late 1865 she submitted an application to relinquish Austrian citizenship for both her brother and her. She either misunderstood the process or simply did not have enough time to follow through, and although their Austrian citizenship was revoked she neglected to apply for Italian citizenship. As a result, both Segantini and his sister remained stateless for the rest of their lives. After he became famous Switzerland offered him citizenship on more than one occasion, but he refused in spite of many hardships, saying Italy was his true homeland. After his death the Swiss government successfully awarded him citizenship.
At age seven, Segantini ran away and was later found living on the streets of Milan. The police committed him to the Marchiondi Reformatory, where he learned basic cobbling skills but little else. For much of his early life, he could barely read or write; he finally learned both skills when he was in his mid-30s. Fortunately, a chaplain at the reformatory noticed that he could draw quite well, and he encouraged this talent in an attempt to lift his self-esteem.
In 1873, Segantini's half-brother Napoleon claimed him from the reformatory, and for the next year Segantini lived with Napoleon in Trentino. Napoleon ran a photography studio, and Segantini learned the basics of this relatively new art form while working there with his half-brother. He would later use photography to record scenes that he incorporated into his painting.