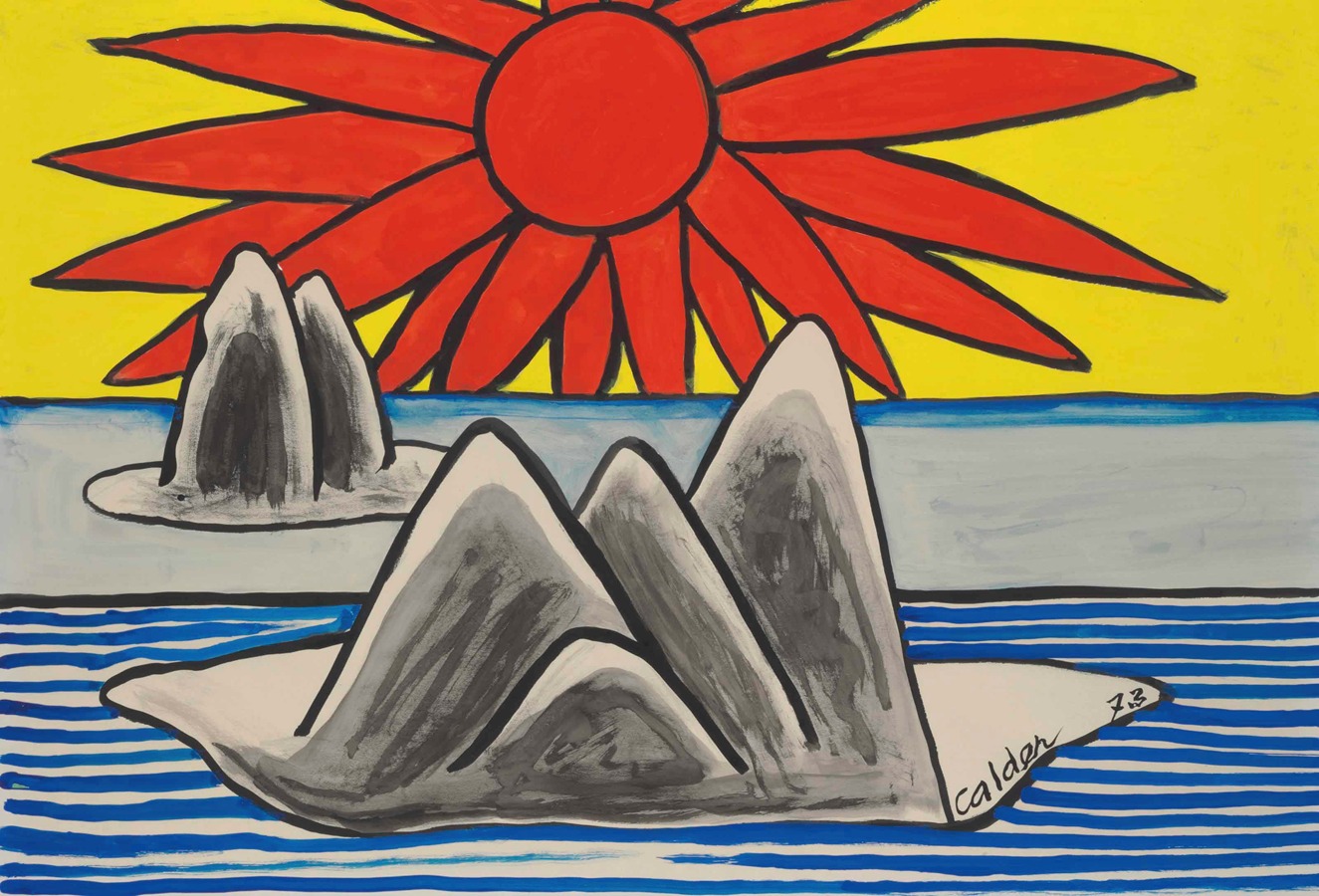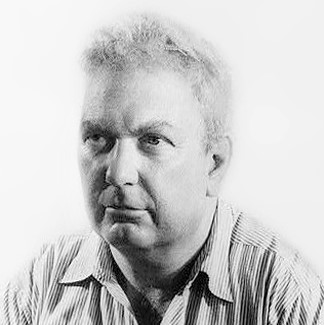 Alexander Calder was an American sculptor known both for his innovative mobiles (kinetic sculptures powered by motors or air currents) that embrace chance in their aesthetic, his static "stabiles", and his monumental public sculptures. Calder preferred not to analyze his work, saying, "Theories may be all very well for the artist himself, but they shouldn't be broadcast to other people."
Alexander "Sandy" Calder was born in 1898 in Lawnton, Pennsylvania. His birthdate remains a source of confusion. According to Calder's mother, Nanette (née Lederer), Calder was born on August 22, yet his birth certificate at Philadelphia City Hall, based on a hand-written ledger, stated July 22. When Calder's family learned of the birth certificate, they asserted with certainty that city officials had made a mistake.
Calder's grandfather, sculptor Alexander Milne Calder, was born in Scotland, had immigrated to Philadelphia in 1868, and is best known for the colossal statue of William Penn on Philadelphia City Hall's tower. His father, Alexander Stirling Calder, was a well-known sculptor who created many public installations, a majority of them in Philadelphia. Calder's mother was a professional portrait artist, who had studied at the Académie Julian and the Sorbonne in Paris from around 1888 until 1893. She moved to Philadelphia, where she met Stirling Calder while studying at the Pennsylvania Academy of the Fine Arts. Calder's parents married on February 22, 1895. Alexander Calder's sister, Margaret Calder Hayes, was instrumental in the development of the UC Berkeley Art Museum.
Four-year-old Calder posed nude for his father's sculpture The Man Cub, a cast of which is now in the Metropolitan Museum of Art in New York City. In 1902 he also completed his earliest sculpture, a clay elephant. In 1905 his father contracted tuberculosis, and Calder's parents moved to a ranch in Oracle, Arizona, leaving the children in the care of family friends for a year. The children were reunited with their parents in March 1906 and stayed at the Arizona ranch during that summer.
The Calder family moved from Arizona to Pasadena, California. The windowed cellar of the family home became Calder's first studio and he received his first set of tools. He used scraps of copper wire to make jewelry for his sister's dolls. On January 1, 1907, Nanette Calder took her son to the Tournament of Roses Parade in Pasadena, where he observed a four-horse-chariot race. This style of event later became the finale of Calder's miniature circus performances.
In late 1909 the family returned to Philadelphia, where Calder briefly attended Germantown Academy, then they moved to Croton-on-Hudson, New York. That Christmas, he sculpted a dog and a duck out of sheet brass as gifts for his parents. The sculptures are three-dimensional and the duck is kinetic because it rocks when gently tapped. In Croton, during his high school years, Calder was befriended by his father's painter friend Everett Shinn with whom he built a gravity-powered system of mechanical trains. Calder described it, "We ran the train on wooden rails held by spikes; a chunk of iron racing down the incline speeded the cars. We even lit up some cars with candle lights". After Croton, the Calders moved to Spuyten Duyvil to be closer to New York City, where Stirling Calder rented a studio. While living in Spuyten Duyvil, Calder attended high school in nearby Yonkers. In 1912, Calder's father was appointed acting chief of the Department of Sculpture of the Panama–Pacific International Exposition in San Francisco, California, and began work on sculptures for the exposition that was held in 1915.
During Calder's high school years (1912–1915), the family moved back and forth between New York and California. In each new location, Calder's parents reserved cellar space as a studio for their son. Near the end of this period, Calder stayed with friends in California while his parents moved back to New York, so that he could graduate from Lowell High School in San Francisco. Calder graduated with the class of 1915.
Alexander Calder's parents did not want him to be an artist, so he decided to study mechanical engineering. An intuitive engineer since childhood, Calder did not even know what mechanical engineering was. "I was not very sure what this term meant, but I thought I'd better adopt it," he later wrote. He enrolled at the Stevens Institute of Technology in Hoboken, New Jersey, in 1915. When asked why he decided to study mechanical engineering instead of art Calder said, "I wanted to be an engineer because some guy I rather liked was a mechanical engineer, that's all". At Stevens, Calder was a member of the Delta Tau Delta fraternity and excelled in mathematics. He was well-liked and the class yearbook contained the following description, "Sandy is evidently always happy, or perhaps up to some joke, for his face is always wrapped up in that same mischievous, juvenile grin. This is certainly the index to the man's character in this case, for he is one of the best natured fellows there is."
In the summer of 1916, Calder spent five weeks training at the Plattsburgh Civilian Military Training Camp. In 1918, he joined the Student's Army Training Corps, Naval Section, at Stevens and was made guide of the battalion.
Calder received a degree from Stevens in 1919. He held a variety of jobs including hydraulic engineer and draughtsman for the New York Edison Company. In June 1922, Calder took a mechanic position on the passenger ship H. F. Alexander. While sailing from San Francisco to New York City, Calder slept on deck and awoke one early morning off the Guatemalan Coast and witnessed both the sun rising and the full moon setting on opposite horizons. He described in his autobiography, "It was early one morning on a calm sea, off Guatemala, when over my couch—a coil of rope—I saw the beginning of a fiery red sunrise on one side and the moon looking like a silver coin on the other."
The H.F. Alexander docked in San Francisco and Calder traveled to Aberdeen, Washington, where his sister and her husband, Kenneth Hayes resided. Calder took a job as a timekeeper at a logging camp. The mountain scenery inspired him to write home to request paints and brushes. Shortly after this, Calder decided to move back to New York to pursue a career as an artist.
In New York City, Calder enrolled at the Art Students League, studying briefly with George Luks, Boardman Robinson, and John Sloan. While a student, he worked for the National Police Gazette where, in 1925, one of his assignments was sketching the Ringling Bros. and Barnum & Bailey Circus. Calder became fascinated with the circus action, a theme that would reappear in his later work.
In 1926, Calder moved to Paris, enrolled in the Académie de la Grande Chaumière, and established a studio at 22 rue Daguerre in the Montparnasse Quarter. In June 1929, while traveling by boat from Paris to New York, Calder met his future wife, Louisa James (1905–1996), grandniece of author Henry James and philosopher William James. They married in 1931. While in Paris, Calder befriended a number of avant-garde artists, including Fernand Léger, Jean Arp, and Marcel Duchamp. Leger wrote a preface for the catalogue of Calder's first exhibition of abstract constructions held at the Galerie Percier in 1931. Calder and Louisa returned to America in 1933 to a farmhouse they purchased in Roxbury, Connecticut, where they raised a family (Sandra born 1935, Mary born 1939). During World War II, Calder attempted to join the Marines as a camofleur, but was rejected. In 1955 he and Louisa traveled through India for three months, where Calder produced nine sculptures as well as some jewelry.
In 1963, Calder settled into a new workshop, overlooking the valley of the Lower Chevrière to Saché in Indre-et-Loire (France). He donated to the town a sculpture, which since 1974 has been situated in the town square. Throughout his artistic career, Calder named many of his works in French, regardless of where they were destined for eventual display.
In 1966, Calder published his Autobiography with Pictures with the help of his son-in-law, Jean Davidson.
Calder died unexpectedly in November 1976 of a heart attack, shortly after the opening of a major retrospective show at the Whitney Museum in New York.